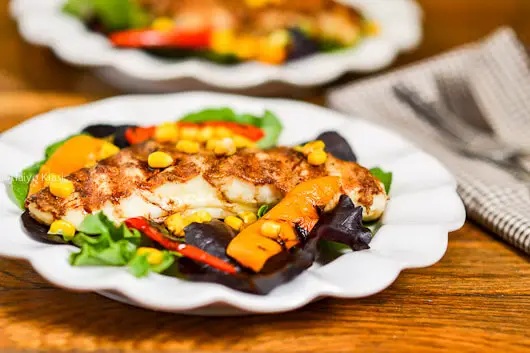 'Tis the season of salads, and Father's Day is worth splurging on premium fish for a protein-packed meal to serve proudly to the Dad in your life. This recipe for Grilled Halibut & Sweet Pepper Salad is made with the ultimate white fish. Halibut is dense, substantial, grills gorgeously, and presents a snowy, firm fillet crescendo when roasted or grilled. It's one of the best fish for a hearty appetite. Now halibut can be pricey, but it's worth the dollars when you find a beautiful portion to serve to a deserving dad.
HALIBUT AND SUSTAINABILITY
The Environmental Defense Fund (EDF) Seafood Selector states that halibut, the largest flatfish, is subject to strict catch guidelines in U.S. Atlantic waters. Depletion of halibut stock resulted in restrictions against targeting the fish by commercial fishermen. If you come across a package of Atlantic halibut, it may have been caught as part of commercial bycatch (hauled in with the target fish), which the regulations allow.
Sustainable halibut comes from Pacific Ocean fisheries near Alaska and Canada. Pacific halibut are from mindfully managed fisheries that have contributed far less environmental damage to halibut habitat (bottom-dwelling fish). Look for Pacific Halibut from Alaska or Canada.
WHAT ABOUT MERCURY?
To be straight, all ocean creatures absorb methylmercury (which is what mercury becomes when it comes into contact with bacteria.) So the challenge for seafood lovers is to eat more short-lived, smaller fish (i.e. sardines, tilapia, freshwater trout) and fewer of the bigger, long-lived fish (i.e. swordfish, Ahi, or Bigeye tuna). Since halibut is a long-lived fish–the oldest on record was 55 years old–there is more chance for halibut to absorb and store methylmercury in its flesh. According to EDF, halibut can be safely eaten by adult men and women four-plus times per month, by children aged 6-12, three times per month, and children aged 0-5 one time per month. See this chart for more information.
Recipe: Grilled Halibut & Sweet Pepper Salad (Serves 3)
Ingredients:
1.5 pounds Pacific Halibut (Alaskan or Canadian), cut into thirds
Kosher salt and cracked pepper
1/4 cup grapeseed oil (or another high-heat-tolerant cooking oil)
1/2 cup Miso Tamari sauce (or 1/2 cup Tamari sauce and 1/2 teaspoon white miso)
1/4 cup brown rice vinegar
1 tablespoon honey
1 yellow or orange bell pepper, cleaned and cut in half
1 red bell pepper, cleaned and cut in half
2 cups mixed lettuce, cleaned
1 cup prepared sweet corn
Directions:
Put fish in a large glass bowl to rinse it. Remove rinsed fish and pat dry with paper towels. Transfer dry fillets to a clean cutting board used only for seafood and meats. Brush each halibut portion with grapeseed or other cooking oil and season with salt and pepper.
Mix miso tamari, rice vinegar, and honey to create a quick marinade. Divide the marinade into two portions and set one portion aside. Brush each side of halibut portions with marinade.
Place each fillet portion on a hot grill or stovetop grill pan. Grill fish on one side for five minutes. With a fish spatula or non-stick fish turner, lift fish gently and partially from the grill to test if it will release easily from the grill. If a portion of the fish sticks to the grill, allow it to cook for another minute and test for release again.
When the fish is ready to be turned, turn it and continue grilling until it reaches an internal temperature of 145 degrees. If using a stovetop grill pan, turn fish and place in a 400-degree oven until internal temperature is 145 degrees. Place fish aside.
Grill sweet pepper halves on both sides and remove from grill. When pepper halves are cool enough handle, slice into 1-inch strips.
Put a handful of lettuce mix on serving plates. Top each lettuce portion with grilled halibut, grilled pepper strips, and garnish the salad with sweet corn. Pour reserved marinade sparingly over each salad.