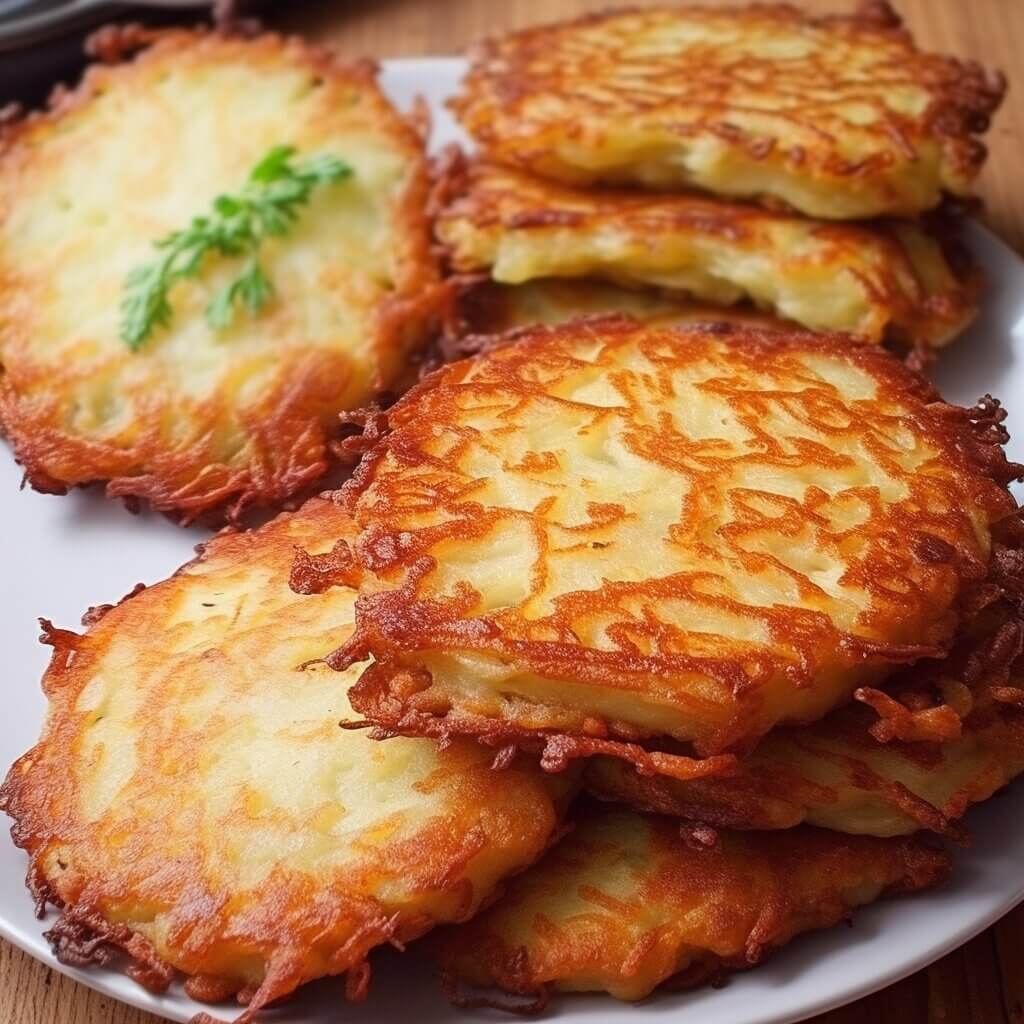 I'm so excited to share this delicious recipe for crispy, golden German potato pancakes with you! When made right, these tasty potato pancakes are a treat for breakfast, lunch, or dinner.
Let me start by saying that potato pancakes have a special place in my heart. I have fond memories of my Oma making them for me as a child, carefully mixing the ingredients and frying them up in her cast iron skillet. I loved watching the potato shreds bind together to form the perfect lacy, crispy exterior encasing the soft, fluffy interior. Pure potato bliss!
Now I make them for my own family, passing on this treasured recipe. The great thing about potato pancakes is they are so simple to whip up, yet utterly satisfying. With just a few humble ingredients like potatoes, onion, eggs and flour, you can create crispy potato goodness.
In this recipe, I'll share my tips and tricks for making potato pancakes just like Oma did. I'll explain how to get them perfectly brown and crispy outside while tender inside. No soggy pancakes here! I'll also provide some fun serving suggestions so you can put your own spin on them.
Potato pancakes are great for breakfast, served up with some tangy applesauce and crispy bacon on the side. They also make a fantastic lunch or dinner, especially when topped with sour cream and fresh dill. Or go sweet by topping them with cinnamon-sugar and fruit compote. However you choose to serve them, potato pancakes are comfort food at its finest.
So get ready to fall in love with this recipe for old-fashioned German potato pancakes.
Let's start with the FAQs:
What kind of potatoes work best for potato pancakes?
Starchy potatoes like russet or Yukon gold are ideal. They get perfectly crispy on the outside and soft and fluffy inside.
Do I really need to squeeze out the excess moisture from the potatoes?
Yes! This step helps remove excess starch so your pancakes get beautifully crispy.
Can I add any extra ingredients or toppings?
Of course! Some delicious additions include chopped bacon, caramelized onions, fresh herbs, sour cream, apple sauce, or smoked salmon.
How do I get the pancakes perfectly round?
Use a cookie cutter, biscuit cutter, or drinking glass to cut uniform circles before frying.
What's the best way to keep them warm and crispy?
Place them on a wire rack in a 175F oven after frying. This keeps them warm and crispy without getting soggy.
What's the difference between potato pancakes and hashbrowns?
Potato pancakes use grated raw potatoes while hashbrowns use shredded cooked potatoes. The textures are different!
Can I make them ahead of time?
Yes! You can form the patties up to a day in advance and keep refrigerated until ready to fry.
What's the best fat to fry them in?
Vegetable, canola or peanut oil work well. Clarified butter also adds nice flavor. Avoid olive oil as it has a low smoke point.
How do I get the crispiest outside without burning them?
Fry over medium-high heat for 5-6 minutes per side. Take your time and don't rush the frying process. Adjust heat as needed.
Prep Time: 10 minutes
Cook Time: 15 minutes
Total Time: 25 minutes
Yield: 8 Pancakes
Ingredients:
2 lbs russet potatoes, peeled and grated
1 small yellow onion, grated
2 large eggs, lightly beaten
1/4 cup all-purpose flour
2 tbsp chopped fresh parsley
1 tsp salt
1/2 tsp ground black pepper
Vegetable oil, for frying
Instructions:
Peel and grate the potatoes using either a box grater or food processor fitted with a shredding disk. You want long, thin shreds rather than chunks.
Place the grated potatoes into a clean lint-free kitchen towel, cheesecloth, or potato sack. Gather the corners and twist and squeeze firmly to wring out as much moisture from the potatoes as possible. This step is vital for achieving crispy potato pancakes, so really wring them out well. Transfer the dried potatoes to a large bowl.
Grate the onion using the large holes of a box grater. Add to the potato bowl along with the eggs, flour, parsley, salt and pepper.
Thoroughly mix everything together using your hands, a wooden spoon, or rubber spatula until well combined. The mixture will be thick and sticky.
Line a baking sheet with paper towels and set a wire cooling rack on top. Have this ready near the stove. Also have ready your toppings of choice.
Heat 1/4 inch of your frying oil of choice (vegetable, canola, peanut) in a large nonstick skillet over medium-high heat. Use a deep skillet for even frying.
While the oil heats, use a 1/4 cup measuring cup to scoop the potato mixture. Carefully drop rounds into the hot oil, spacing apart. Gently press down with a metal spatula to flatten slightly to about 1/2 inch thick.
Fry for 4-5 minutes until deep golden brown and crispy. Carefully flip and fry the other side 3-4 minutes. Work in batches to avoid crowding the pan and adjusting heat as needed to prevent burning.
Use the spatula to transfer cooked pancakes to the wire rack to drain excess oil. Keep warm in a 175°F oven while frying the remaining batches.
Serve piping hot with your favorite savory or sweet toppings! Enjoy immediately or keep warm in the oven until ready to serve.
Cooking Tips:
Use a potato ricer for fast, easy grating. You can also shred potatoes in a food processor.
Refrigerate the potato mixture for 10 minutes before frying for extra firm pancakes.
Fry in batches and adjust heat as needed for even browning. Take your time – rushing leads to burning!
Gently flatten patties with a spatula while frying for maximum crispy surface area.
Keep finished pancakes warm and crispy by placing on a wire rack in a low oven.
Top with anything your heart desires! Savory, sweet, herby, spicy – anything goes!