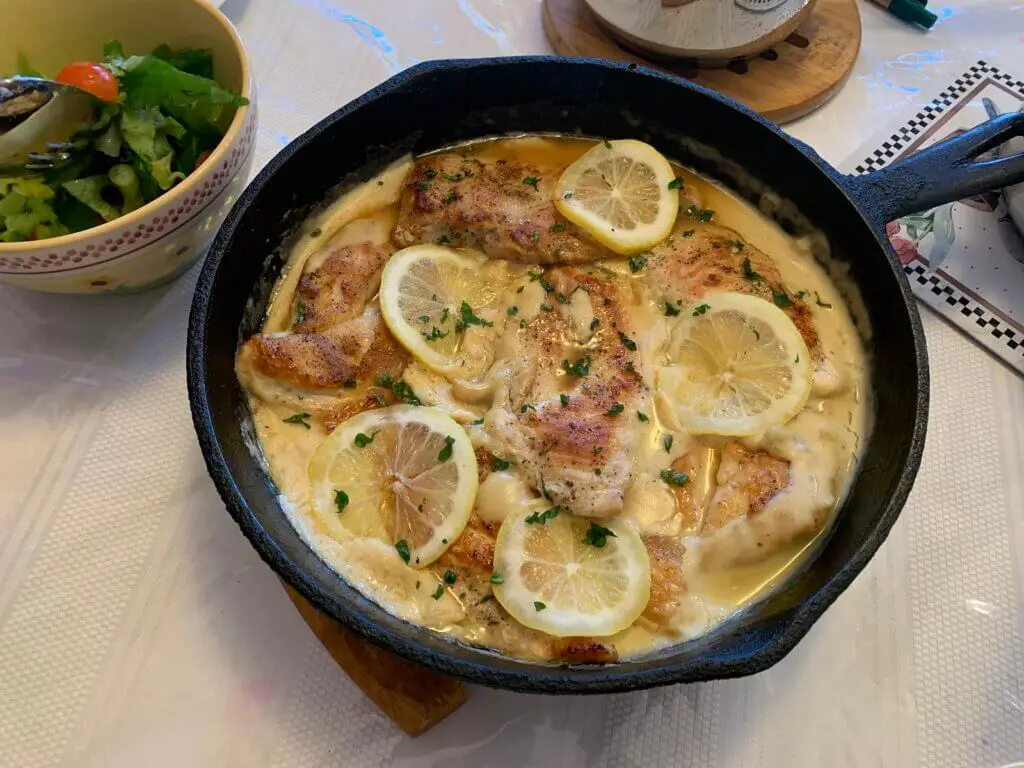 A quick, easy and yummy recipe: chicken breasts in a delicious creamy garlic and lemon sauce. Excellent with pasta, vegetables like potatoes, rice, or just with bread to sauté in (watch your fingers!).
This recipe is for lemon sauce lovers. I've wanted to make a lemony, garlicky cream sauce for quite some time.It goes with everything! Chicken, fish, shrimp and other seafood.
Then the other day, I wanted to make a quick dish without breaking a sweat.
Ingredients:
4 boneless, skinless chicken breasts
2 tablespoons olive oil (or butter)
2 grey shallots, finely chopped
salt and pepper
1 cup | 250 mL chicken broth
2 tablespoons lemon juice
4 cloves garlic, chopped
1 teaspoon paprika
½ cup | 125 ml 35% cream (liquid cream in France, heavy cream in the US)
2 tablespoons chopped flat-leaf parsley (or other aromatic herbs)
1 teaspoon cornstarch to thicken the sauce
½ lemon, sliced
Preparation:
Melt the butter in a large skillet.
Brown the chicken breasts for a few minutes on both sides over high heat.
Remove the chicken breasts and set them aside on a plate.
Put the shallots in place of the chicken. Fry them for 2 minutes.
Add the garlic and paprika. Mix and cook rapidly, avoiding burning the crushed garlic. Add salt and pepper.
Add the lemon juice and the broth.
Return the chicken to the pan. Bring to a boil, then lower the heat and cook for a few minutes, covered. The sauce will reduce a little.
Add the cream and the parsley. Place lemon slices on the chicken breasts. Boil and simmer for five more minutes over low heat. If you like a thick sauce, add cornstarch and stir well to dilute it ultimately. Cook for 2 minutes. Keep in mind the sauce will get thicker as it cools. Your dish is ready.
While I was cooking the chicken with the sauce, I put some potatoes to steam.