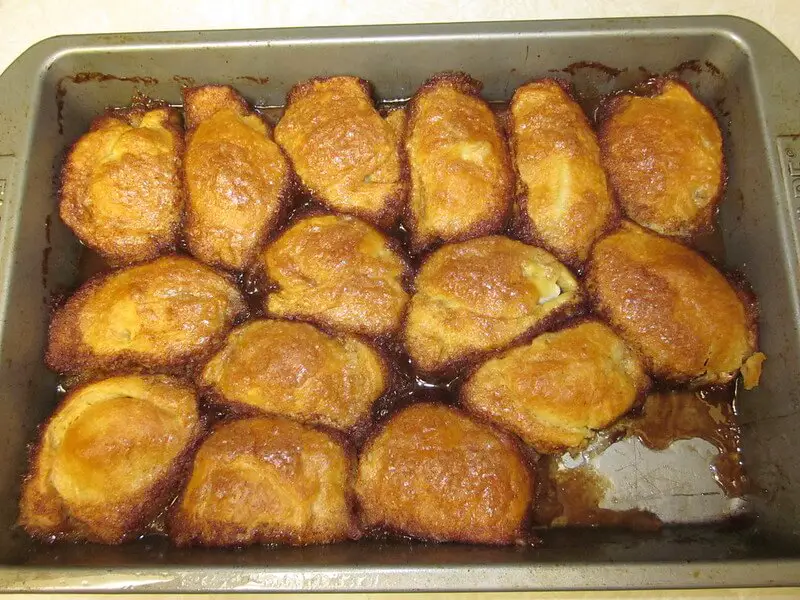 These simple homemade apple dumplings have a delightful melt-in-your-mouth texture. Cinnamon apples are encased in a flaky butter crust and baked in a buttery brown sugar sauce. They're the ideal fall treat, especially when paired with a scoop of ice cream.
Apple dumplings are a great fall delicacy that's quite simple to make! You'll love the cinnamon apple aroma that fills the home, but the flavor is even better! Consider a wonderful apple pie with loads of caramel, and serve it with ice cream, and you'll be the happiest person ever.
This old-fashioned recipe will take you back to Grandma's house. Whole apples are wrapped in the dough for a nostalgic dish and baked with plenty of spices and delightful syrup.
Ingredients:
1 ½ cups of divided sugar
1 cup of water
½ teaspoon of divided ground cinnamon
4 tablespoons of divided butter
6 medium peeled and cored apples
Some pastry for double-crust pie
Instructions:
Start by preheating the oven to 400 degrees F while buttering a 9×13 inch pan.
Get to rolling the pastry into a big rectangle of about 24×16 inches on a lightly floured board. Make 6 squares out of the dough. Then place one apple on top of each pastry square, take the butter, cut it into eight pieces, and place each slice of butter in each apple opening, but keep the remaining butter for the sauce. Divide the brown sugar evenly among the apples, putting some within each cored aperture and the remainder around the base of each. And take some cinnamon and nutmeg to sprinkle it over the apples.
Pull one corner of the pastry square up to the top of the apple using slightly damp hands, then bring the other corner up to the top and press together. Bring up the last two corners and seal them. Squeeze the dough at the sides slightly to thoroughly fill in the apple. Repeat with the rest of the apples, place in a baking dish that has been prepared.
Combine water, white sugar, vanilla extract, and reserved butter in a saucepan. In a big saucepan, bring to a boil over medium heat. Keep cooking for 5 minutes or until you notice the sugar dissolving. Pour over dumplings with care.
Bake everything for 50 to 1 full hour in the preheated oven you set, then finally spoon some sauce over the top of each apple dumpling in a dessert dish.