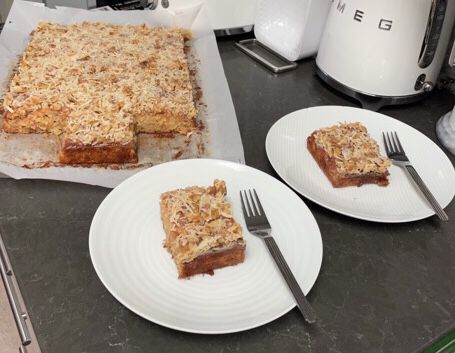 This dish was named after the 1940s, when recipes were frequently cooked from scratch, contained many ingredients, and were challenging to make. Before packaged cake mixes, because all components can be measured with a cup, there was no need to use a kitchen scale. There is also no kneading or egg beating for 30 minutes, and no special equipment is required. Neither frosting nor icing needed you to hit the butter for the whole day until it was frothy. This was regarded as a natural 'Make Nothing Cake' at the time.
This one is straightforward to make, takes very little time to prepare, and tastes fantastic. It's mixed with a spoon. It is an excellent dessert to bring to any event and is ideal for any holiday celebration. You'll be asked for the recipe often, and you won't have any leftovers to take home.
The best thing is that it is simple to make and full of flavor! Okay, you have to do something to prepare this cake, but it is pretty simple, as simple as a boxed cake, only without a box in sight!
Ingredients:
2 Cups of all-purpose flour
2 tsp baking soda
2 cups sugar
2 eggs
1/2 tsp vanilla extract
2 ½ cups (20 oz) crushed and undrained pineapple
To make the frosting:
¾ cup evaporated milk
1 cup of sugar
1 cup of chopped nuts
1 cup of shredded coconut
one stick of butter.
Instructions:
You should start by preheating to 350 degrees F, then start whisking all of the batter ingredients in preferably a large mixing bowl until everything is combined smoothly.
Begin baking for 30 to 40 minutes in a greased 13×9 baking dish, but be careful of overcooking it.
You may make the frosting while the cake bakes.
In a small saucepan, bring the butter, sugar, and evaporated milk to a boil.
Cook, while constantly stirring, for approximately 5 minutes, or until it gets slightly thickened, then take the pan off the heat and stir in the coconut and pecans.
You can now remove the cake from the oven and poke holes in it with a kabob skewer or any similar sized item. It would help if you had the holes so that the hot frosting could seep down and saturate the cake.
Keep spreading the frosting over the heated cake, making sure it's evenly distributed, then allow the cake to cool for a few minutes before cutting.
You can finally enjoy this amazing cake with the icing oozing into the cake.
You can combine the cake ingredients, pour the batter into a baking pan, and keep baking until it's done. A stick is used to poke holes in the baked cake, which is then covered with a simple coconut and walnut frosting that soaks into the cake.
Another wonderful thing about this cake is that there is no butter, oil, or fat in the mix, but some crushed pineapple keeps our cake moist and delicious.
The Do Nothing Cake is best served with vanilla ice cream or whipped cream on the top. It's also an excellent potluck dessert.