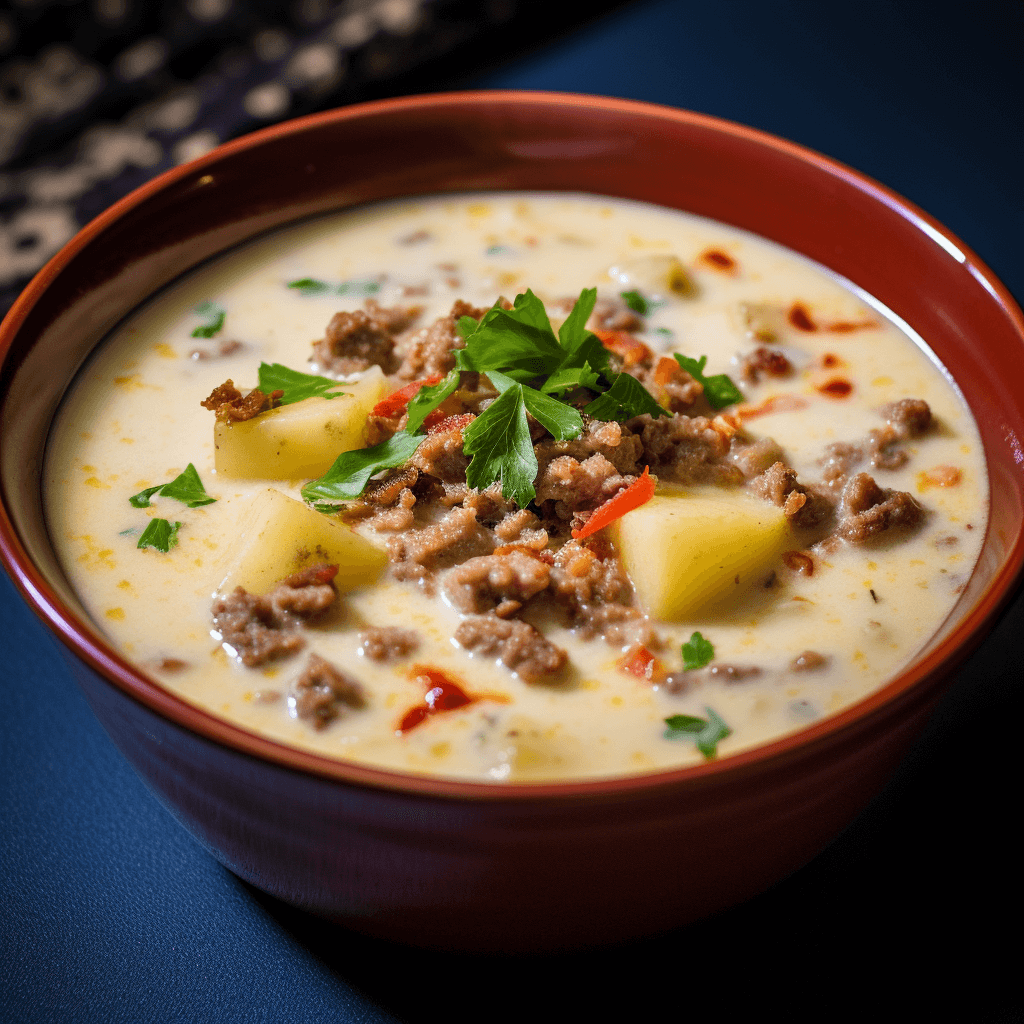 Hello, culinary enthusiasts! 🍲✨ Ready for a nostalgic dive into a cherished family treat? Imagine tender ground beef melding with melt-in-your-mouth potatoes, all caressed by fragrant herbs. It's akin to receiving a heartwarming embrace during a frosty evening. The potato's gentle texture coupled with the beef's rich taste creates a masterpiece of comfort. What's more? It's not merely a treat for the senses; it's a wholesome dish packed with veggies. Crafting this dish teleports me back to the days in my grandma's kitchen where she'd often quip, "It's less about the ingredients and more about the heart." This recipe embodies that sentiment.
Why dive into this Hamburger & Creamy Potato delight?
It transcends being mere soup; it's an odyssey of flavors. The intricate interplay of tastes, wholesome content, and heartwarming vibes ensure that each mouthful is a gastronomic treasure. Perfect for evenings when you're craving scrumptious simplicity!
Vegetarian? We've got you!
Personalize to your heart's content. Replace the beef with a meatless option or introduce hearty beans like kidney or pinto. You're in for a velvety vegetarian treat!
Looking for a lighter version?
Got you covered! Choose a low-fat cooking oil, switch heavy cream for milk, and maybe even swap beef for lean ground turkey. You can tailor this dish to fit your needs and still enjoy its comforting core.
Prep Time: 15-20 minutes
Cook Time: If on LOW: 6-8 hours
If on HIGH: 4-5 hours
Total Time:If on LOW: 6 hours 20 minutes to 8 hours 20 minutes
If on HIGH: 4 hours 20 minutes to 5 hours 20 minutes
Ingredients:
1 lb ground beef
1 medium onion, finely chopped
1-2 cloves of garlic, finely minced
6-8 medium-sized potatoes, cubed
3 cups (or 710 ml) of your favorite broth (beef or chicken works wonders!)
1 can (10.5 oz or 310 ml) of condensed cream (mushroom or celery – take your pick!)
1 cup (or 240 ml) of heavy cream (or milk if you're aiming for a lighter touch)
A handful of shredded cheddar cheese (it's optional but oh-so-good)
1 tsp of salt (or adjust to your preference)
1/2 tsp of ground black pepper
A pinch each of dried thyme and oregano (to add that magical aroma)
2 tbsp of olive oil (or butter, for that extra richness)
Optional: 1 cup each of diced carrots and celery (for added texture and nutrition)
Fresh parsley, finely chopped (because we eat with our eyes first!)
Steps to a Heartwarming Delight:
Instructions:
In a skillet, warm up your preferred olive oil or butter over a medium flame.
As it heats up, toss in the finely chopped onions and minced garlic.
Sauté until the onions adopt a golden, see-through appearance.
Introduce the ground beef into the skillet, ensuring it's thoroughly browned.
Once done, drain off surplus fat and keep the beef mix handy.
Time for the crockpot! Merge the beef, potato cubes, chopped carrots, sliced celery, and selected dried herbs.
Pour in the broth and your preferred condensed cream, blending gently.
Adjust the crockpot setting: LOW for a relaxed 6-8 hours or HIGH for a quicker 4-5 hours.
A simple test for readiness: the potatoes should yield effortlessly to a fork.
As you approach the final half-hour, blend in the heavy cream or milk.
For cheese aficionados, here's where you sprinkle that shredded cheddar.
Once it's all mingled and piping hot, ladle out into bowls.
A flourish of freshly-snipped parsley on top, and you're set! Dive in and relish!
Cooking tips:
Opt for russet potatoes or Yukon golds for a creamier texture in your soup.
If you're looking to enhance the depth of flavor, consider using bone broth as your choice of liquid.
For vegetarians, lentils can be a great alternative to ground beef, giving the soup a hearty feel.
Fresh herbs can make a world of difference. If you have access to them, try using fresh thyme and oregano instead of dried.
Remember to taste and adjust. Before serving, give your soup a quick taste and adjust the salt, pepper, or cream as needed.
Always preheat your crockpot. Doing so will help in achieving a consistent cooking temperature throughout.
If you're freezing leftovers, allow the soup to cool to room temperature before transferring it to freezer-safe containers.
For an extra layer of flavor, consider sautéing the carrots and celery along with the onions and garlic.
Cheese lovers can also try a mix of mozzarella or Monterey Jack with cheddar for a different flavor profile.
When reheating the soup, do it slowly on a low flame or setting to retain the soup's creamy texture.