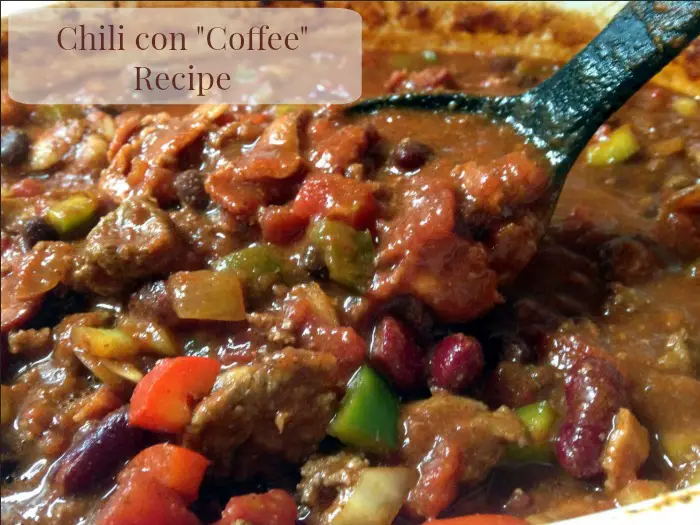 There is little I enjoy more than exploring my environment, and that requires a lot of stamina. While I don't exactly consider myself a 'foodie,' finding great things to eat that fuel my next adventure is imperative. Many of those meals are located on the road, but I find myself tinkering in my kitchen every once in a while.
My "Chili con Coffee" recipe has become a bit of a favorite among my family and friends. Because it primarily uses locally sourced New York products, Sarah nearly begged me to share the formerly-secret recipe here with the Mindfully Frugal Mom readers (Editor's note: "Beg" is a pretty strong word).
Rather than give you instructions on how to make this Crockpot masterpiece, I wanted to take an opportunity to share a bit about each of the local brands that I rely on for a great line of products when I'm cooking.
Ingredients:
1 green bell pepper
32 oz can diced tomatoes
1/2 oz of cayenne pepper
1 red bell pepper
1 lb. bison
1 15 oz can of black beans
1 15 oz can of dark red kidney beans
1 oz or so of Pink Himalayan Sea Salt (coarse ground)
1 sweet, white onion
32 oz. can crushed tomatoes
1 lb. stew beef
1 1/2 oz-ish of Corn Masa for thickener
1 lb. bacon
2-3 oz-ish of Chili Powder
Instructions:
The very first thing I start with is the tomatoes for the base. I toss both cans right into the Crockpot and turn it on low (mine has settings for hours, and I always pick 8.) Then I rinse both cans of beans real well and toss those in. I dice up the peppers and the onion, not too large because I want them to get soft after cooking in the Crockpot, but also not too small because I enjoy more of a stew-like consistency. At this point, I typically toss in about 3/4 of each of my spices and save the remaining 1/4 of each of them to throw in a little later.
Typically I cook my bacon with a broiling pan in the oven because it's straightforward to clean up after, but for chili, I want to save that heaven-sent pork fat for the next round. I fry each of the strips of bacon until they're about 3/4 of the way where I would typically eat them. I usually like my bacon super crispy, but this stuff is going in chili, so it's pointless to take it that far, and it'll continue to cook for hours in the Crockpot, so it's essential not to overdo it. Though I'm not a health nut by any means, I will admit that the trick I learned from my mother to set the bacon on a paper towel is one I take a step further as an adult. There's going to be plenty of fat and grease in this dish, so feel free to blot the heck out of that bacon with a paper towel before chopping it up and tossing it in the Crockpot.
The stew beef is usually cut about three times the size I'd prefer for chili, so I cut each piece a bit smaller and begin to brown it in the still bubbling bacon grease. This won't take long because the stakes are more petite and because it's going to continue cooking in the Crockpot. I brown the outside edges of each cube, extract from the pan, drain it well and toss it in.
Now you've got a beef/pork grease in the pan to cook the bison in, but because bison is so lean, it's real easy to overcook it. Just a few minutes of the ground bison in the grease should be enough to brown it most-of-the-way up so you can drain it in a strainer and toss it in with the rest of the concoction. This is when I throw in the remaining bit of the spices and one last ingredient.
A few years ago, I made this chili recipe, and it was thicker than I wanted. I had made a full Chemex of my favorite coffee to drink while I was cooking and figured that instead of water, maybe I'd try a bit of the coffee to "open" (yeah, it IS a word, now) it up. Sure enough, the nutty tones of my favorite single-origin roast came through, and it became a permanent staple in the recipe and even helped in the renaming of my concoction.
I'm partial to Joe Bean Coffee Roasters in Rochester because of their dedication to directly supporting the grower and not ever letting up on the unreasonably high standards they hold themselves and their products to. I don't consider myself expert enough to say it, but other people who genuinely are experts have claimed Joe Bean to have some of the highest quality beans in the entire country. Interestingly, Joe Bean gave up their Fair Trade certification years ago because the farmers they buy from starting informing them that the label wasn't helping them at all. One farmer would be eligible to be considered a Fair Trade farmer. Still, the next one over may have paid off the certifying organization so that they could exclusively reserve the status in their region. It wasn't about better coffee anymore; it was about money. (Ask me sometime how I feel about food labeling!!) Certified or not, Joe Bean goes to the most fantastic lengths of any roaster I'm familiar with to ensure that their beans are perfect from branch to brew. I usually put about 4 – 6 oz of brewed coffee in the Crockpot, and it's always the last thing to go in.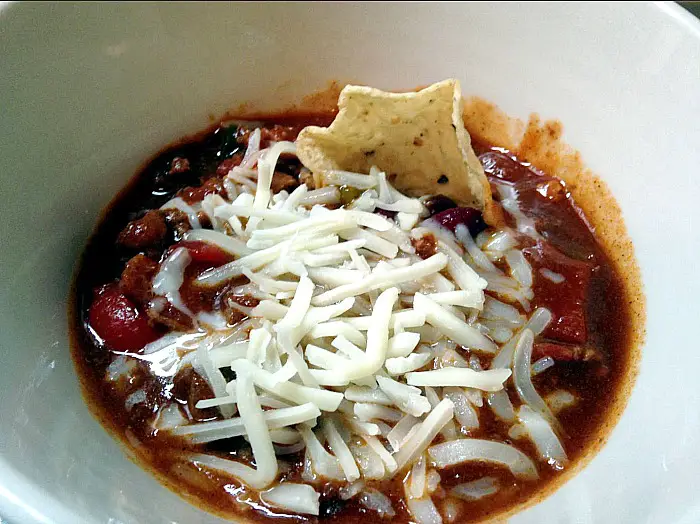 About the Ingredients
Hart's Local Grocers brands itself as an urban grocery and currently is the only grocer located in downtown Rochester, NY. The rebirth of a historic Rochester grocery brand that had previously closed its doors, Hart's prides itself on providing a super personal shopping experience that features a TON of local brands and healthy options.
Lucki 7 Farms in Rodman, NY, is owned by Lisa and Stephen Winkler and has hormone and antibiotic-free heritage breeds raised on 320 acres of pasture land. The care and commitment that the Winklers dedicate to their animals ensure the farm-to-fork products they supply directly to Hart's are the freshest of the freshest. The 'House Bacon' at Hart's comes from Lucki 7 and is some of the most fantastic bacon you'll taste. Be sure to get a whole pound for the chili, and probably more because, I mean, when has only a pound of bacon ever been enough?
The stew beef I use also comes from Hart's, and before it arrives, it's raised just south of Rochester in Lima, NY, at Seven Bridges Farm. Just like Lucki 7, all of the cows raised by Jeff and Barrita Shanks are hormone-free, pasture-raised, and fed all-natural grains and grasses. The all-natural, pesticide-free beef ensures that the tastes introduced to this chili are ridiculously fresh. What's important to know when shopping for meat at Hart's is that those black areas in the core are a good thing. When you're at a grocer whose meat is entirely bright red, it means it has been sitting in blood for a long time, rather than being dry-aged. The stuff you're getting at Hart's can't possibly be more fresh and natural and hasn't included any processes to form an unnaturally red color.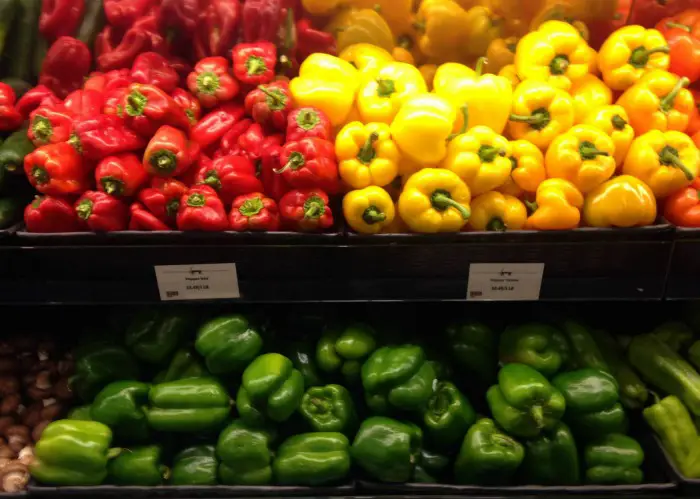 A few other stops in a couple of aisles at Hart's, and you can grab your 15 oz. can of organic red kidney beans, 15 oz. can of organic black beans, a fresh red, and a dash of fresh green bell pepper and whatever white onion is in season. Though the brand isn't local, I'm a big fan of Tree of Life canned goods, and while in Hart's, you can also get a 28 oz. Can of diced and a 28 oz. Can of crushed organic tomatoes.
Hart's is pretty awesome, but unfortunately, they don't carry bison meat. If you're refusing to travel in search of bison, you could undoubtedly switch it out with really high-quality ground beef, but then, you'd be missing out. Bison meat is incredibly lean, and though people often say that it tastes like beef, I'd argue that they're wrong. The super slim, dry-cured process of aging bison helps preserve some of the gamey taste that I've come to enjoy, and though there's delicious grass-fed, lean ground beef, that just won't cut it for my chili!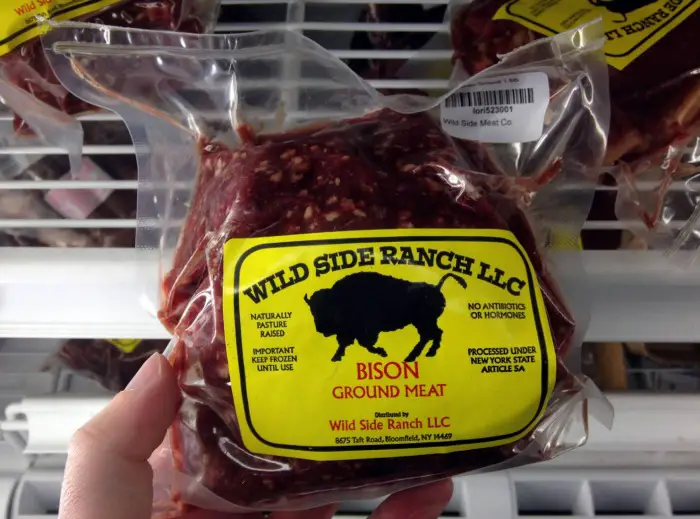 Lori's Natural Foods in Henrietta, NY, is probably best known for their catchy television jingle accompanied by Earth-conscious-hippy employees dancing around in vegetable costumes. Though the grocer features a lot of locally sourced products, I'd argue that their target audience is an Earth-loving, vegetarian/vegan consumer who wants all-natural solutions from organic coffee filters to produce to socks and Kombucha. For us Earth-conscious omnivores, though, they also have a great meat cooler featuring that bison I was mentioning. You'll want to pick up a package of the ground bison raised by Wild Side Ranch located on Taft Road in Bloomfield, about 30 miles southeast of Rochester.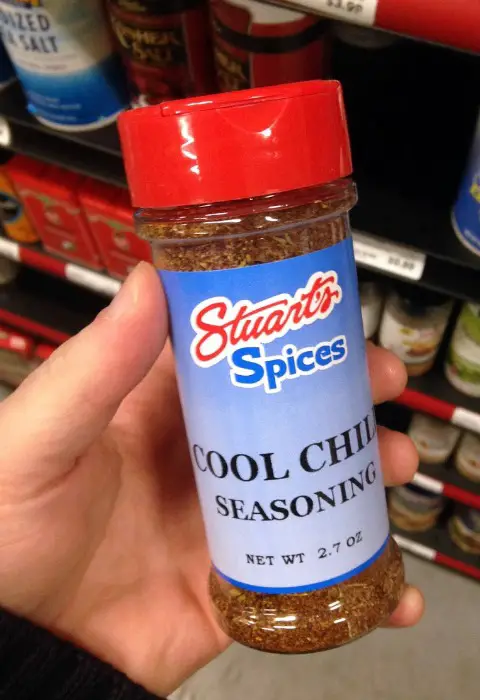 You have almost everything at this point, except the seasonings! We're going to support local still and grab stuff from Stuart's Spices on Clinton Ave in the Swillburg neighborhood in downtown Rochester–but I won't be offended if you use something different, provided that it's fresh! If Stuart's Spices happens to be closed, you can run back to Hart's, who carries a large selection of their line.
EAT
After a few hours of simmering away in that Crockpot, your entire abode should be filled with the scents of chili powder, pork, and veggies that have all come together in a perfect marriage of warmth and goodness. Throw some shredded sharp white cheddar on it and go to town, or rather, to Upstate New York!