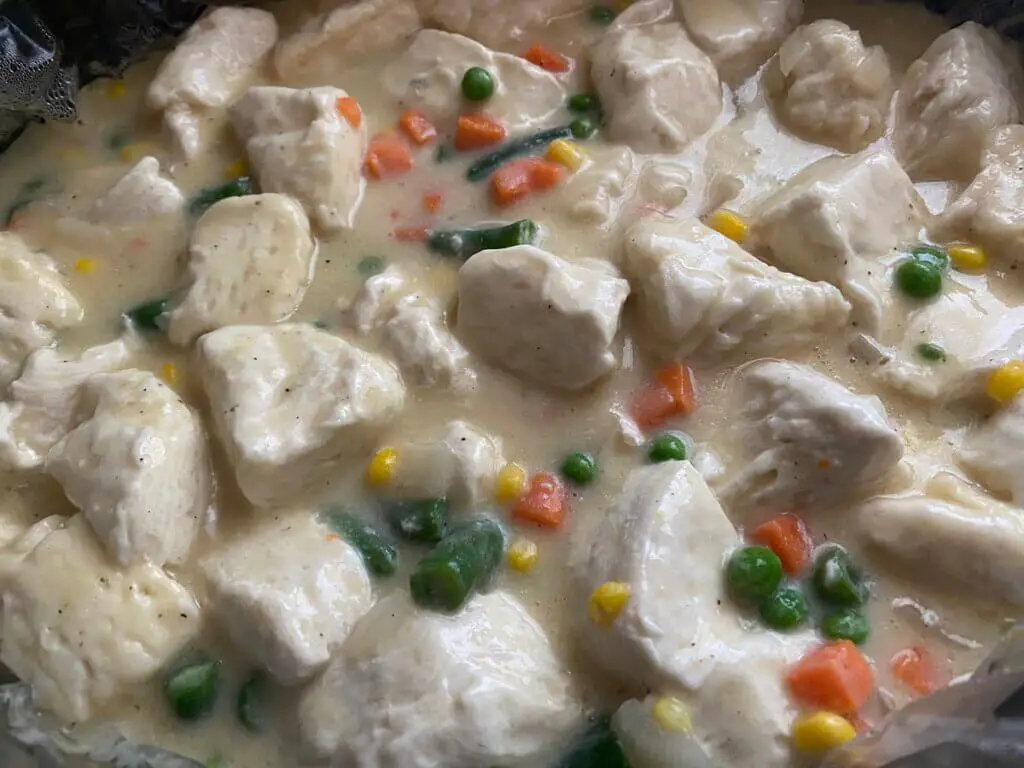 If you're looking for a delicious and easy meal that your family will love, this is the recipe for you! Loaded with hearty chicken and fluffy dumplings, this crockpot chicken and dumplings recipe is a family favorite for sure.
The classic American comfort food, chicken, and dumplings is the perfect recipe for a cold and rainy day. The soothing flavors of the chicken stock, herbs, and vegetables will warm your soul, and the dumplings are so light and fluffy that it almost makes you want to slap your grandma. Here's a delicious way of putting a new twist on an old favorite.
The best part about this dish is that it's made in a crockpot. When coming home from a tough day at work, I don't have the patience to wait hours for my food to be ready. This recipe is the perfect go-to on days like those. Just load up your crockpot with all the ingredients, leave it on low and come back when you're ready to eat!
Serving: 6
Preparation Time: 25 minutes
Cook Time: 7 Hours
Total Time: 7 hours 25 minutes
Ingredients:
2 ½ cups chicken broth, low sodium
3 large peeled and chopped carrots
2 chicken breasts, boneless skinless
½ medium finely chopped onion
2 ribs celery chopped
½ cup peas, frozen/fresh
2 medium potatoes cut into halves
1 tsp. Salt (or to taste)
2 tsp minced garlic
¼ tsp dried thyme
½ tsp parsley, dried
1 cup half & half
¼ tsp black pepper ( or to taste)
2 tbsp corn starch
For Dumplings:
1 cup all-purpose flour
½ tsp. Salt (to taste)
1 tsp. baking powder
½ cup milk
½ tsp. Italian seasoning
2 tsp. canola oil
Instructions:
Add chicken breast, celery, chopped carrots, onions, peas, potatoes, salt, garlic, thyme, parsley, pepper, and chicken broth to the slow cooker (4-6 quarts) and stir all ingredients.
Cover the slow cooker and cook on high for 2-3 hours (on low 4-5 hours) until veggies are tender and chicken is cooked.
While the chicken and vegetables are cooking make dumplings: Take a medium bowl and add flour, salt, baking powder, and Italian seasoning to it. Then add canola and milk. Stir until combined. Cover and place it in the refrigerator until chicken and veggies are ready.
Remove the chicken from the slow cooker, place it on the cutting board, and shred it.
Now turn your slow cooker to high. Whisk together corn starch and half & half and stir into the crockpot.
Add shredded chicken into the pot and form rough balls of dumblings with spoons. Drop these dumplings balls on the top of vegetables and chicken one by one.
Cover the slow cooker and cook on high for 1.5-2 hours until dumplings are cooked and puffed.
When the sauce is thickened slightly, your Crockpot Chicken and Dumplings are ready.
Enjoy!
Tips & Tricks:
We have used low sodium broth in this recipe. If you are using regular broth, it is suggested to reduce the amount of salt.
You can also use chicken thighs if chicken breast is not available.
If you are using thawed peas, add them with dumplings instead of vegetables and chicken.
Makes up a cornstarch slurry because it will help to thicken the gravy.
If you want to make your dumplings dairy-free, you can use any plant-based milk.
Don't forget to increase the temperature from low to high before adding the dumplings. Otherwise, the dumplings will end up mushy.
How to store leftovers Crockpot Chicken and Dumplings?
If you have had a chance to try our recipe, then you know how tasty it is, but even the best recipes can leave you with lots of leftovers.It is very important to properly store your leftovers so they don't spoil as fast. I have found that using freezer bags will help keep food fresher longer than plastic wrap or containers.
I usually make a double batch of my Crockpot Chicken and Dumplings and freeze the leftovers. I have tried freezing the leftovers in a container and found that it didn't taste as fresh as the freezer bag method. Just make sure to be sure to remove as much air from the freezer bag as possible to make sure that it is as airtight as possible. I usually freeze the leftovers in a freezer bag and then place the freezer bag into a plastic container or a freezer paper to help keep everything organized.
If you tried the recipe, share your thoughts in the comment box below. We would appreciate your response!