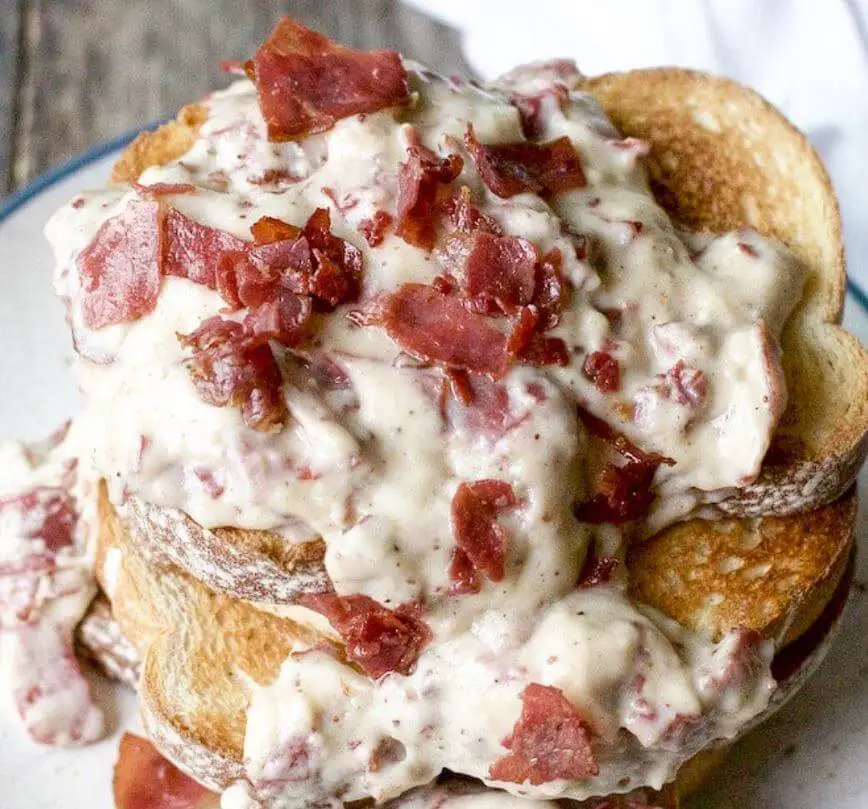 Creamed Chipped Beef on Toast is a simple, quick and delicious dish you can make within minutes. You can serve it as a snack or a quick lunch fix. This recipe is perfect for untimely cravings and is effortless to make. You get the richness from jarred beef, the creaminess from béchamel sauce and the crunchiness from the toast.
Try this recipe at home and enjoy a great meal with your friends and family. I am sure they will love it!
Can you use any other meat for this recipe?
Well, I recommend using jar dried beef for this recipe because it is tasteful and convenient. However, you can also use leftover chicken, turkey or steak and enjoy. The main aim is to make something tasteful and quick.
How to store creamed chipped beef?
You can place the leftover creamed chipped beef mixture by placing it in an air-tight jar and refrigerating. It will stay fresh for up to 2 days. You can reheat it and adjust its consistency.
Variation ideas
Here are a few ways you can add more ingredients to this dish and make it more tasteful:
Meat: I have used jarred beef for this recipe. You can, however, use leftover chicken or turkey as well.
Cheese: Adding cheddar or mozzarella cheese to this mixture will make it rich and cheesy. It will add a texture and a flavour to this dish.
Seasonings: Add your favourite seasonings like Italian seasonings, taco seasonings or lemon-pepper seasoning to spice this creamed beef up.
Over tortillas: It tastes great over toasted bread, but you can serve it over tortilla chips or even French fries and enjoy.
Pickle: Add pickled jalapenos or onions as a topping for more flavour.
Preparation time: 5 minutes
Cooking time: 10 minutes
Total time: 15 minutes
Servings: 4
Ingredients:
4 whole-wheat bread slices, toasted
1 jar of beef slices
¼ cup butter
¼ cup All-purpose flour
3 cups milk
¼ tsp smoked paprika
2 tbsp parmesan cheese, freshly grated
black pepper, to taste
Salt, to taste
Preparation:
First of all, drain the beef slices and rinse them thoroughly to get rid of extra salt. Let them dry over a kitchen towel.
Chop the meat slices roughly and set them aside.
Place a saucepan over medium heat.
Once the saucepan heats up, add butter and let it melt.
Now add all-purpose flour and mix well so that the butter combines with the flour. Don't cook it for more than 45 seconds.
Now take the saucepan off the heat and slowly pour in milk while whisking vigorously so that no lumps are formed.
Place the saucepan back over heat and stir constantly.
Add beef and continue to mix until the mixture starts to thicken up and is bubbly.
Season with smoked paprika, black pepper and salt.
Toast brown bread slices in a toaster and pour the creamed beef mixture on top. Garnish with freshly grated parmesan.
Enjoy!