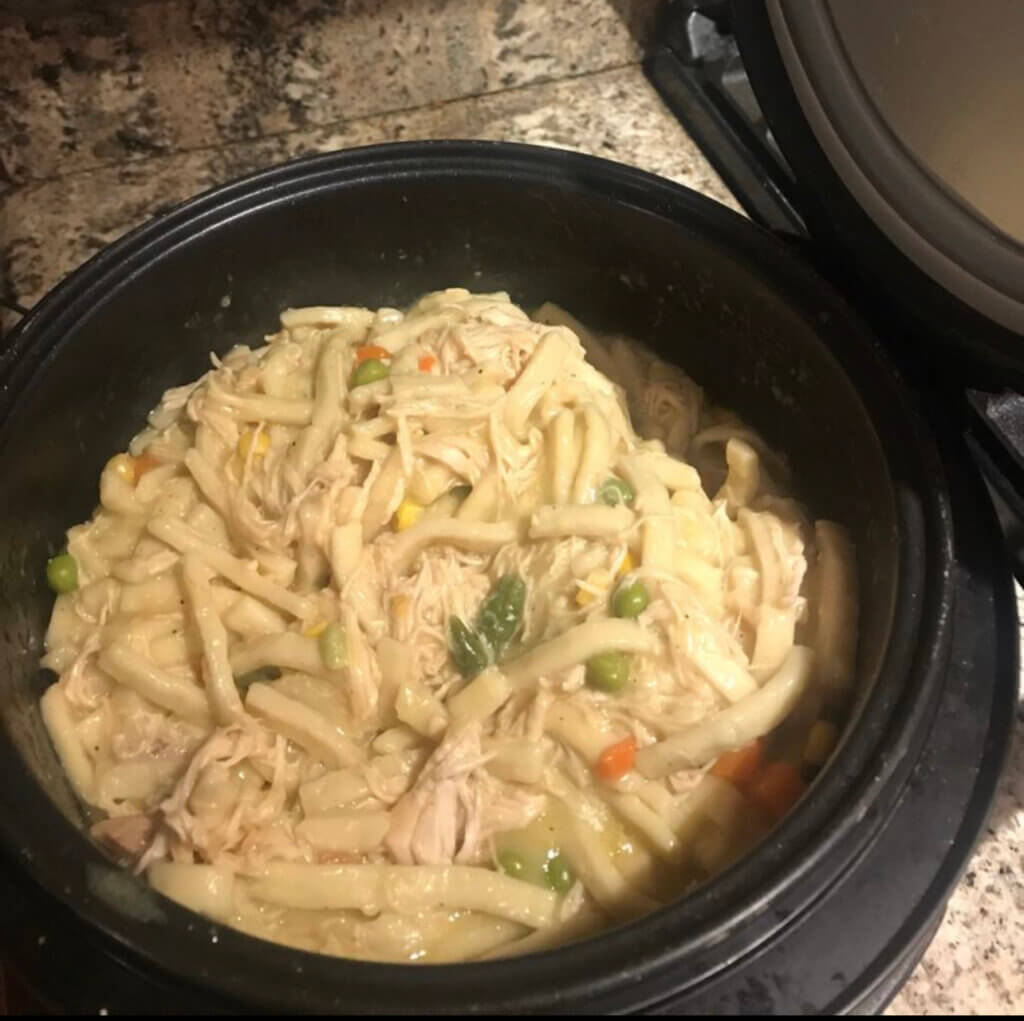 Nothing seems more comforting than a warm bowl of chicken and noodles. This Crock Pot recipe is the perfect winter meal. It's hearty, and full of flavor. The best part is that it's so easy to make. Throw all ingredients into your Crock Pot and let it work for you.
Can you make Comforting Chicken & Noodles Crock Pot in an instant pot?
Yes, you can make comforting chicken & noodles crock pot in an instant pot. For many reasons, the Instant Pot cooks the chicken and noodles perfectly every time. There's no risk of overcooking or undercooking, so you can always expect a delicious, comforting meal. It's quick and easy to make in the Instant Pot. Cleanup is a breeze with the Instant Pot.
What to serve with Comforting Chicken & Noodles Crock Pot?
Here are some ideas of what to serve with chicken & noodles:
A simple green salad is a great way to lighten up the dish. Add some diced tomatoes and cucumbers for extra flavor and nutrients.
For a heartier meal, serve the chicken & noodles over a bed of rice or quinoa. This will help soak up any excess broth and make the dish more filling.
If you want something truly indulgent, top your chicken & noodles with a dollop of sour cream or Greek yogurt.
How to store Comforting Chicken & Noodles Crock Pot?
One of the best ways to store this dish is by portioning it into individual containers. This will make it easy to reheat later on. Make sure to label each container with the date, so you know when it was made.
Another option is to freeze the dish in one large container. This is a great option if you plan on making a big batch and want to have some leftovers for later.
However, chicken and noodles can be stored in the refrigerator for up to four days. To reheat, simply place the dish in the microwave or oven until it is heated.
If you have leftovers, you can freeze them for up to three months. To reheat, thaw the frozen chicken and noodles in the fridge overnight and then heat them in the microwave or oven.
Comforting Chicken & Noodles Crock Pot – The recipe
Preparation time: 15 minutes
Cooking time: 9 hours
Total time: 9 hours 15 minutes
Servings: 4
Ingredients:
300-gram chicken breast, boneless
½ cup butter, unsalted
2 cans cream of chicken soup
2 cans of chicken broth, low sodium
1 packet of egg noodles, frozen
Preparation:
Add butter, cream of chicken soup, chicken broth, and boneless chicken breast in a crockpot over low heat.
Cook the mixture for 5 to 7 hours. Then shred the chicken in the crockpot.
Add noodles to the crockpot at this stage and continue cooking for 2 hours.
Stir after every half hour.
Once done, remove from heat, transfer to the serving bowls and serve hot.