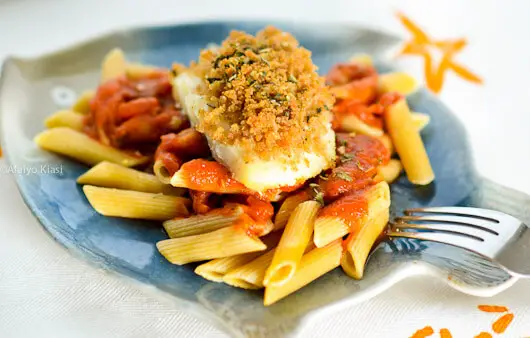 Cod is a good favorite among kids. We as parents know this because we grew up with breaded cod on our school lunch plates. We ate fish burgers from fast-food places like McDonald's, which served cod in its Fillet-O-Fish sandwiches from 1962 until the 1980s. According to the Center for American Progress Action Fund, overfishing of cod compelled the chain to switch to other white fish, such as Hoki and pollack. With its long history as the ultimate kid fish, cod has cred among kids and their parents.
Cod and Sustainability
Monterey Bay's "Seafood Watch" organization lists 21 fish with "cod" in their market names. Given these varied fish species and their range of sustainability ratings (from "Best Choice" to "Avoid"), I suggest selecting Alaska Cod for your recipes. Alaska's meticulous management of fish in its marine-protected areas helps ensure the fish's health and the environment. Seafood Watch rates cod from "Best Choice" to "Good Alternative," depending upon the catch methods. Buying Alaska seafood for my family means I don't have to wonder if the fish is sustainable. I know the fish is a healthy choice because it's from Alaska.
Cod and Mercury Levels
Potential mercury in seafood is a concern for all of us, particularly for expectant mothers and children aged 12 and under. The Environmental Defense Fund rates cod as having low to moderate levels of mercury and is safe for kids up to 5-years-old to eat four times a week. Kids aged 6-12 and their parents can eat four-plus servings per week.
Why Kids Will Like It
Besides the mild taste of cod, kids will like the crunchy bread coating, and likely won't mind a bit that it's made from spelled toast. That means it's a gluten-free coating. If you use rice pasta, the whole dish can be gluten-free.
Recipe: Cod Medallions with Penne Rigate (Serves 4 young children)
Ingredients (Cod Medallions):
2 tablespoons light butter or margarine
2 slices French Meadow Organic 100% Spelt Bread, lightly toasted and crumbled in a food processor (substitute spelled Bread with any gluten-free bread)
2 six-ounce fillets of cod, thawed and sliced in half
1/2 teaspoon Kosher salt
1/4 teaspoon pepper
1/2 teaspoon sweet paprika
Ingredients (Penne Rigate with Marinara Sauce):
1 12-ounce package gluten-free Penne Rigate
1 24-ounce jar marinara sauce
1 tablespoon all-purpose, salt-free herb seasoning
Parmigiano Reggiano Cheese, shredded (optional)
Directions:
Melt butter or margarine in saute pan over medium-low heat. Add bread crumbs and mix thoroughly. Set aside.
Pre-heat oven to 400 degrees. Season codpieces with salt, pepper, and paprika. Put in oven and bake for 10 minutes.
Remove from oven and top each codpiece with a tablespoon of the buttered bread crumbs. Place back in the pan for 5 minutes or so until fish flakes easily with a fork.
Follow package directions for preparing the Penne Rigate. Heat the marinara sauce and spoon over cooked pasta. Top each serving of pasta and marinara sauce with a cod medallion.
Top with the herb seasoning and shredded Parmigiano Reggiano cheese, if desired, and serve.