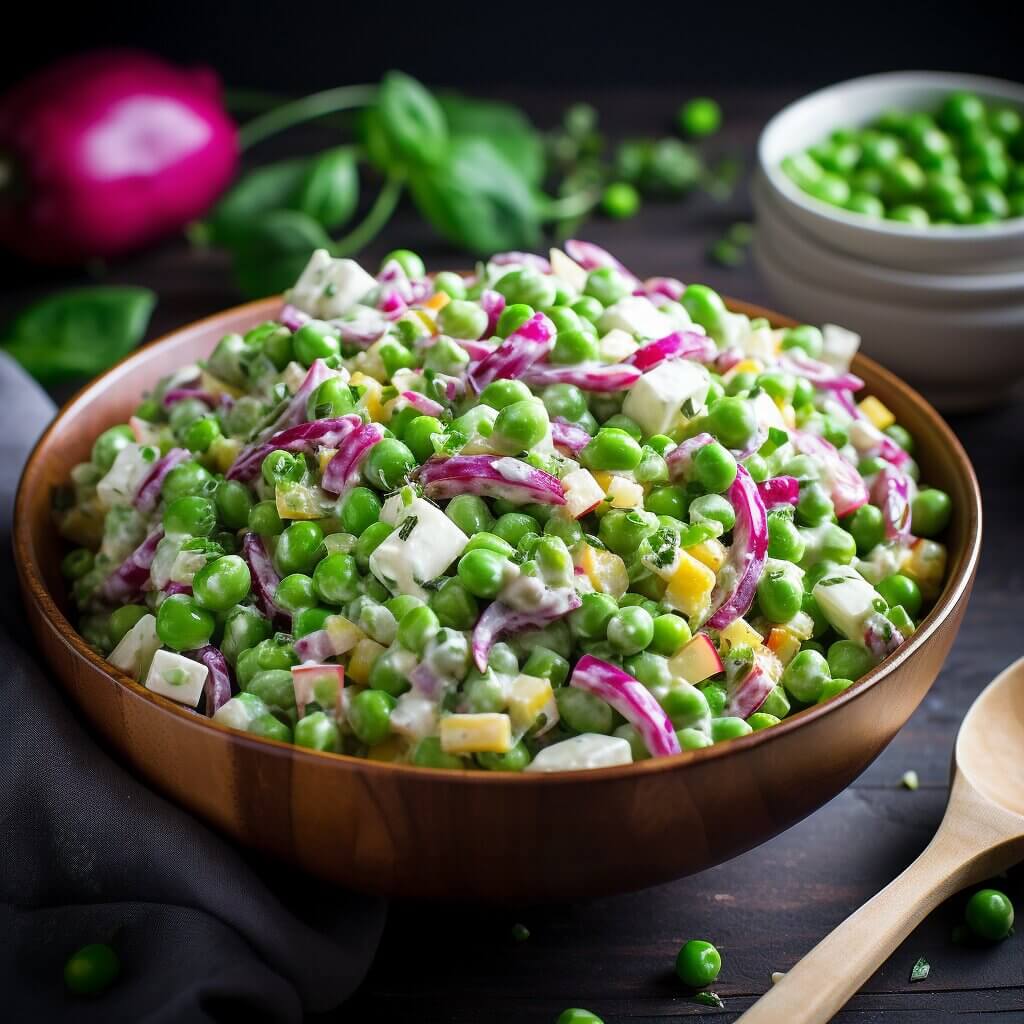 The sun is shining, the flowers are blooming, and fresh spring produce is rolling into the farm stands. You know what that means – it's pea salad season! This classic potluck staple truly never goes out of style. The sweet burst of garden peas, hard boiled egg protein, rich and creamy mayo dressing, and salty crunch of cheese all join together in a blissful salad harmony that sings of sunny days and good times.
I simply cannot contain my excitement to share this easy homemade version that's infinitely better than the store-bought kind. No unnatural ingredients or preservatives here, just good old-fashioned, down home flavor. With my simple step-by-step instructions, you can whip up this sensational crowd-pleasing salad in just 15 fun-filled minutes. I'll hold your hand the whole way through for tender crisp peas, perfectly jammy eggs, and a luscious creamy dressing every single time.
This pea salad is an essential rite of passage for any home cook to master when spring rolls around. It's time embrace the season and get cooking, my friends! Your family and friends will be begging you for the recipe after getting one delightful bite of this crunchy, creamy, dreamy salad. So get ready to impress at your next picnic or BBQ with this iconic, easy-peasy warm weather classic. Alright, let's get this pea salad party started!
What kind of peas work best in this salad?
Oh my peas, let's dish about the possibilities! For the sweetest flavor and crispiest tender texture, I wholeheartedly recommend bubbly excited frozen petite peas. Their petite size and fresh-from-the-field flavor simply cannot be beat. But fret not, my fresh and canned pea-loving friends, you can totally use those varieties too!
Can I customize this recipe?
Absa-pea-lutely!! I fully encourage you to channel your inner pea-picasso and customize to your heart's content! Dice up some crunchy veggies like carrot or radish, sprinkle in fresh herbs like lively dill or parsley, or go hog wild with some bacon bits. The options are endless, so get creative and make this salad your own, you creative pea!
How long does this salad take to make?
Lickety-split fast, that's how quick! Thanks to easy breezy prep and minimal cooking, this super salad comes together in a mere 15 minutes flat. With quick hands and some upbeat tunes in the background, you'll have this salad ready in a pea-inch!
When is this salad in season?
Spring and summer is prime pea season, baby! Embrace those sunny days and fresh young peas. But fear not, with magical frozen peas, you can enjoy this salad during any season. So get your pea party on all year round!
What can I serve this salad with?
Oh the possibilities! This versatile salad pairs swimmingly with grilled chicken or fish and makes BFFs with pasta and slaw salads. Or just let this pea salad shine solo in all its glory. However you serve it, it's sure to be a crowd-pleasing pea-leaser!
How long will the salad keep in the fridge?
Thanks to the TLC from the creamy dressing, this salad keeps for 3-5 days in an airtight container. The flavors get even better as they mingle and chill. So make a big batch to nosh on all week long!
Prep Time: 10 minutes
Cook Time: 5 minutes
Total Time: 15 minutes
Ingredients:
2 cups frozen petite peas, thawed
3 hard boiled eggs, chopped
1/4 cup shredded cheddar cheese
1/3 cup mayonnaise
1 tbsp apple cider vinegar
1 tbsp chopped fresh dill (optional)
Salt and pepper to taste
Instructions:
Place 2 cups of frozen petite peas into a colander or strainer. Run cool water over the peas for 2-3 minutes, until thawed. Allow excess water to drain off completely. Set aside the thawed peas.
Fill a small saucepan with water, about 2 inches deep. Bring the water to a rapid boil over high heat. Using a spoon, gently lower 3 large eggs into the boiling water. Boil for exactly 1 minute, no longer. Cover the pan with a tight-fitting lid, then immediately remove from heat. Let the eggs sit in the hot water, covered, for 10-12 minutes. This cooks the eggs perfectly without turning them rubbery. Drain hot water and transfer eggs to a bowl filled with ice water. Let cool completely before peeling.
Once cooled, carefully peel the hard boiled eggs. Chop the peeled eggs into 1/4 inch pieces using a sharp knife. Take care not to mash them. Add the chopped egg pieces to a large mixing bowl.
Measure out 1/4 cup of shredded extra sharp cheddar cheese. Add the cheese to the bowl with the chopped eggs.
In a small bowl, whisk together 1/3 cup mayonnaise, 1 tablespoon apple cider vinegar, and 1 tablespoon chopped fresh dill. Pour dressing over the eggs and cheese.
Using a rubber spatula, gently fold the ingredients to combine, being careful not to over-mix.
Add the thawed, well-drained peas to the bowl. Gently fold again just until peas are evenly coated in dressing.
Season with 1/2 teaspoon kosher salt and 1/4 teaspoon freshly ground black pepper. Cover bowl tightly with plastic wrap. Refrigerate for 30 minutes to allow flavors to meld.
Transfer chilled pea salad to a serving bowl. Garnish with extra chopped dill. Enjoy!
Cooking tips :
Seek out the highest-quality eggs from your local farmer's market for the best flavor.
Cook the eggs properly until just set, not rubbery or overdone.
Use a light hand when folding to keep the peas intact and prevent mushiness.
Allowing the salad to chill allows the dressing to penetrate the ingredients fully.
Customize the salad with crispy bacon bits, diced carrot or radish, or fresh parsley.
For a complete meal, serve alongside bread, chicken salad, or crackers.