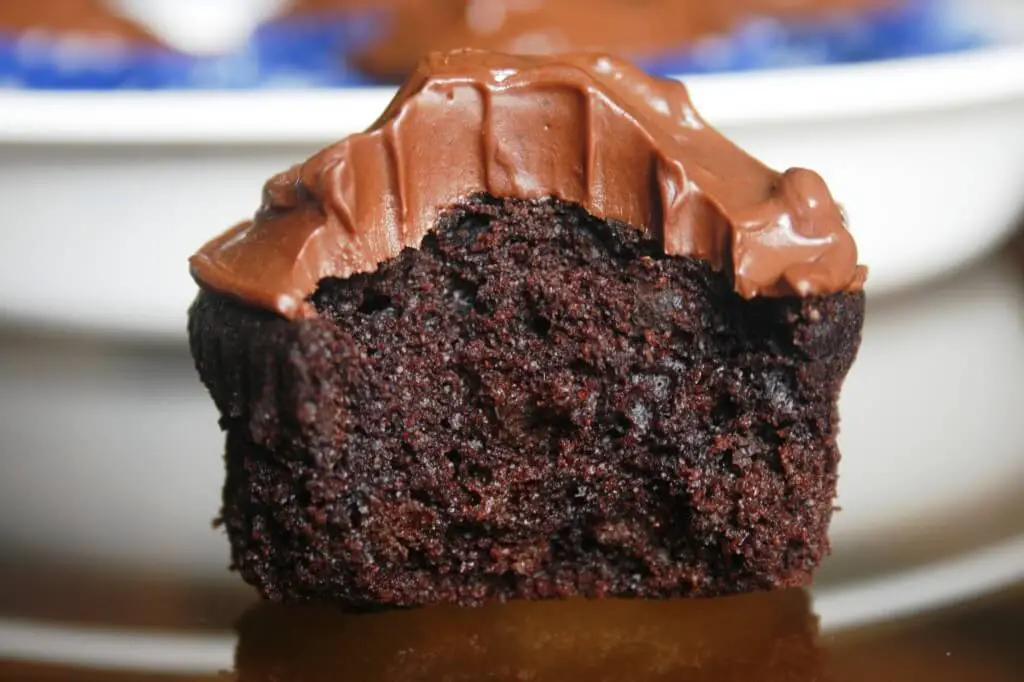 Without a doubt this is the best thing I have made to date. And I am not just saying that because I am a chocolate fiend. Chocolate has to be the best thing in the world. Okay, okay besides my husband and son, but chocolate definitely comes right after!
There is something about chocolate that can turn your day right around. The creamy, melt in your mouth, aphrodisiac, yummy goodness… I could go on forever, but I won't because I know all you really want is the recipe.
These cupcakes are beyond rich. I dare you to try to eat the whole batch. You will be satisfied with the first bite. They are so light and airy, yet the rich frosting and the mini chocolate chips in the cupcake really make this a decadent treat! The frosting has a little cacao butter in it to keep the frosting from smearing. I love that the cacao butter holds the frosting together firmly until you take a bite and then all the velvety frosting melts all around your taste buds. Yum! Ok now I want one…. but I already ate them ALL.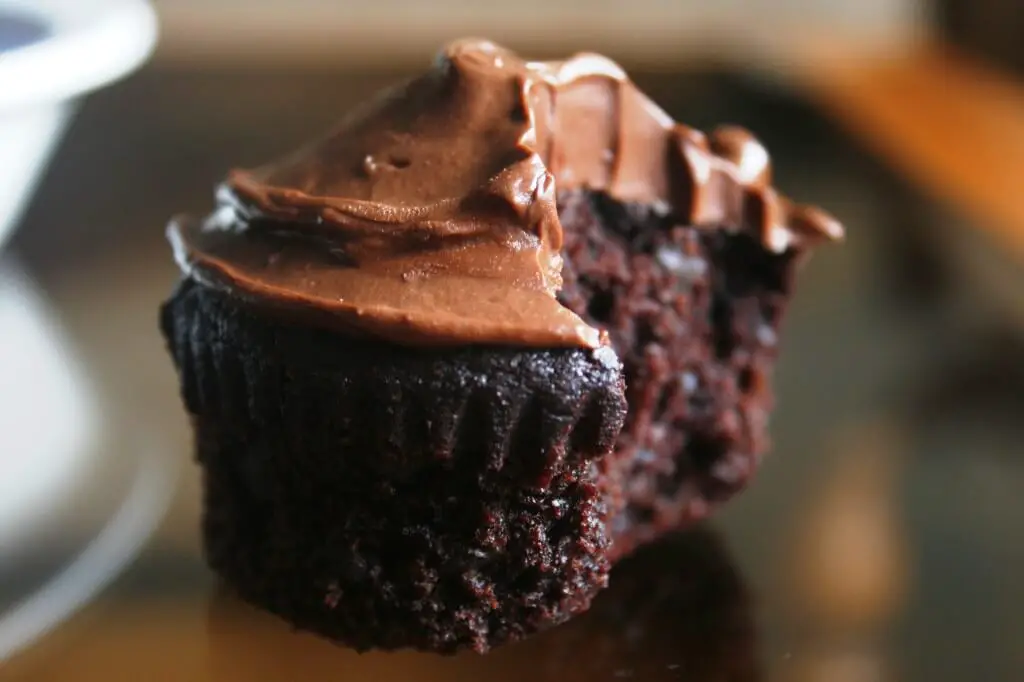 Growing up we ate cupcakes that were filled with sugar, food coloring, lard and more sugar. I probably cut 30 days off my life by eating each one of them. The only thing that was ever good was the initial first bite of sweetness and then it was all downhill from there. From the lard caked on the roof of your mouth, the stained tongue from all the food coloring, the major sugar crash 10 minutes later and lets not forget the extra jiggle you get when you walk for the next four days. Yikes! Cant I just have a cupcake!!!
Yes I can!! I could literally eat an entire plate of these bad boys and not feel anywhere near as disgusting as I would eating one of those cupcakes from my childhood.
These cupcakes are full of protein, good fats, antioxidants and will most definitely lift your mood!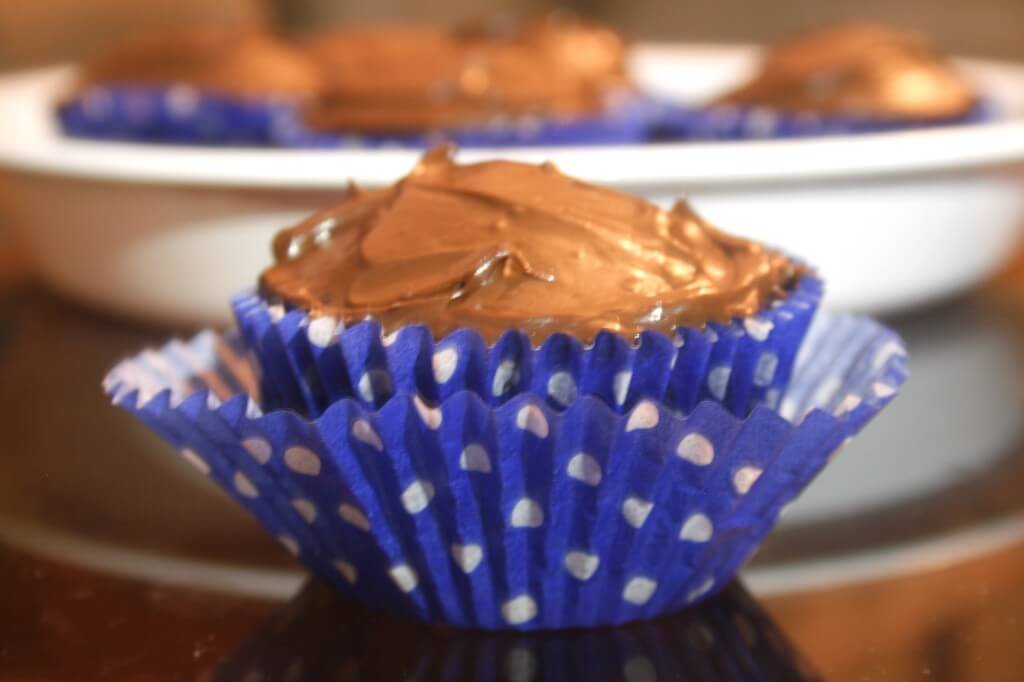 Ingredients:
Chocolate Cupcakes
1/2 cup spelt flour
1/4 cup cacao powder
1/2 teaspoon baking soda
1/4 teaspoon himalayan salt
2 tablespoons xylitol
1/4 cup coconut oil, melted
5 tablespoons almond milk
1 large egg
1/2 teaspoon stevia liquid
1 teaspoon vanilla
Optional (but who are we kidding): 1/4 cup mini dark chocolate chips
Rich Chocolate Fudge Frosting
3/4 cup mini dark chocolate chips
1 tablespoon xylitol
1/2 ounce cacao butter
1/3 cup coconut oil
Directions:
Chocolate Cupcakes
Preheat oven to 350 degrees
Mix together the spelt, cacao powder, baking soda, salt and xylitol in a bowl and the coconut oil, almond milk, egg, stevia and vanilla in another bowl.
Incorporate dry ingredients into wet ingredients.
Gently fold in chocolate chips
Pour cupcake mixture into prepared muffin tins.
Bake for 18 minutes. You will notice at 15 minutes there will still be a little bit of raw batter in the creases after that last three minutes it will be completely cooked. When you pull it out of the oven gently take your cupcakes out of the pan to cool so that it doesn't continue to cook in the pan. I try to gently tug at a piece of the cupcake liner and then scoop the bottom with a butter knife.
Let completely cool before decorating with frosting, about 20 minutes
Rich Chocolate Fudge Frosting
Place all of the ingredients in a small saucepan and turn the stovetop to medium heat.
Once all of the ingredients have melted together stick the saucepan in the refrigerator for about 30-45 minutes. You don't want the chocolate to get too stiff because it will be hard to work with. However, if it does then you can briefly warm it up a little on the stove.
Take your hand mixer and give it a good whip until it is fluffy. Spread on your cooled cupcakes.