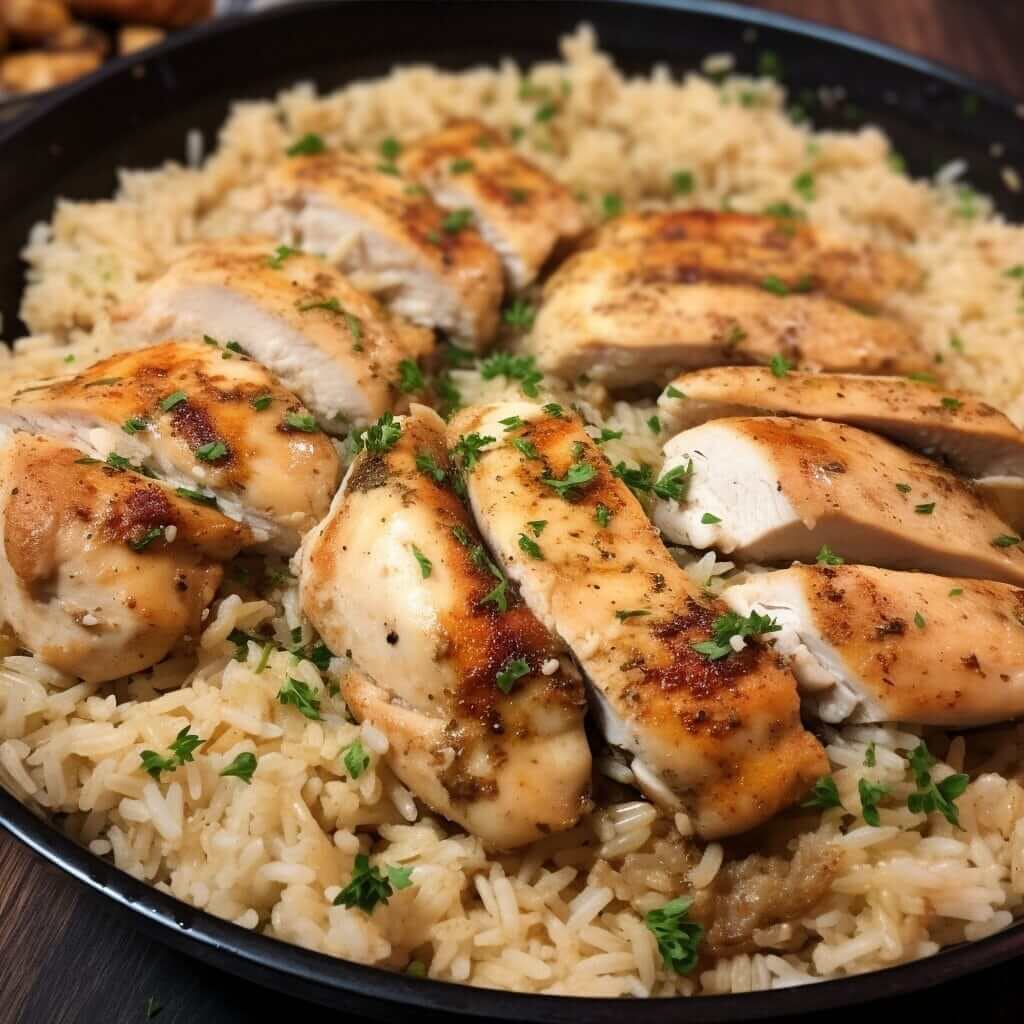 Get ready for a chicken dinner that will have your tastebuds doing somersaults! Today I'm sharing my easy recipe for juicy baked chicken breasts served over the creamiest garlic parmesan rice you ever did taste. This dynamic duo is about to become your new favorite weeknight meal.
Let's talk about this mouthwatering chicken first. A crispy coating of panko breadcrumbs, grated parmesan, minced garlic, and Italian seasoning bakes up golden and crunchy, while the chicken stays tender and moist inside. Every flavorful bite will have you closing your eyes and smiling.
And this rice, you guys. It's love at first bite. Simmered in an umami-packed broth made with parmesan rinds, it turns out so creamy and rich. Stir in fresh garlic, lemon juice, and parmesan right before serving for next-level flavor.
Together, this chicken and rice combo is unstoppable. The crunchy, garlicky chicken pairs perfectly with the creamy, cheesy rice. And good news – it comes together in just 40 minutes! Simply prep the chicken, pop it in the oven, then make the rice while the chicken bakes. Dinner made easy.
This will fast become a regular on your dinner table. The kiddos will gobble it right up and you'll love that it's budget-friendly. Plus, you can use up Parmesan rinds instead of throwing them away.
Let's get cooking so you can sink your teeth into crackly, juicy chicken and rich, velvety rice. A new favorite, coming right up!
Let's start with the FAQs:
What makes the coating on the chicken so crispy when it bakes?
The combination of panko breadcrumbs, grated parmesan cheese, and seasonings creates a crunchy crust on the outside of the chicken as it bakes. The panko crumbs bake up golden brown and provide crispy texture, while the finely grated parmesan adds nuttiness and allows the coating to brown nicely. The garlic, oregano, salt, and pepper add lots of flavor.
How does simmering the rice in Parmesan broth make it so creamy and delicious?
Simmering the rice in broth infused with Parmesan rinds gives it tons of rich, savory flavor. The cheese rinds impart a delicious umami taste. Starch from the rinds and rice also helps thicken the broth into a creamy consistency. Finally, stirring in lemon juice, garlic, and parmesan right before serving adds tanginess, aromatics, and even more cheese flavor.
What ingredients give this chicken and rice dish so much Italian flavor?
Fresh garlic, dried oregano, Parmesan cheese, and lemon juice all provide authentic Italian taste. The garlic brings an aromatic flavor, oregano an earthy herbal note, Parmesan a nutty cheesiness, and lemon bright, citrusy acidity. Together they make a flavorful Italian-inspired meal.
Why is this recipe so quick and easy to make on a weeknight?
Simple ingredients and convenient cooking method make this doable on busy weeknights. The chicken only needs 20 mins to prep then bakes unattended. While it's in the oven, the flavorful rice simmers on the stove. Total hands-on time is under 40 minutes.
What makes both the chicken and rice so appealing to kids' tastes?
The crispy panko coating on the chicken provides crunch kids love. The creamy, cheesy rice is also irresistible to kids' developing palates. This meal provides flavors and textures children enjoy without being processed.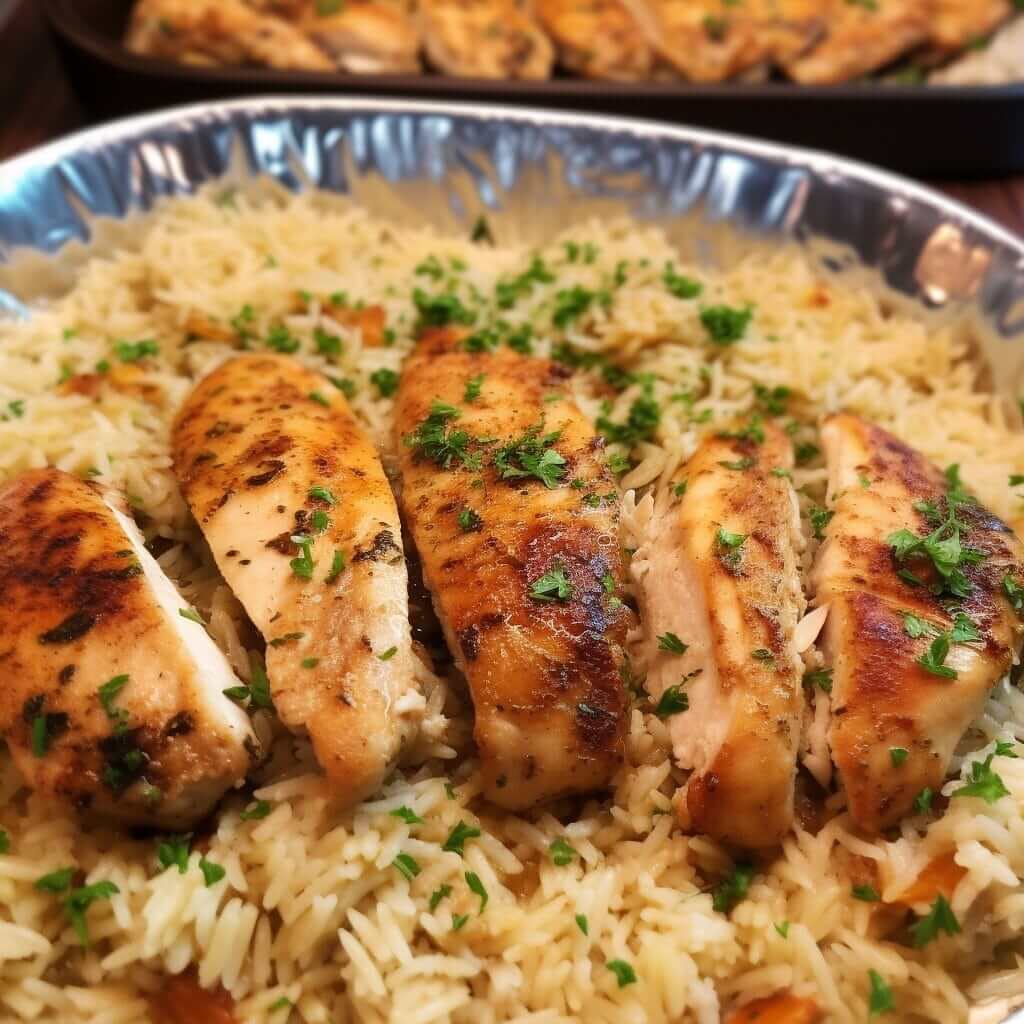 Prep Time: 10 mins
Cook Time: 30 mins
Total Time: 40 mins
Ingredients:
For the chicken:
4 bone-in, skin-on chicken thighs (about 2 lbs) – bone-in thighs have more flavor
1⁄2 cup all-purpose flour – lightly coats the chicken
2 large eggs, beaten – helps the breadcrumbs adhere
1 cup panko breadcrumbs – gives a crispy coating
1⁄4 cup grated parmesan cheese – adds rich, nutty flavor
2 tablespoons olive oil
2 cloves garlic, minced
1 teaspoon dried oregano
1⁄4 teaspoon paprika – for color
Salt and pepper to taste
For the rice:
3 cups low-sodium chicken broth
1 cup uncooked long grain white rice
1⁄4 cup grated parmesan cheese, plus more for serving
2 cloves garlic, minced
2 tablespoons lemon juice
2 tablespoons butter
Salt and pepper to taste
Instructions:
For the chicken:
Preheat oven to 400°F. Line a baking sheet with parchment paper.
Pat chicken dry with paper towels. Season all over with salt and pepper.
Place flour in one shallow dish. In another, whisk together eggs. In a third, combine panko, parmesan, olive oil, garlic, oregano, paprika, and a pinch of salt and pepper.
Dredge chicken in flour, dip in eggs, then coat all over in panko mixture, pressing gently to adhere.
Arrange chicken on prepared baking sheet. Bake for 30-35 minutes until cooked through and crispy.
For the rice:
In a saucepan, bring chicken broth to a boil. Stir in rice, reduce heat to low, cover and simmer for 20 minutes.
Remove from heat and stir in parmesan, garlic, lemon juice, butter and season with salt and pepper to taste.
Serve chicken over the garlicky parmesan rice. Garnish with extra parmesan if desired.
Tips:
Use freshly grated parmesan for the best flavor.
Don't overcrowd chicken pieces when baking.
Check rice and chicken for doneness before removing from heat.
Let chicken rest 5 minutes before serving for juicier meat.
Stir rice gently to avoid mushiness.
Store leftovers separately up to 4 days. Reheat in oven or microwave.
Enjoy this classic pairing of crispy baked chicken and rich, cheesy garlic rice!