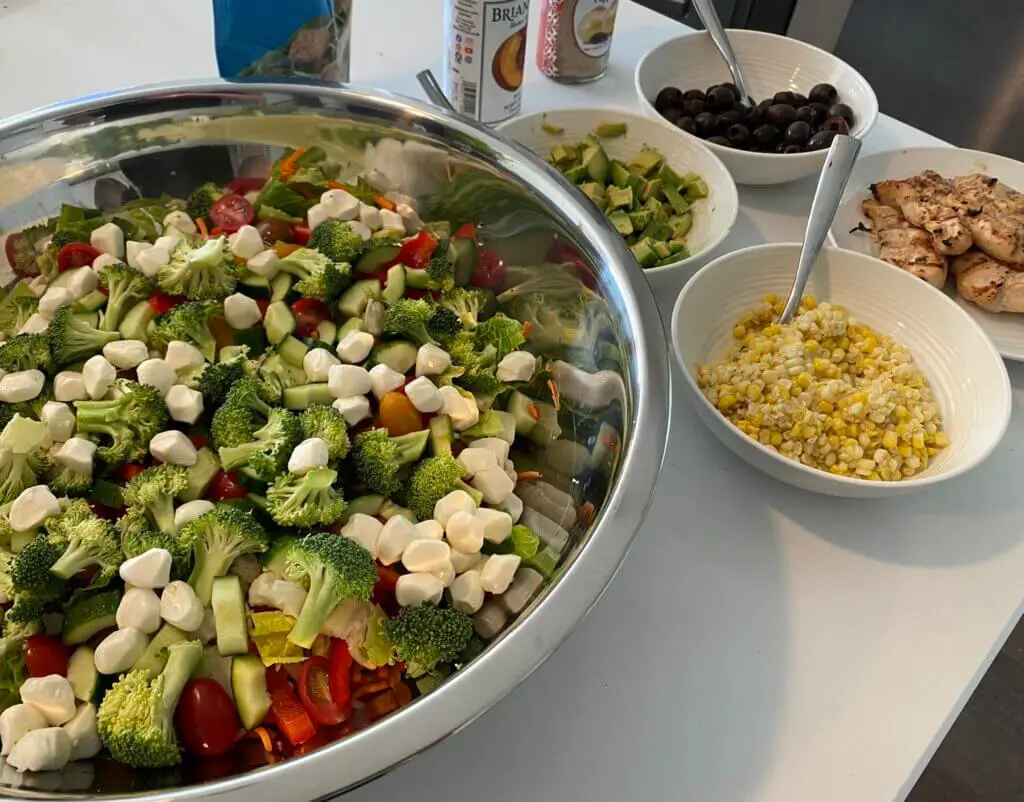 A fresh chicken salad is everything you will need to eat. It is both refreshing and tasteful. There are so many amazing ways to enjoy this salad. You can add more ingredients to customize it according to your liking.
Variation ideas:
Here are a few amazing ideas you can use to customize this delicious and refreshing chicken salad.
Meat: Although I have used cooked chicken, you can use leftover chicken from a roast as well. Moreover, you can also use leftover turkey meat for this recipe. If you are a seafood lover, try adding light canned tuna to this recipe and enjoy!
Vegetables: The beauty of this salad is it goes well with almost everything. So, you can add a variety of vegetables to this salad. Try adding boiled or roasted potatoes, peas, corn, red cabbage, bell pepper, and shredded carrot, and enjoy flavor, texture, nutrients, and color.
Fruits: Although I have used apples in this salad, you can use any other fruit to bring in sweetness. Try adding pomegranate seeds, red or green grapes, or fresh orange or grapefruit segments.
Bacon: Add chopped cooked bacon for flavor and crunch.
Greek yogurt: You can replace mayonnaise or sour cream with Greek yogurt for a more refreshing and light version of chicken salad.
What t serve with chicken salad ?
There are so many ways you can enjoy a chicken salad. Here are a few to name:
Sandwich: Use this chicken salad as a filling in bread and turn it into a cold sandwich. It is both refreshing and wholesome.
Chips: serve the chips with potato chips, sweet potato chips, tortilla chips, crackers, and enjoy a crunchy element.
Burgers: This salad goes so well as a side dish with your favorite burgers.
Croissant: Serve it with a flaky croissant. The soft croissant and the creamy salad are the best pair ever.
Cabbage leaves: You can serve it over cabbage leaves and make a low-carb wrap. It is not just refreshing but healthy and very filling.
Can you store chicken salad ?
You can prepare the salad in advance and refrigerate it for up to 2 days. Moreover, you can make it in advance and refrigerate it. Add the creamy elements in the end just before serving to ensure freshness and flavor.
Chicken Salad – The recipe
Preparation time: minutes
Cooking time: minutes
Total time: minutes
Servings: 4
Ingredients:
1 ¼ cup cooked chicken chopped
1 medium-sized apple, diced
¼ cup walnuts, chopped
½ cup cabbage, shredded
¼ cup celery, diced
½ cup light mayonnaise
¼ cup sour cream
1 tbsp lemon juice
1 tsp Dijon mustard
Black pepper, to taste
Salt, to taste
Preparation:
Add light mayonnaise, sour cream, lemon juice, Dijon mustard, salt, and black pepper to a large salad bowl. Mix well.
Add shredded cooked chicken, diced apples, celery, cabbage, and walnuts to the bowl.
Mix well using a rubber spatula or a salad spoon until everything is well combined.
Place it in the refrigerator for about an hour to chill. Serve.