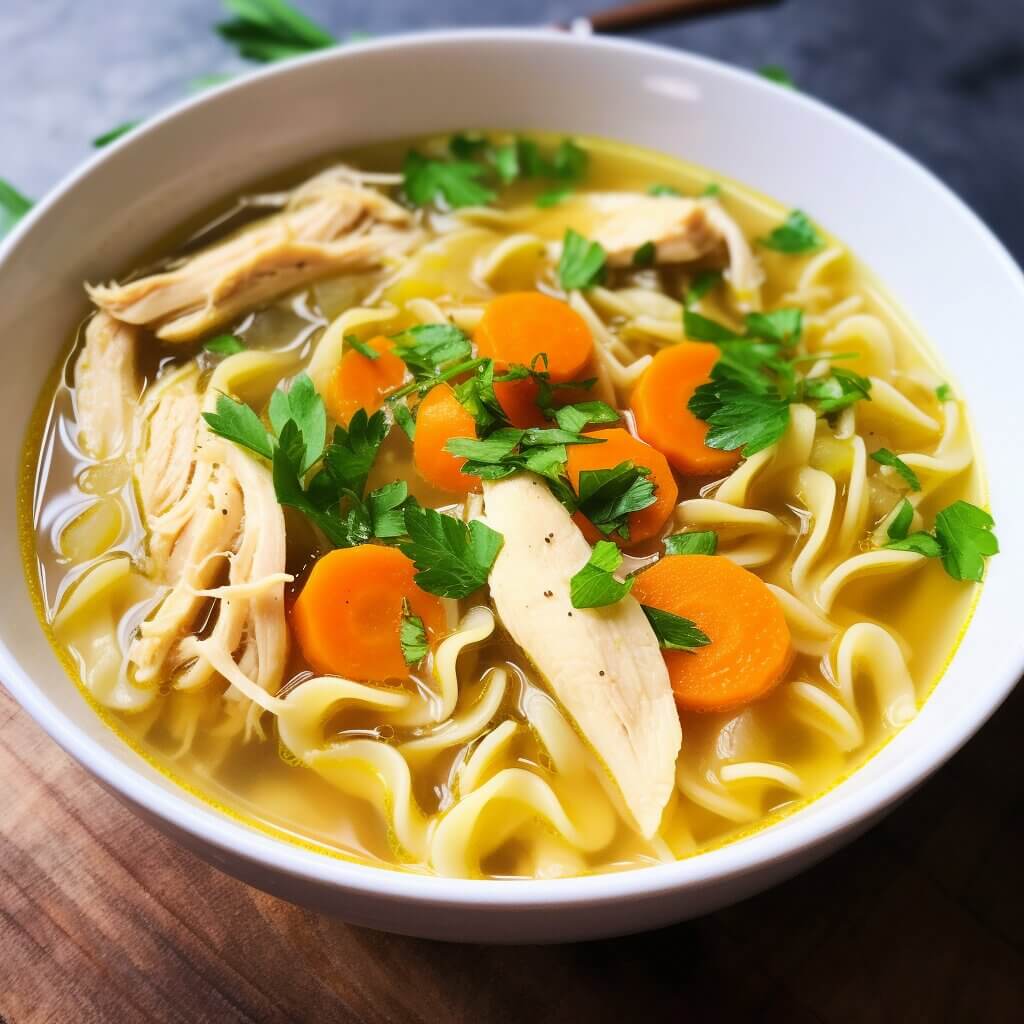 Is there anything more comforting on a chilly day than a steaming bowl of homemade chicken noodle soup? This soul-warming classic is just what you need when you're feeling under the weather or want a cozy dinner on a cold night.
Gather round, friends! I'm excited to share my easy recipe for homemade chicken noodle soup that tastes just like grandma used to make. With juicy chicken, tender noodles, and a rich, savory broth, this soup really hits the spot.
Before we begin boiling our broth, let's go over a few frequently asked questions about making chicken noodle soup from scratch:
What kind of noodles work best?
I prefer wide egg noodles, but small pasta shapes like ditilini work too. Stay away from really thin spaghetti-style noodles that can get soggy.
How do you make the broth so flavorful?
Simmer the chicken bones and vegetables for at least an hour, then season the broth with herbs and spices. Bay leaves add depth of flavor.
Can I use rotisserie chicken? Absolutely!
It saves time over cooking raw chicken. Just remove the skin and bones.
What toppings make it extra hearty?
Shredded carrots, chopped celery, and fresh parsley or dill are classic additions. For extra protein, stir in cooked rice or small pasta.
Is it better homemade or from a can?
No question, homemade! The real ingredients and complex broth pay off.
Now let's get cooking!
This soup comes together in about 1 1/2 hours for total comfort in a bowl.
Ingredients:
1 pound boneless, skinless chicken breasts (about 2 small breasts)
2 quarts (64 ounces) low-sodium chicken broth
3 medium carrots, diced (about 1 1/2 cups)
2 stalks celery, diced (about 1 cup)
1 medium yellow onion, diced (about 1 cup)
3 cloves garlic, minced
1/2 teaspoon dried thyme
1 bay leaf
1/2 teaspoon freshly ground black pepper
1 cup wide egg noodles (or small pasta shapes)
1/4 cup chopped fresh parsley
Instructions:
In a large pot or Dutch oven, combine the chicken, chicken broth, carrots, celery, onion, garlic, thyme, bay leaf and black pepper. Bring to a boil over high heat.
Once boiling, reduce the heat to medium-low. Simmer gently for 45 minutes to 1 hour until the chicken is cooked through and the vegetables are tender.
Transfer the cooked chicken to a plate. Once cool, shred or dice the chicken into bite-sized pieces.
Discard the bay leaf. Add the egg noodles and simmer for 5 minutes until the noodles are tender but still firm.
Return the shredded chicken pieces to the pot and heat through.
Ladle the soup into bowls and garnish with the chopped parsley. Enjoy this nourishing soup!
Cooking Tips:
For a shortcut, use 4 cups shredded rotisserie chicken instead of cooking raw chicken.
Add a splash of lemon juice right before serving for a bright, fresh flavor.
Swap the noodles for cooked rice or small pasta for variety.
Garnish with shredded cheese, croutons, or a dollop of yogurt for extra richness.
Freeze broth in batches for quick chicken noodle soup anytime.
Add frozen peas or corn in the last 5 minutes if you want some extra veggies.
This homemade chicken noodle soup is the ultimate comforting meal in a bowl. With its pleasant aromas and tangy, savory broth, it's sure to warm you up on chilly days. Thanks for joining me in the kitchen today! Let me know if this recipe for classic chicken noodle soup becomes your new favorite.