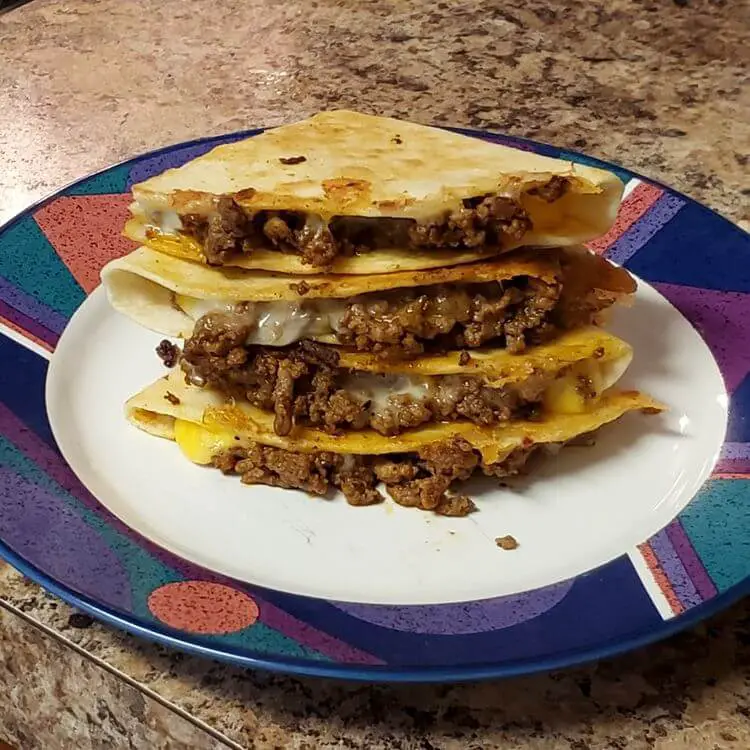 Today, we treat you to the most famous snack of Mexico and Latin America, the quesadillas!
They are wheat tortillas filled with vegetables, cheese and minced beef or chicken and can be enjoyed as a snack, as an appetizer or as a dish.
Ingredients:
4 tbsp (60 mL) oil
450 g (1 lb) lean ground beef
1 onion, chopped
1 garlic, chopped
1 tsp (5 mL) sugar
1 tsp (5 mL) oregano
1 tsp (5 mL) ground cumin
1 chilli flakes
1/2 crushed tomatoes
4-6 large tortillas
3 cups (750 mL) cheese, grated.
1/2 cup (125 mL) sliced pickled chillies (mild or hot) (optional)
salt, pepper
Sour cream, salsa, for serving (optional)
Preparation:
In a large skillet, heat 2 tbsp. Oil over medium-high heat, add ground beef and cook without stirring for 2 minutes to allow the meat to brown. Continue to cook, breaking up the flesh, for about 5 minutes, until all the water has evaporated and the heart begins to crackle.
Mix the garlic in a small bowl with the spices: sugar, oregano, cumin, and a pinch of chillies. Set aside.
Add onion to skillet and 1 tbsp. Oil if needed. Cook for 4 minutes. Add salt and pepper to taste and add the spice mixture and cook for 1 minute more.
Add half a small can of crushed tomatoes and cook for the last 2 minutes.
Place a tortilla in front of you, spread half of the circle to the edge with 1/2 to 1/3 cup of cheese. Top with 1/4 of the meat mixture, leaving a 1 cm border around the edge.
Add a few slices of pickled peppers, and close in a half-moon shape. Crush a little with your hands. Repeat with remaining tortillas.
Place two quesadillas side by side in the fat-free skillet and heat over medium-high heat for about 3 minutes on each side, mashing lightly with a spatula until golden brown. Repeat with remaining quesadillas.
Transfer to a board, cut in half and serve with sour cream, salsa and guacamole.