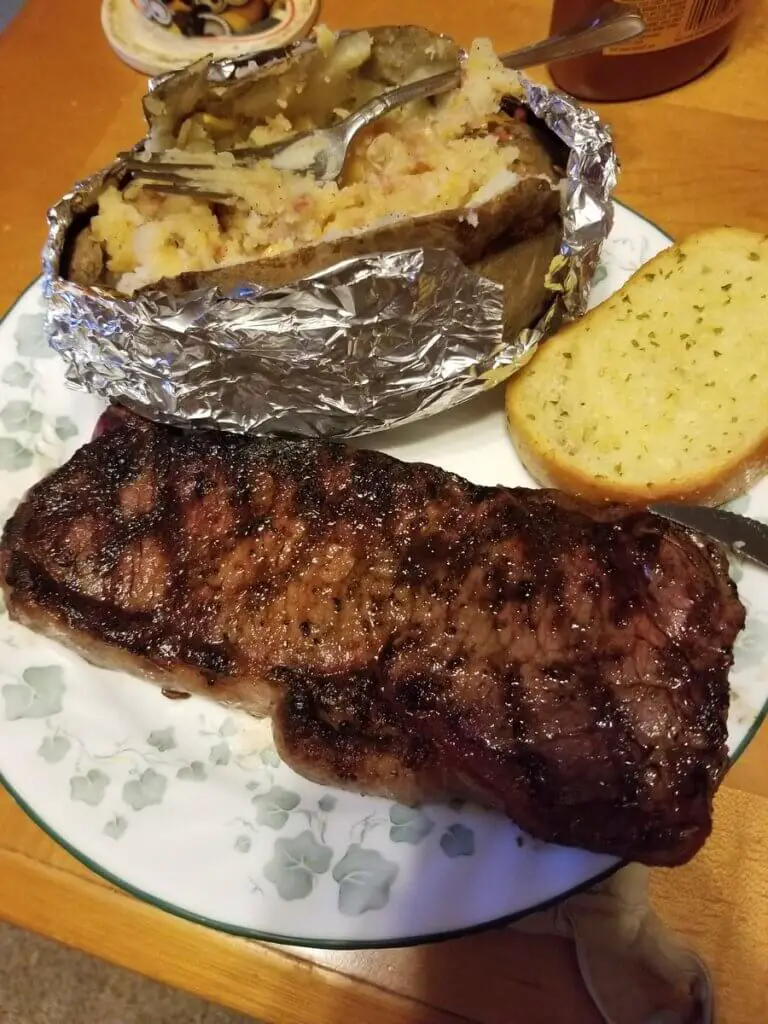 Cheesy garlic steak toast is nothing but cheesy, meaty, and garlicky goodness. The crispy toast is loaded with cooked steak meat and two types of cheese, making it a perfect dish for your lunch or party menu.
Points to remember when making Cheesy Garlic Steak Toast.
When making Cheesy Garlic Steak Toast, here are a few things you should keep in mind for best results:
You don't really have to cook meat every time for this recipe. You can use leftover steak as well. Just slice it as thinly as possible.
You can use several other vegetables as toppings as well. Use bell peppers or sliced jalapeno as well.
You can also use relish or any other dressing like garlic mayo ranch sauce to add more flavors.
You can use any type of bread for this recipe. You can use white, whole wheat, or gluten-free bread as well.
Although I have used mozzarella cheese slices for this recipe, you can use sharp cheddar cheese as well.
Cheesy Garlic Steak Toast – The Recipe
Preparation time: 10 minutes
Cooking time: 10 minutes
Total time: 20 minutes
Servings: 3
Ingredients:
For the toast:
½ cup unsalted Butter
4 Garlic cloves, minced
6 slices French bread, ½ inch thick
For the steak:
1 tbsp olive oil
½ pound steak meat, boneless and cut into thin strips
½ tsp paprika powder
Black pepper, to taste
Sal, to taste
For the assembly:
1 tsp olive oil
1 medium onion, thinly sliced
1 medium tomato, sliced
3 Mozzarella cheese slices
3 Provolone cheese slices
Preparation:
For the toast:
Place a medium pan over medium heat. Add butter.
Once the butter starts to melt, add minced garlic and sauté for 30 seconds or until the garlic is fragrant. Take the pan off the heat and set it aside.
Brush the garlic butter onto the French bread slices generously on the upside and place the slices on a parchment-lined baking tray.
Place the baking tray in a preheated oven for about 3 to 5 minutes or until they get a color. Flip halfway into the cook and baste more garlic butter. Bake until they get a golden color. Once done, set them aside.
For the steak:
In a pan, heat olive oil.
Add steak slices.
Season with paprika, salt, and black pepper, and cook the meat until it gets a color.
Once it is cooked through, take it off the pan on a serving plate.
For the assembly:
To the same pan, add more olive oil and cook onions until they are caramelized. Once done, take them off the pan onto a plate.
To assemble, place a mozzarella cheese slice onto the garlic butter toast.
Place cooked meat on top.
Next, add caramelized onion and tomato.
Top with Provolone cheese slice and place a garlic butter toast on top.
You can heat the toast in the oven until the cheese melts. Enjoy!