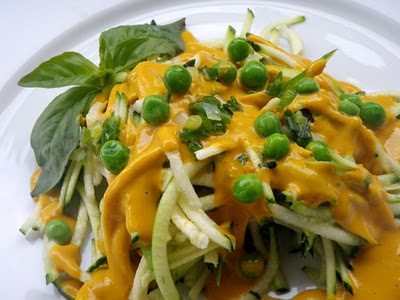 I thought it might be fun to make a raw Italian-inspired dish this weekend to celebrate the opening of Eat Pray Love. Of course, I know this is nothing like what Elizabeth Gilbert ate during her stay in Rome, but it is a delicious, creamy dish with all the comfort-food feeling of a bowl of pasta. I have to say (as a true Eat Pray Love fan) that the movie is worth seeing, but the book is way better. What I love most about Liz's story is how much she has inspired others to dream big, take risks, and follow their path of what is right. I think sometimes we get so caught up in everything we think we should do that we forget what we want to do and are too afraid to try.
One of my friends is moving to Tokyo for the next year. Wow. I can't imagine moving to a country where I don't speak the language and have no experience with the culture. April, you are such an inspiration to us all. May you always keep your adventurous spirit and remind the rest of us that we can do whatever we set out to.
So, whether you are traveling around the world this year or choosing to stay home and cherish time with friends and family, I hope you always take the time to enjoy some delicious food and hopefully this dish as well. Zucchini noodles are an easy place to start if you are new to raw foods or still learning. A spiralizer is great for making long strands of zucchini pasta, but you can easily use a food processor to slice the zucchini into julienne ("matchstick") strips.
If you don't like zucchini, feel free to use this sauce over other items — raw kelp noodles, whole-wheat or brown rice pasta, quinoa, or rice. You can even lightly heat the sauce in a pan for a few minutes and serve warm. Either way, the cashews make it a very creamy, non-dairy alternative to typical "cream" sauces.
Raw Zucchini Pasta with Carrot
Ingredients
Sauce:

1/2

cup

fresh carrot juice

1

cup

raw cashews

1

garlic clove

1

tablespoon

white or yellow miso

2

sun-dried tomatoes

optional

1

fresh Roma tomato

optional

4

medium zucchini

1/2

cup

frozen or fresh peas

2

green onions

chopped

fresh basil
Instructions
Make the zucchini pasta (if using) with a spiralizer or cut into julienne strips.

Juice your carrots to make 1/2 cup of fresh carrot juice. Add carrot juice, cashews, garlic, miso, sun-dried tomatoes, and fresh tomato to a blender or food processor. Blend on high until the mixture is smooth and creamy.

Plate the zucchini and top with the peas. Pour the sauce over and garnish with green onions and fresh basil.