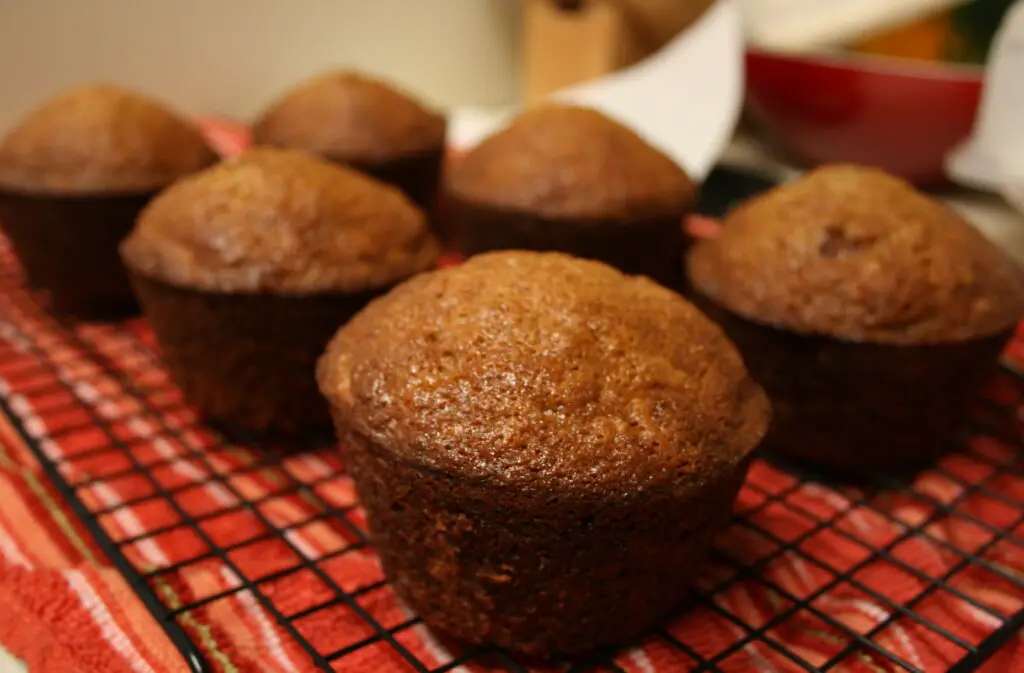 So, I was trudging through the knee-deep powder this morning on my daily walk and all I could think was carrots, spices, zesty orange, and lots of cranberries! I have been craving a moist and light carrot muffin with rich cream swirled on top for about a week now. And you know how it is, once you get a craving, it's not satisfied until you have it! I really wanted a carrot cake muffin, but then again, I also really wanted a cranberry muffin, so I decided to marry the two and create a specialty delicacy perfect for my hankering.
Starting out with some protein and carrots all packaged up in a nice colorful muffin is pretty much as good as it gets. I am usually really careful about what I put in my body first thing in the morning because I want to make sure I get off on a good note and have enough energy to last to lunch. This means something full of protein!!! Usually, I opt for chicken or salmon and always… always, plenty of greens! My blood sugar is very sensitive, so I have to watch what fruit and sweeteners I put in my body and when. My blood sugar sensitivity fluctuates depending on how well the rest of my body is operating. On a normal day, I can't eat even less than a teaspoon of honey without getting really sick for at least a week! So, I am happy to say that I have been on an upswing and able to tolerate a bit of maple syrup and fruit sugar lately! Which is HUGE! It's so fun to be able to eat something that looks normal and delicious, like these muffins! Pretty perfect and they made my day.
These muffins are low sugar, thanks to cranberries! You are now free to enjoy your breakfast, knowing you are fueling your body with protein and whole foods!
IMPORTANT: For this recipe you will need one can of full-fat coconut milk that has been chilled in the fridge overnight, so make sure you are prepared for this before you start cooking. Unless you prefer to make the muffins without the cream topping.
Ingredients :
4 eggs
1 cup almond flour
1/4 cup coconut flour + 2 tablespoons
1/4 cup avocado oil
1/4 cup maple syrup
1 tablespoon arrowroot flour
zest from 1 orange (~1 tablespoon)
1 teaspoon cinnamon
1/2 teaspoon ginger powder
1/2 teaspoon salt
1/2 teaspoon baking powder
1/8 teaspoon stevia liquid
1 1/2 cup cranberries
2 small carrots grated
1 can full-fat coconut milk already chilled in the fridge overnight (for the cream topping)
1/2 teaspoon vanilla (for the cream topping)
1/4 teaspoon stevia (for the cream topping)
Method :
Preheat the oven to 350 degrees and line a muffin tin with paper liners.
In a medium-size mixing bowl combine all the ingredients for the muffins (except the carrots and cranberries, which you will add in at the end).
Once the batter is whisked smooth, incorporate the cranberries and grated carrot.
Fill the muffin tins to the top with batter and bake at 350 degrees for 25-30 minutes until the tops are golden.
For the Cream topping, open the can of refrigerated coconut milk and scoop the solid cream off the top of the can and drain the liquid.
Whip the coconut cream with the stevia liquid and vanilla until smooth.
Fill a pastry bag and pipe the cream onto the muffins before serving.