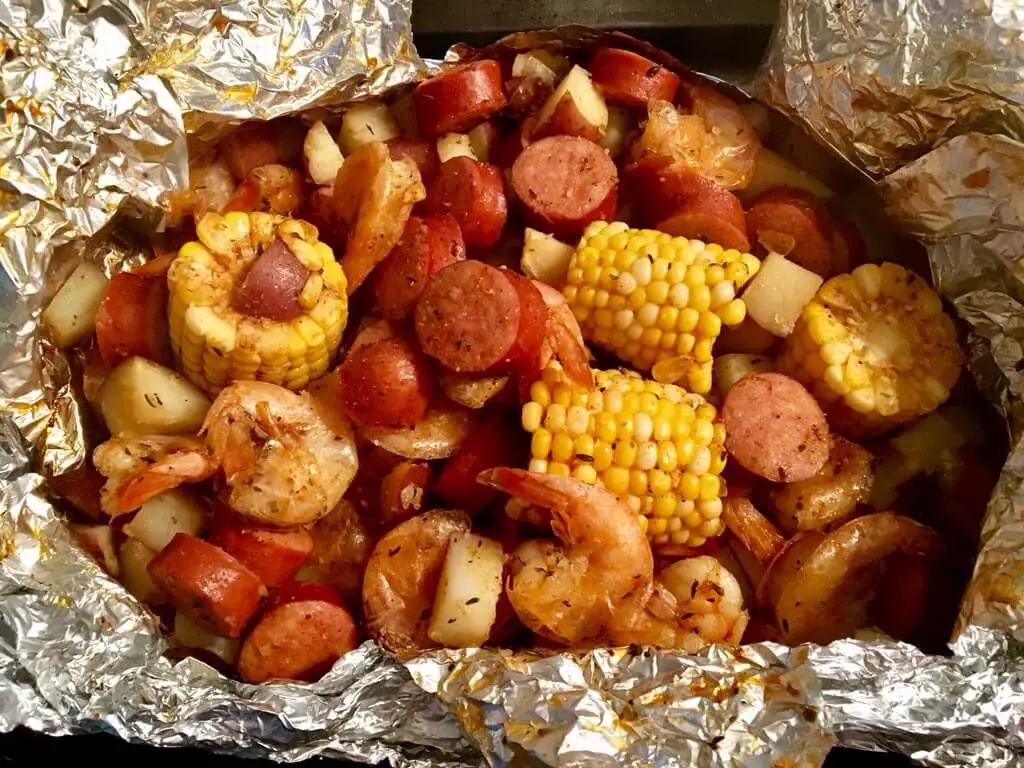 Cajun-shrimp-in-foil is a quick and simple one-pan dish. The dish uses vegetables, sausages and shrimps that are placed inside an aluminium foil packet and cooked in the oven. Seasoned with homemade Cajun seasoning, this dish is very tasteful and convenient.
Variation ideas
You can add more ingredients to this dish to make it even more tasteful. Here are a few ideas:
Although I have used turkey sausages for this recipe, you can use cooked chicken sausages or ground beef as well.
Add more vegetables to this foil dish, like asparagus or green beans.
You can also add carrots to this dish which will add colour and make it more tasteful.
Adding baby red potatoes is also a great idea.
How to store Cajun-shrimp-in-foil?
The reason this dish is super convenient is that you can prepare it in large batches and freeze it. Place the aluminium foil packets in a freezer-safe plastic Ziplock bag and freeze. It will last for up to 2 months. To reheat, you can simply place the aluminium packets in the preheated oven at 425-degree F for about 40 minutes or until everything is cooked through.
Cajun-shrimp-in-foil – The Recipe
Preparation time: 10 minutes
Cooking time: 15 minutes
Total time: 25 minutes
Servings: 4
Ingredients:
For Cajun seasoning:
½ tbsp onion powder
1 tbsp garlic powder
½ tbsp white pepper
½ tbsp black pepper
¼ tbsp dried thyme
½ tbsp dried oregano
1 ½ tbsp smoked paprika
½ tbsp cayenne
1 tbsp salt
For the shrimp:
2 tbsp olive oil
1 pound shrimp, deveined
3 ounces Turkey sausage, Applegate, fully cooked and thinly sliced
1 medium zucchini, 1/4-inch slice
1 red bell pepper, strips cut
1 ½ cups corn kernels
¼ cup dry white wine
¼ cup fresh basil leaves, chopped
¼ cup fresh Italian parsley leaves, chopped
1 tbsp homemade Cajun seasoning
Preparation:
For Cajun seasoning:
In a bowl, add all the spices and dried herbs. Mix well until everything is well combined. Store this dry mixture or Cajun seasoning in a jar.
Devein the shrimps and pat them dry. Place them in a medium-sized bowl.
Add Cajun seasoning and toss the shrimps so that they get an even coat.
Cut heavy-duty aluminium foil into four equal-sized and place them on a flat surface.
Divide cooked sausages, bell peppers, corn and zucchini into four equal portions.
Place these vegetables in the centre of the aluminium foil.
Place about six shrimps on top of the vegetables. Sprinkle freshly chopped parsley and basil on top.
Now drizzle about half a tablespoon of olive oil and a tablespoon of wine on top.
Fold each aluminium foil to seal it tightly and place them on a baking tray.
Place the baking tray in a preheated oven at 425 degrees F for about 13 to 15 minutes or until the shrimps are cooked through, and the vegetables are tender.
Open the foils carefully to let the steam out. Transfer the vegetables and shrimps onto a serving plate and enjoy!