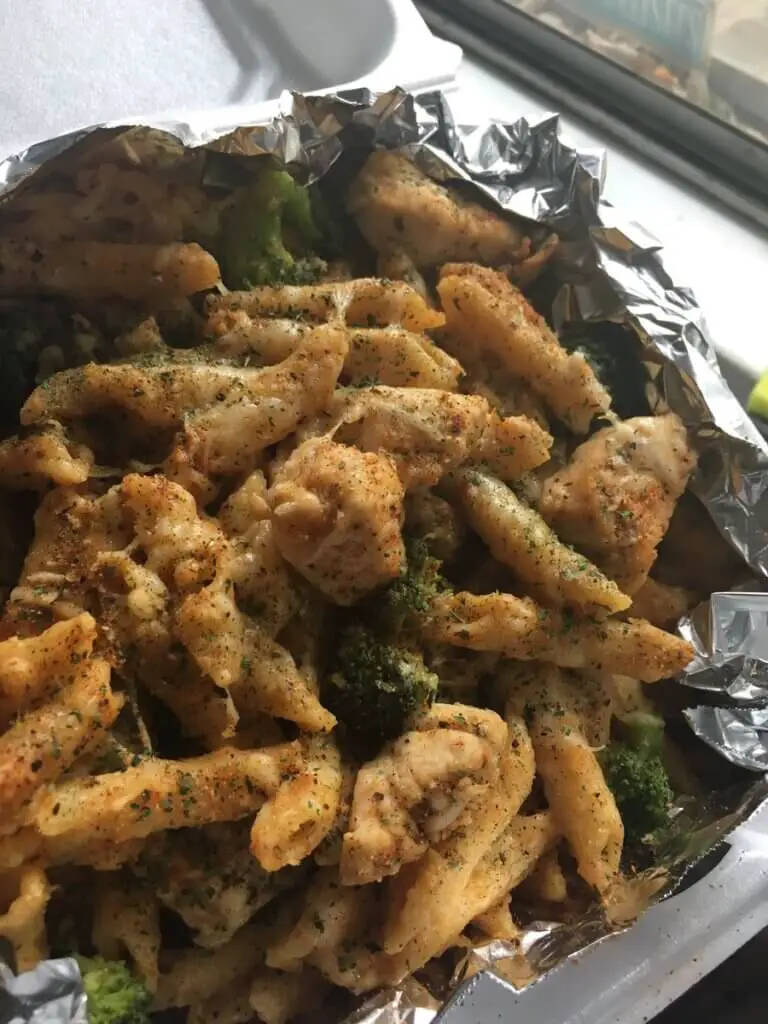 Consider this. Spicy, Creamy, and healthy pasta with tender chicken bursting with spices and flavor, melt-in-your-mouth cheese, and perfectly cooked broccoli florets.
If you start making Cajun Chicken Alfredo for everyone in that lives in your neighborhood, you'd most likely drive every restaurant there out of business.
The restaurants near your neighborhood will most likely run out of business once you start making this recipe on your own.
Doesn't it sound so delectable? If you are looking for something similar, look no furthermore. This delightful Cajun Chicken and Broccoli Alfredo with some white wine and heavy cream. This recipe will appeal to both you and your family.
So gather your ingredients and get to work on this one-of-a-kind creamy but spicy piece of art. You will not be sorry—all of the flavors you can find in this dish work together to do magical stuff.
While most restaurants offer a version of Cajun Chicken Alfredo, it is usually garnished with tomatoes. Tomatoes are nice and all, but we know many people who dislike them.
Broccoli, on the other hand, is a more widely consumed vegetable. So let's try to throw in some broccoli.
Let's not forget about the cheese. Alfredo sauce is composed primarily of butter, cream, and cheese. We recommend adding some garlic and white wine as a beverage to get some flavor. You may also add 8 ounces of shredded Wisconsin parmesan cheese for creaminess and taste.
Ingredients:
1 pound of small pasta, we recommend using penne
2 cups of the broccoli florets
1 pound of skinless and boneless chicken breast cutlets
3 tablespoons of Cajun seasoning
2 tablespoons of olive oil
2 tablespoons of butter
3 minced garlic cloves
Half a cup of dry white wine
2 cups of heavy cream
2 cups of shredded parmesan cheese
Some salt and pepper to bring some taste
Instructions:
Start by cooking the penne until it is al dente, as directed on the package. Get a slotted spoon, remove the pasta from the pot then set the cooking water aside. Once it's cooked, drizzle the pasta with some olive oil to keep it from sticking and set it aside.
Bring the Pasta water back to a boil, then add the Broccoli Florets. Cook everything for about 2 minutes, or until they get tender and not too mushy. To stop the process of cooking and make sure your florets keep their shape and lovely green color, drain them and immerse them inside icy water.
Get a large skillet, and let the oil heat in it while coating the chicken with some Cajun seasoning. Cook the chicken well until it is fully cooked. Transfer it to a plate, set it aside, and preheat your oven to 350°.
If you want to make your sauce, return the skillet you used to cook the chicken to the stove and melt the butter over medium heat until it all gets bubbly. Cook for about half an hour after adding some garlic.
Sprinkle the white wine or pour it in a skillet until you have emptied the bottle by half. Stir in the cream and cook everything for 2 minutes, or until it thickens. Mix in the Parmesan cheese until it is all melted.
Blend the sauce and reserved pasta in a mixing bowl until it is well combined.
Get a 9×13 baking dish halfway filled with some pasta and top everything with chicken and the broccoli florets. Bake for about 20 minutes, or until it's all heated through, topped of course with the parmesan cheese.