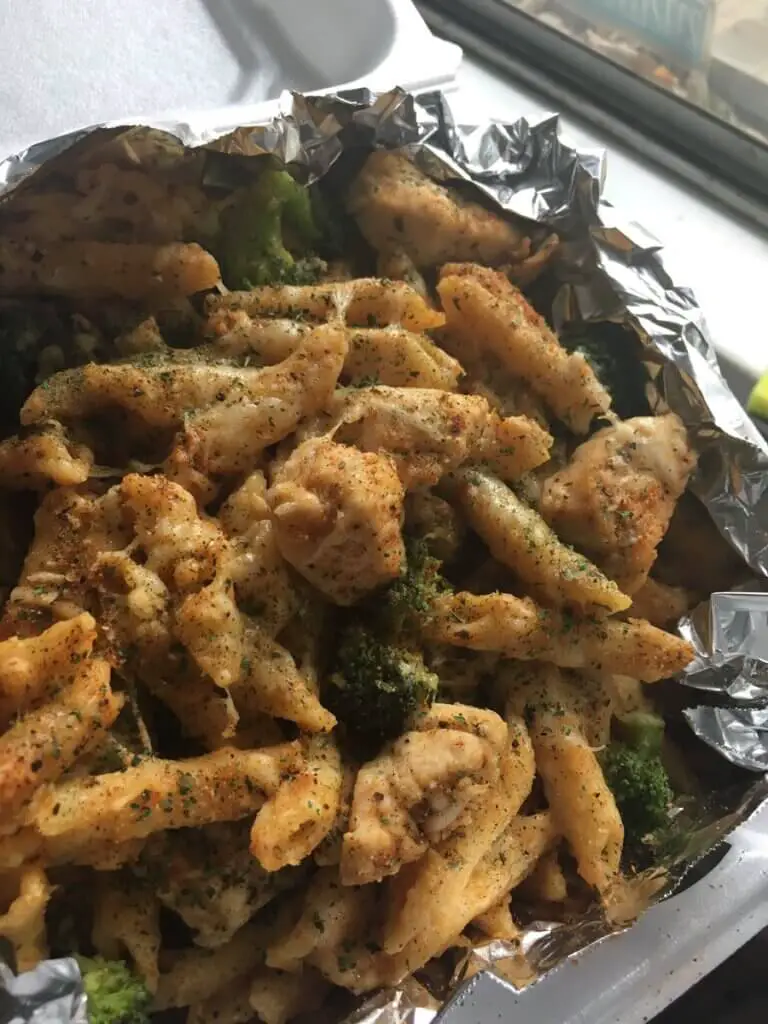 One delightful evening, I was inspired to recreate a widely cherished delicacy – Cajun Chicken Alfredo. If you've ever savored a mouthful at a popular restaurant chain, you know how addictive it can be! Yet, I decided to add my personal twist to it, including the fresh crunch of broccoli and a homemade Cajun seasoning, wrapped in a velvety, homemade Alfredo sauce. This recipe, surprisingly quick to prepare, can grace your dinner table in just about 10 minutes of preparation!
As a dish, it's hard to resist the alluring interplay of spicy, creamy, and savory tones. But when we sneak in some blanched broccoli, the plate gets a wholesome facelift – an irresistible and guilt-free comfort food, wouldn't you agree?
Here's what you need to have handy for this soon-to-be staple on your dinner table:
Ingredients:
Kosher salt and freshly ground black pepper, to taste
1 pound penne pasta
2 cups broccoli florets (About half of a large head of broccoli)
1 pound chicken breast cutlets
2-3 tablespoons of our unique Cajun Seasoning (Homemade or store-bought)
2 tablespoons olive oil
2 tablespoons butter
3 cloves garlic, finely minced
1/2 cup dry white wine (Chardonnay does the trick!)
2 cups heavy cream
8 ounces Parmesan cheese, shredded (and a bit more to sprinkle on top!)
Instructions:
Warm up your oven to 200°F. Meanwhile, boil 4 quarts of water with 1 tablespoon of salt. Toss in your pasta and let it cook until al dente, roughly for about 9 minutes. Remember to reserve the pasta water in the pot.
Bring the pasta water back to a boil, add the broccoli florets, and blanch them until they're just tender and have a vibrant green hue. This should take around 1-2 minutes. Immediately drain and dunk the florets in a bowl of iced water to halt the cooking process and retain the color.
Now, for the chicken! Coat both sides of the chicken cutlets generously with your Cajun seasoning. Heat oil in a large skillet until it's glistening. Cook the chicken, flipping once, until it reaches an internal temperature of 165°F. This should take around 5 minutes on each side. Transfer the cooked chicken to a baking sheet or an oven-safe plate, cover with foil, and place it in the warm oven.
Wipe down the skillet if you wish to (optional). Return it to the heat, and melt butter until it's foaming. Now stir in the minced garlic until it releases a tantalizing aroma, about 30 seconds.
Deglaze the pan with white wine, simmering until the sauce reduces by half – about 2 minutes.
Whisk in the heavy cream and allow it to simmer until slightly thickened, again, about 2 minutes. Gently fold in the Parmesan cheese and season with salt and pepper to taste.
Finally, bring back the pasta to the skillet and toss it gently in the sauce. Place the blanched broccoli on top of the pasta. Retrieve the warm chicken from the oven and place it atop the pasta and broccoli. And of course, the finale – garnish with a hearty sprinkling of Parmesan cheese!
This Cajun Chicken & Broccoli Alfredo recipe will reward you with a deliciously creamy, spicy, and comforting meal. The layers of flavors, the tender chicken, the fresh crunch of broccoli, and the creaminess of the Alfredo sauce are truly a sensory delight. I hope this recipe finds a special place in your cooking repertoire and your family's heart! Dig in and enjoy the warmth of this classic comfort food.