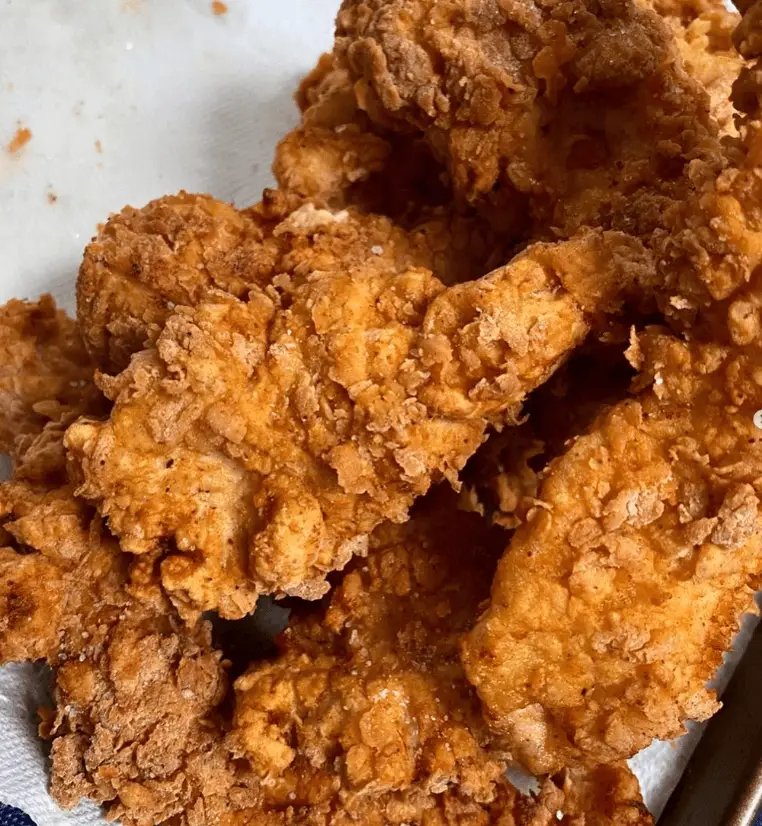 Buttermilk chicken is crispy, quick and tasteful. It is a perfect snack or main course to enjoy!
Tips for making Buttermilk Fried Chicken
Keep these tips in mind when making buttermilk fried chicken:
Always go for chicken pieces that have skin on and bone-in.
If you are using frozen chicken, thaw it completely first.
You can let the chicken marinate for up to 24 hours.
Mix corn flour with all-purpose flour for extra crunchiness.
Take the marinated chicken out of the refrigerator at least 30 minutes before frying it.
If you don't want to fry the chicken deep, you can air fry it as well. It will give you oil-free yet crispy chicken.
Keep the internal temperature in mind when making fried chicken.
What to serve with Buttermilk Fried Chicken?
Here is what you can serve with buttermilk fried chicken:
Coleslaw: Crunchy and refreshing coleslaw is a perfect pair with fried chicken.
BBQ sauce: If you want a bit of heat and sweetness, I prefer you try it with BBQ sauce.
Garlic mayo: The creaminess and savoury flavour of garlic mayo is also a great option.
Fries: You can serve it with either potato or sweet potato fries.
Potato salad: A creamy potato salad also tastes great.
Ingredients:
1 ½ kg Chicken, cut into 12 pieces
Vegetable Oil for frying
For the dry mixture
2 ½ cups All-Purpose Flour
1 tbsp Baking Powder
1 tbsp Oregano
1 tsp Garlic Powder
1 tsp Onion Powder
1 tsp Black Pepper
1 tsp Cayenne Pepper
1 tbsp smoked Paprika
1 ½ tsp Salt
For the wet mixture
2 cups Buttermilk
1 tsp Onion Powder
1 tsp Garlic Powder
1 tsp Cayenne Pepper
1 tsp smoked paprika,
1 tsp White Pepper
1 tsp Salt
Preparation:
Pat the chicken, and dry using a kitchen towel. Set it aside.
Add buttermilk, onion powder, garlic powder, cayenne pepper, smoked paprika, white pepper, and salt in a large bowl. Mix well
Add the chicken to this buttermilk mixture and mix well, so the chicken pieces completely submerge in the buttermilk.
Cover the bowl with cling film and place it in the refrigerator for at least 4 hours up to 8 hours.
Take the bowl out of the refrigerator 30 minutes before frying it.
Add all-purpose flour, baking powder, onion powder, garlic powder, smoked paprika, cayenne pepper, oregano, black pepper and salt on a shallow plate. Mix well.
Once the chicken reaches room temperature, take it out of the buttermilk mixture and place it into the dry mixture. Press to coat every inch of the chicken piece until the mixture sticks to it completely and is flaky. Place it on a tray.
In a deep pan, add oil. Let it heat up until it reaches 350-degree F.
Carefully drop coated chicken pieces in the hot oil and deep fry them for about 8 minutes or until the top gets a golden colour and its internal temperature reaches 165-degree F.
Once done, take them out of the oil and place the pieces onto a cooling wire or kitchen towel to soak extra oil.
Sprinkle a bit of salt, and Serve with your favourite dip!