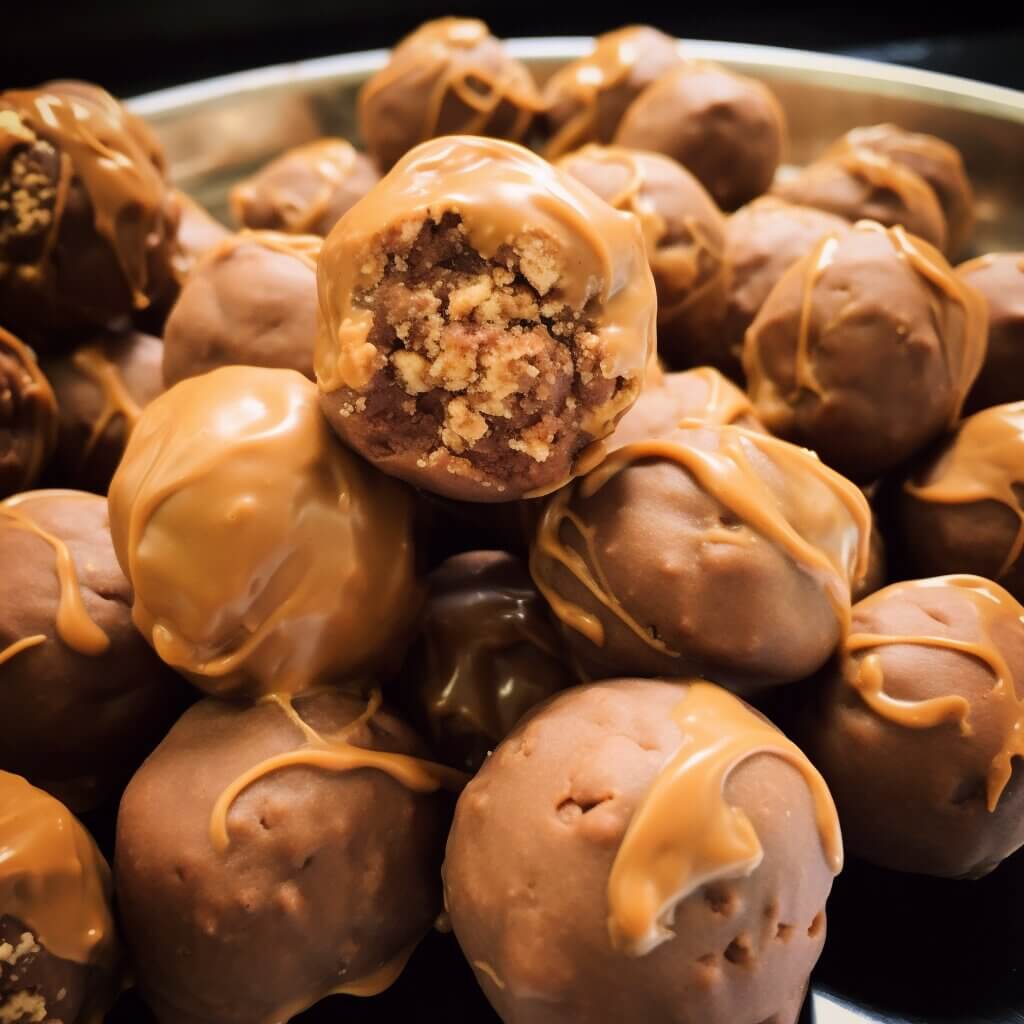 Hey friends, are you craving a sweet treat that combines crispy, crunchy, chocolatey goodness into one irresistible bite? Well, you've come to the right place! Today I'm sharing my recipe for decadent Butterfinger balls that will have you swooning from the very first creamy, peanut buttery, chocolatey mouthful.
Who can resist the iconic taste of Butterfinger candy bars? Those layers of crunchy peanut butter coated in milk chocolate are simply sublime. And these Butterfinger balls take that flavor combo over the top. Picture mixing crushed Butterfinger bars into a creamy peanut butter filling, forming balls, and coating in even more chocolate. Mmm, I'm getting hungry just thinking about them!
In just about 30 minutes, you can have a tray of these easy yet impressive candy confections ready to enjoy. They're a hit at parties, potlucks, or anytime you need a chocolate fix. The recipe only requires a few simple ingredients that you likely have on hand. And I'll share my tips for making perfectly shaped balls with a heavenly chocolate coating.
What can I use instead of a food processor to crush the Butterfingers?
You can place the unwrapped Butterfingers in a gallon sized ziplock bag and crush with a rolling pin until fine crumbs form. Just be sure there are no large pieces remaining.
Do I have to use creamy peanut butter?
Creamy peanut butter works best to create a smooth, scoopable dough for forming the centers. If you only have crunchy style, you can try processing it briefly in the food processor to break down some of the chunky bits.
How long do the balls keep for?
Properly stored in an airtight container, the Butterfinger balls will stay fresh in the fridge for up to 1 week. They can also be frozen for up to 3 months.
What's the best way to melt the chocolate?
Microwaving in 30 second intervals, stirring between each one, creates evenly melted chocolate for the coating. You can also use a double boiler. Just avoid overheating or the chocolate can burn.Can I make ahead and freeze the balls before dipping in chocolate?
Absolutely! Shape the peanut butter centers, place on a baking sheet lined with parchment or waxed paper, and freeze until solid. Once frozen, transfer to an airtight container or ziplock freezer bag. Thaw at room temp for 15-20 minutes before coating in chocolate.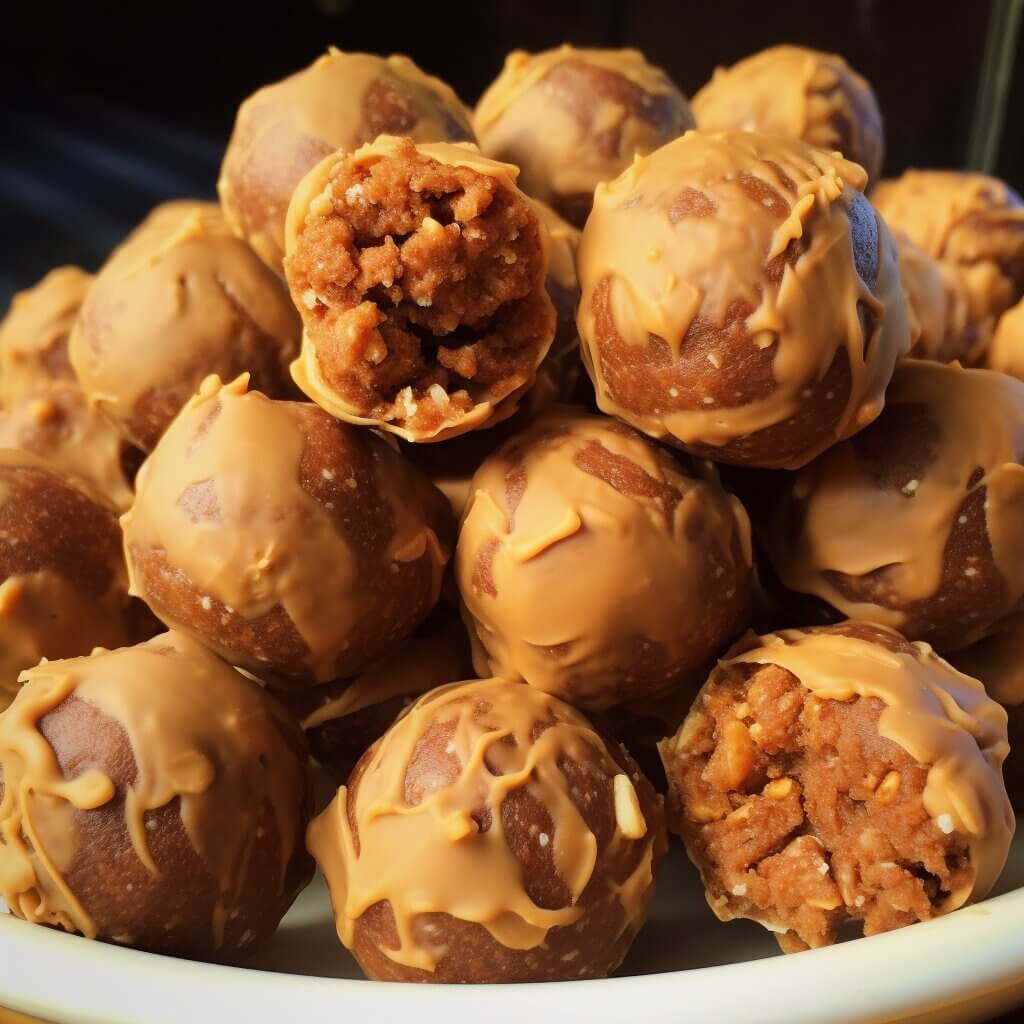 Prep Time: 30 mins
Cook Time: 5 mins
Total Time: 2 hours 35 minutes (includes chilling time)
Ingredients:
1 1/2 cups creamy peanut butter (one 16-ounce jar)
1/4 cup butter, softened
1 teaspoon vanilla
1 (10 ounce) package Butterfinger candy bars, crushed into crumbs (about 2 cups)
4 cups powdered sugar
12 ounces semisweet chocolate chips
1 tablespoon shortening
Instructions:
Line a baking sheet with parchment paper and set aside. In a large bowl, combine the peanut butter, butter, vanilla and crushed Butterfingers. Mix well using a rubber spatula.
Add the powdered sugar 1 cup at a time, mixing well after each addition until a thick dough forms.
Roll the dough into 1-inch balls and place on the prepared baking sheet. Refrigerate for 30 minutes.
In a microwave-safe bowl, melt the chocolate chips and shortening together, heating in 30 second bursts and stirring after each until smooth.
Using a fork or toothpicks, dip the chilled balls into the melted chocolate until fully coated. Tap off any excess chocolate and return to the baking sheet.
Refrigerate the Butterfinger balls for at least 1 hour until chocolate coating sets firm before serving. Store refrigerated in an airtight container for up to 1 week.
Cooking Tips:
Sprinkle extra crushed Butterfingers over the balls for even more crunch after dipping in chocolate.
Substitute peanut butter chips for a portion of the chocolate to amp up the peanut butter flavor.
Drizzle with melted chocolate or peanut butter for a fancy presentation.
Gift-wrap balls individually in mini cupcake liners for perfect edible treats.
Store any uneaten balls in an airtight container in the fridge for up to 1 week. Let sit at room temperature for 15 minutes before serving.