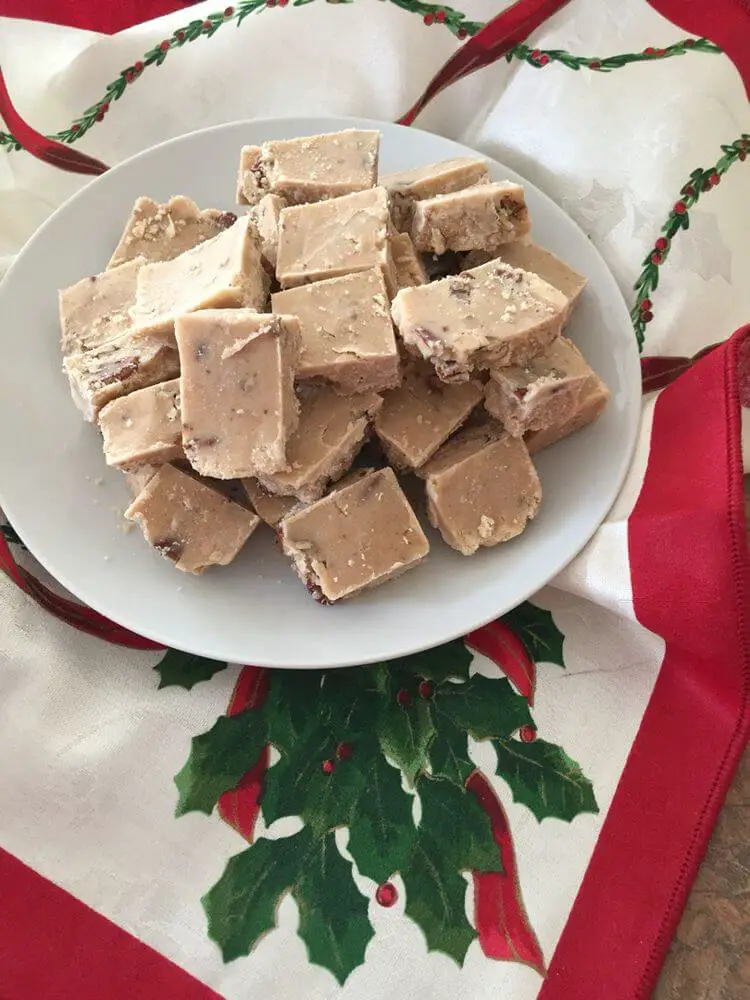 Butter Pecan Fudge is a quick and delicious treat for any occasion. It is a good dessert or a snack you can enjoy whenever you like. Made with seven simple ingredients, you can make the fudge and store it. Whether it is Halloween or Christmas, you can make and eat this fudge to your satisfaction. If you are someone who loves to gift home-cooked food, this fudge is a great idea for a gift.
Variation ideas
Here are a few ideas that will allow you to customize the butter pecan fudge according to your liking:
Nuts: although I have used pecan for this recipe, you can also use other nuts. Try using chopped walnuts, pistachios, and almonds. Or you can also mix a few nuts and enjoy.
Fried fruits: Try adding dried dates, mulberries, or raisins to this recipe. The extra ingredient will not only add flavor but will add a chewy texture as well.
Tips for making butter pecan fudge:
Keep a few things in mind when making this fudge:
You can use dark brown sugar instead of light brown sugar as well. Dark brown sugar has a rich, more caramel-like flavor, and its color is a bit dark as well.
Make sure you don't cook the fudge more than it needs to. It's better to set a timer.
How to store Butter Pecan Fudge?
This butter pecan fudge is very easy to store. You can place it in an airtight container. Store the container in a cool, dry place, and the butter pecan fudge will stay fresh for up to 15 days. You can also place the container in the refrigerator, but the fudge will harden up and dry put pretty fast.
Butter Pecan Fudge – The recipe
Preparation time: 10 minutes
Cooking time: 5 minutes
Setting time: 3 to 4 hours
Servings: 24 squares
Ingredients:
1 cup pecans, roughly chopped plus more for garnish
½ cup + 1 tbsp butter
½ cup white granulated sugar
½ cup light brown sugar
½ cup heavy whipping cream
a pinch salt
1 Tsp vanilla extract
2 cups powdered sugar
Preparation:
Add a tablespoon of butter to a frying pan and place it over medium heat. Once it starts to melt, add roughly chopped pecans and toast them for three to four minutes until they are fragrant and start getting color. Once done, set them aside.
In a saucepan, melt a half cup of butter at medium heat.
Add white sugar and light brown sugar. Mix well.
Now add whipping cream and salt. Mix well.
Increase the heat and bring this mixture to a boil while stirring occasionally.
Once the mixture starts to boil, take the saucepan off the heat and add powdered sugar. Mix well until everything is well combined.
Now add toasted pecans and continue to mix.
Prepare the baking pan by spraying it with cooking oil.
Pour the fudge onto the baking pan and sprinkle chopped pecans on top. Let it sit for at least 3 hours or until it hardens.
Slice it into equal pieces and serve.