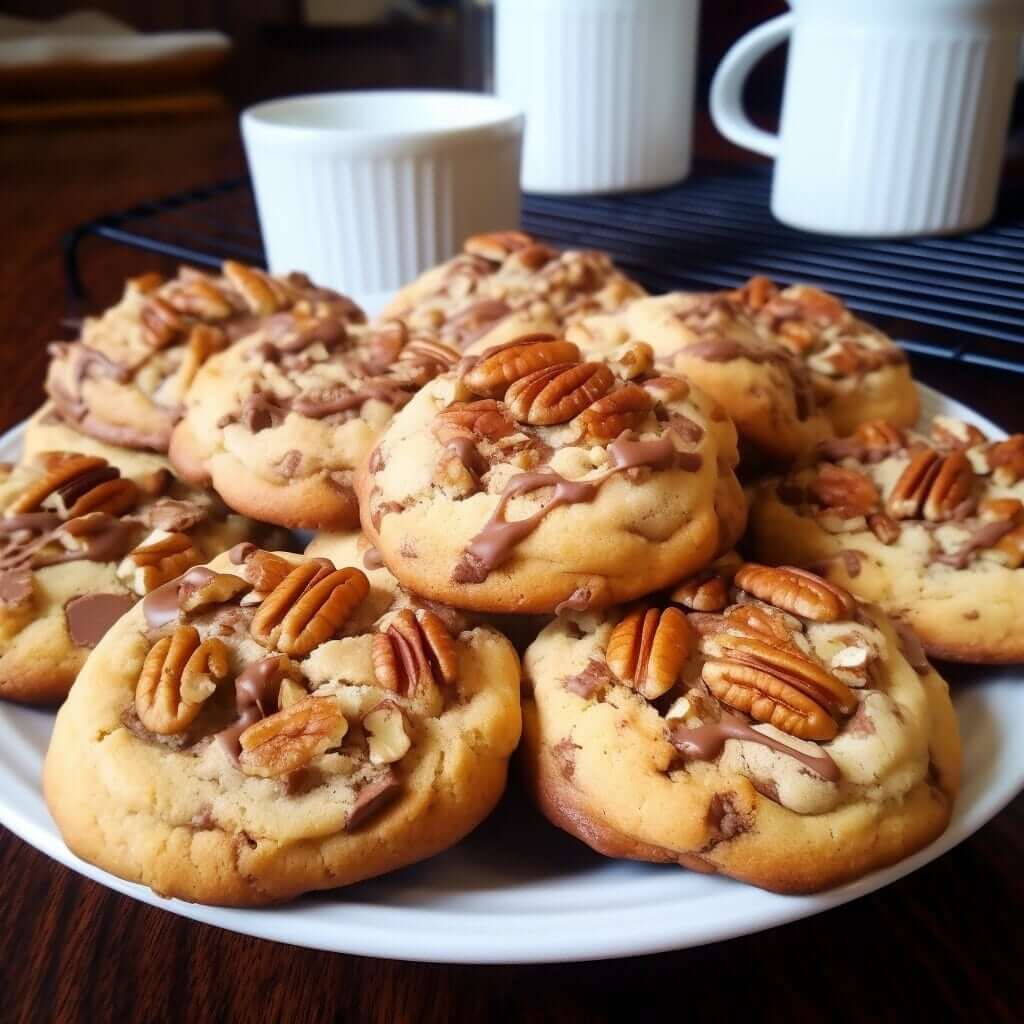 Hello, dear readers! What a splendid day, As the sun shines and the leaves dance, I've been reminiscing about some of my fondest memories, and today, I'm thrilled to unveil a recipe that's very close to my heart. Imagine, for a moment, that you're sitting on a cozy porch in the South, with the gentle hum of nature all around, sipping on a cup of tea. Now, what if you had the perfect accompaniment to that serene setting? Enter our Butter Pecan Cookies!
These aren't just cookies; they're memories baked to perfection. Can a cookie truly embody the essence of a warm embrace? Oh, believe me, this one does! Every bite takes me back to my grandma's kitchen, where the world seemed simpler and the aroma of baking would waft through the entire house, promising something delectable.
Why venture into making these gems? Well, think of them as not just a sweet treat, but as an edible journey. Each bite is meticulously crafted to offer a symphony of sensations: the buttery smoothness, the gentle surprise of a toasted pecan, and the delicate balance of sweetness. It's like a waltz of flavors that play on your palate. The toasted pecans, with their earthy and nutty nuances, aren't just an ingredient; they're the soul of this cookie, evoking a rustic yet sophisticated charm.
And let's not forget the journey of making these cookies. The process, dear friends, is therapeutic. The blend of ingredients, the kneading, and the aroma that fills your kitchen as these cookies bake, is all part of the beautiful experience. This isn't just about satiating your sweet tooth, it's about creating moments, memories, and maybe, just maybe, starting a tradition of your own.
So, as you embark on this culinary adventure, know that you're crafting more than just a dessert. You're weaving a tapestry of flavors, emotions, and memories. Dive in with all your heart, and let's make some Butter Pecan Cookies that speak tales of love, warmth, and nostalgia. Happy baking!
Why is butter so essential for this cookie?
Butter gives the cookie its soft texture and rich taste. Plus, it complements the pecan's nutty flavor wonderfully.
Can I use pre-chopped pecans?
Absolutely! But, toasting whole pecans and then chopping them gives a fresher aroma and richer taste.
How do I know when my cookies are perfectly baked?
They should have a light golden hue. Too dark means they might be overcooked, and too pale might make them doughy.
Can I freeze these cookies?
Yes! Once cooled, place them in an airtight container and they'll be good for up to 3 months in the freezer.
Why pecans, specifically?
Pecans have a unique, buttery flavor that pairs beautifully with the ingredients in this cookie. It's a match made in heaven!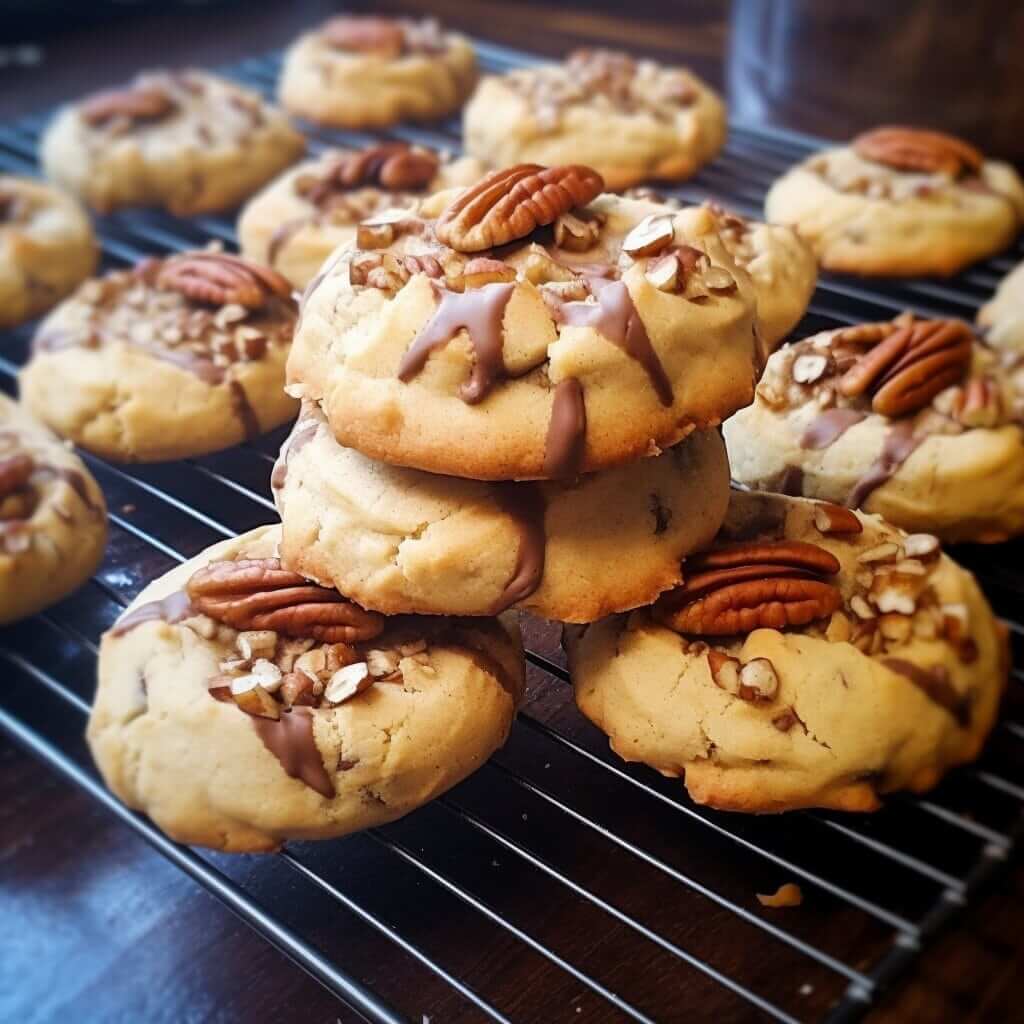 Prep Time: 20 minutes
Cook Time: 15 minutes
Total Time: 35 minutes
Ingredients:
1 cup unsalted butter (softened)
2/3 cup brown sugar (packed)
1/4 cup granulated sugar
1 large egg
1 teaspoon pure vanilla extract
2 cups all-purpose flour
1/2 teaspoon baking soda
1/4 teaspoon salt
1 cup chopped and toasted pecans
Instructions:
Begin by preheating your oven to 350°F. This optimal temperature ensures the cookies bake evenly and acquire a beautiful golden tint.
In a large mixing bowl, cream together the softened butter, brown sugar, and granulated sugar until the mixture is smooth and creamy. This base guarantees the richness in every bite.
Gently blend in the egg and vanilla extract. This duo adds moisture and an irresistible aroma to our cookies.
In a separate bowl, whisk together the all-purpose flour, baking soda, and salt. This ensures even distribution and prevents any clumps.
Gradually add the dry mixture to the buttery blend and stir until it forms a consistent dough. Remember to scrape the sides of the bowl to incorporate every bit.
Fold in the toasted pecans. This step infuses the dough with that delightful nutty flavor and crunch.
Using your hands or a cookie scoop, form balls of dough and place them on a baking sheet, ensuring ample space between each.
Slide the sheet into your preheated oven and bake for 12-15 minutes, or until you see that inviting golden hue.
Once baked, let the cookies rest on the baking sheet for about 5 minutes. Then transfer them to a cooling rack. Once cooled, it's time to dive in!
Cooking tips:
Softened butter is key for a creamy texture. Leave it at room temperature for about an hour before starting.
Toast pecans in the oven for 5 minutes at 350°F or until aromatic. This intensifies their flavor.
Avoid overmixing the dough as it can make the cookies tough.
For consistent cookies, use a cookie scoop or measure the dough with a tablespoon.
Cookies continue to cook slightly once out of the oven due to residual heat. So, be wary of overbaking.
Store in an airtight container to maintain freshness and that delightful crunch.