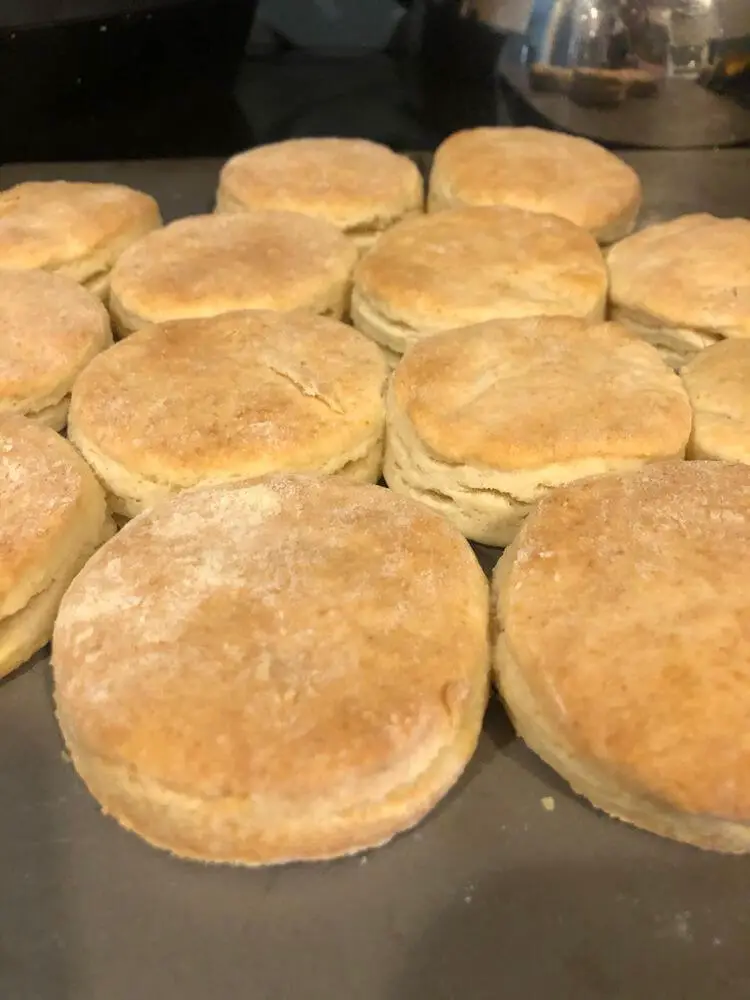 Creamy, buttery and delicious, few biscuits can compare to buttery biscuits. Despite being so delicious, they're also quite easy to make. So, if you're looking for something special to go along with your tea or coffee, look no further than this Snack Time Butter Biscuits.
Be it breakfast or evening snacks, butter biscuits are a sure shot hit. Bake them at home for a more delicious flavour. Go ahead and make these butter biscuits with the help of this recipe and enjoy its taste.
Butter Biscuits: The Recipe
Preparation Time: 15 minutes
Cooking Time: 12 minutes
Total Time: 27 minutes
Servings: 6
Ingredients:
2 cups of Flour
1 tbsp of Baking Powder
1 tsp of Sugar
1 tsp Salt
½ cup (cut into half-inch pieces) Challenge Butter
2 Eggs (beaten)
⅓ cup + 2 tbsp Half-and-half cream
Directions:
Preheat the oven to 450 degrees Fahrenheit.
Take a large bowl and add in all the dry ingredients. Mash the butter until it turns coarse in viscosity.
Add eggs and cream. Mix them well using a fork. You can use additional spoons of cream if needed to moisten the dough.
The next step is to make biscuits. You can shape biscuits in any way you want but, preferred are round shape biscuits. Use biscuit cutter.
Take a baking pan and layer the baking paper. Brush butter on the baking paper. Put in the biscuits and brush them with cream.
If you want to make drop biscuits, then drop large spoonfuls on the greased sheet and then brush with leftover cream.
Put them in the oven and bake for ten minutes.
Serve them hot along with Challenge butter.
Variation Ideas
You can try different flavour variations of these butter cookies.
Try butterscotch flavour by adding 1 tbsp of molasses with 1 egg.
Prepare citrus cookies by adding 1 tbsp of lemon juice and 2 tsp of grated lemon along with an egg. If you like to, then add poppy seeds (2 tbsp).
For chocolate chip flavour, simply add a fist full of chocolate chips to the batter.
If you want some chunky flavours, then add chopped walnuts, almonds, coconut, cashews, cranberries and raisins. You can also try other chunky ingredients of your choice.
For ginger taste cookies, simply add 1 tbsp of ginger powder to dry ingredients. You can also add minced crystallized ginger (¼ cup) for a better flavour.
IF you want spicy flavour cookies, then add 1 tsp of cinnamon, ¼ tsp of allspice and ground ginger along with one pinch of ground cloves.
Can you store the butter cookies?
First, properly cool the biscuits and then store them. If you tried variations, then store them all in different containers, such that each type is in one different container. Use butter paper between layers if you want to prevent biscuits from sticking. If you prepared crispy biscuits, then store them in a loose-fitting cover. If you prefer to keep them soft and chewy, then use an air-tight cover.