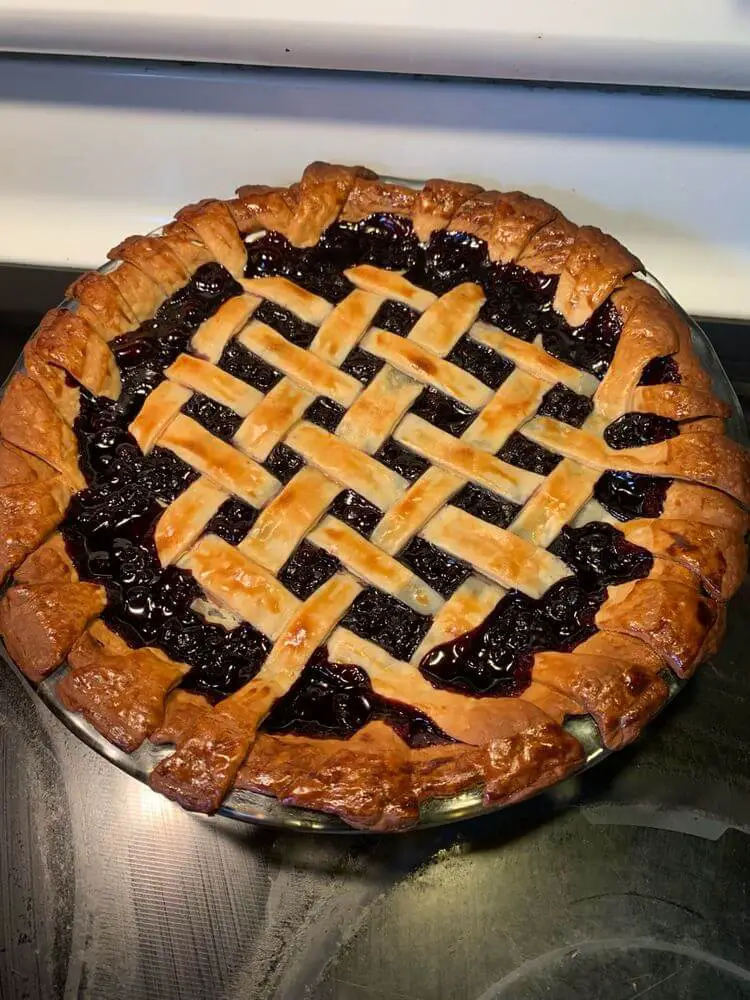 To make your blueberry pie, you have the choice of making your pastry or buying one in a store. Choose a shortcrust pastry or even a sweet pastry.
If you make your dough, it's not complicated, but it requires a little more time in the kitchen! Start by sifting your flour, then add the cold butter cut into pieces and the salt. Mix the dough like a crumble, with your fingertips, so that the mixture becomes sandy. In the middle of the mixture obtained, pour the egg, ice water, and sugar and mix gently by hand. Then let the dough rest in a cling film in the refrigerator.
Next to the dough, you will need to make a simple mixture of fresh cream, egg, almond powder, and sugar, on which you will place your fresh or frozen blueberries.
The baking is done in two steps: first, the pastry is baked blank, then the mixture is baked with the blueberries.
You will find below the recipe step by step!
INGREDIENTS:
for the dough
125 g cold salted butter
250 g flour
80 g brown sugar
1 egg yolk
1 pinch of salt
3 tbsp. ice water
For the pie
500 g fresh or frozen blueberries
20 cl heavy cream
1 egg
1 tbsp. sugar
2 tbsp. almond powder
INSTRUCTIONS:
Preparation of the dough:
Sift the flour and pour it on your work surface.
Cut the cold butter into small cubes, then add it to the flour, along with the salt.
Mix with your fingertips to obtain a sandy mixture.
In the center of the mixture, make a small well and pour in the egg, sugar, and spoonfuls of ice water (you can take them from a glass of ice water).
Mix all the ingredients gently, crushing the dough with the palm of your hands until it forms a smooth ball.
Place the dough in cling film and let it rest in the refrigerator for at least 2 hours.
Preparation of the pie:
Preheat the oven to 210°.
Take the dough out of the refrigerator and wait for it to soften a bit.
Roll out the dough with a rolling pin on a sheet of baking paper. Using a cookie cutter, make a nice round shape.
Place the dough in a baking pan, right on the baking paper. Prick it with a fork.
Place your pan in the oven and pre-bake the dough for about 15 minutes. This is called "white baking".
In a bowl, mix the crème Fraiche, egg, sugar, and almond powder.
When your pastry is pre-baked, add the mixture on top of the pastry, then place your fresh or frozen blueberries on top.
Bake in the oven for another 15 to 20 minutes, checking regularly.
Let your blueberry pie cool before eating (you can also keep it in the fridge to keep it perfectly cool).