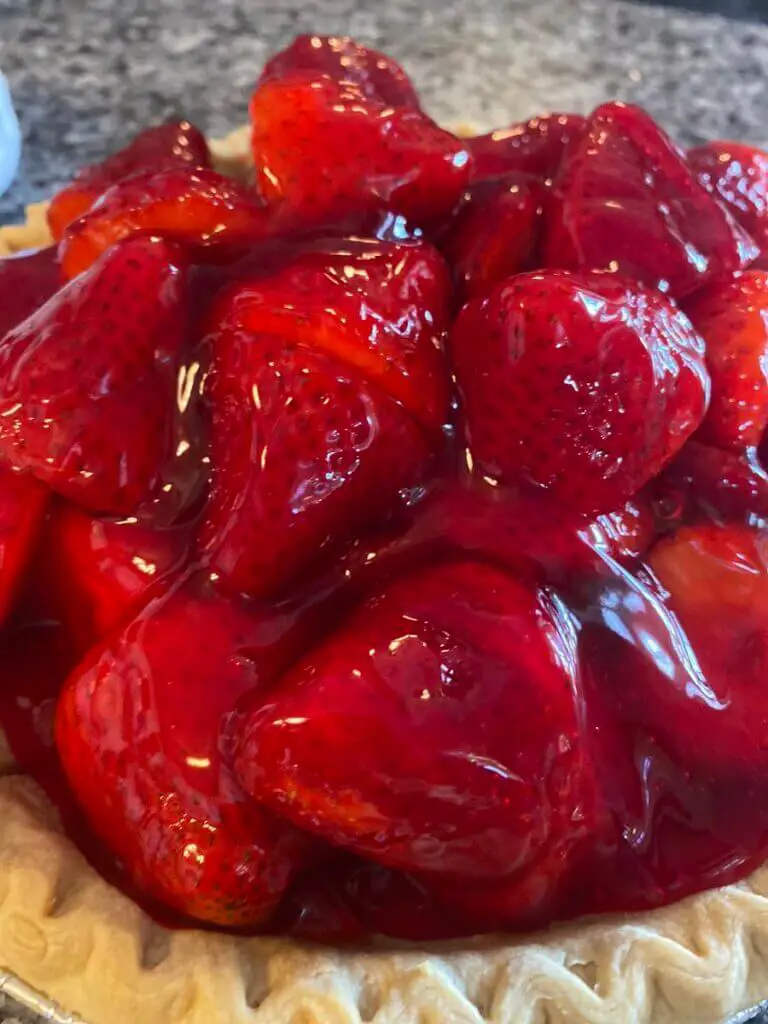 Hello to all the wonderful folks visiting "Life with Jeviko"! 🍓 Do you remember those summertime moments when the smell of strawberries filled the air? Well, I've got something special for you today – an irresistibly refreshing strawberry pie that'll transport you back to those cherished memories. It's a simple, delightful recipe, which I have always believed to be a summer staple in every kitchen.
Ever wonder what makes a dish truly memorable? It's the love, stories, and the little secrets behind every ingredient and step. So, let's dive deep into this mouthwatering journey.
Why You Must Try This Dish:
This Strawberry Delight Pie is not just a dessert, it's an experience. Every bite is a blend of crunchy crust, juicy strawberries, and a glossy glaze that dances on your tongue. It's summer served on a plate!
Prep Time: 20 min
Cook Time: 15 min
Total Time: 04h35min
Ingredients:
1 pie crust (9-inch) – ready to bake (because sometimes, it's okay to take shortcuts in the kitchen!)
4 cups strawberries, fresh and vibrant, thinly sliced (because the best pies start with the best berries)
1 1/2 cups water (the foundation of our glaze)
3/4 cup granulated sugar (to bring the sweet to our strawberries)
2 tablespoons cornstarch (our magical thickening agent)
3 ounces strawberry gelatin (for that punch of strawberry flavor and glaze texture)
Whipped cream (optional, but highly recommended for a fluffy finishing touch!)
Instructions:
Let's Begin with the Base: First, preheat your oven to a toasty 425°F. Place the pie crust in a pie dish and bake as directed on the package. This forms the golden, crispy foundation of our pie.
Create the Perfect Glaze: In your favorite saucepan, whisk together water, sugar, and cornstarch. Heat this concoction over medium flame. Stir continuously until it becomes a thick, clear syrup. Your patience will pay off, I promise!
Infuse the Flavor: With your pan off the heat, blend in the strawberry gelatin. Stir until it's entirely dissolved. This step is like giving your pie an extra burst of strawberry goodness.
Layering Time: Spread your freshly sliced strawberries evenly over the baked pie crust. Pour your strawberry glaze over these slices, ensuring they're all generously covered.
Patiently Wait: Refrigerate your pie for a minimum of 4 hours. This is the hardest step because waiting is a challenge with such tempting aromas around! But it ensures our pie sets perfectly.
Serve in Style: Once set, slice your pie and top each piece with a dollop of whipped cream. Dive in and relish the taste of summer!
Tips:
Source the juiciest strawberries from your local farmer's market – it's all about the berry freshness!
Feeling adventurous? Mix in a handful of blueberries or raspberries for a fruity twist.
A sprig of fresh mint on top can add color and a burst of freshness.