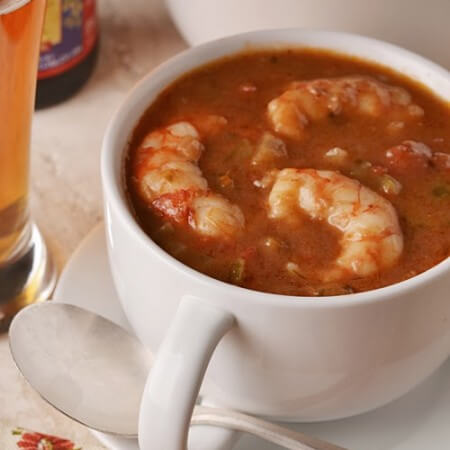 I'm surprised by how many folks assume that a shrimp gumbo recipe is difficult to follow. While it's true that it takes a (tiny) bit of practice to master roux and control its color to your liking, we're talking about a bit of flour and oil in a skillet. Heat it. Move it around the pan, and don't let it burn. It's downhill from there. If you can scramble eggs, then you can make a good roux. This shrimp gumbo recipe is perfect for the gumbo novice, and it's smoky good.
Now that it's getting darker outside and the temperature is dropping, it's soup time in my house. I clear away the household fragments that have piled around the fireplace over the summer. I start a fire and sit before it with my cup of gumbo. It's my fall/winter meditation, being before the fire, slurping spoonfuls of gumbo, and warming my bones and my soul. Yes, this is the time for a good shrimp gumbo recipe.
Ingredients:
½ cup vegetable oil
½ cup unbleached flour
1-quart seafood stock
½ cup celery, diced
½ cup green pepper, diced
1/2 cup onion, diced
1 14-ounce can whole tomatoes
1 tablespoon Kosher salt
1/2 teaspoon white pepper
1 teaspoon thyme
3 bay leaves
1 tablespoon gumbo file powder
½ teaspoon Liquid Smoke
1-pound package large, frozen shrimp (cleaned and deveined)
Directions:
Heat vegetable oil in a large, heavy pan, such as a cast-iron skillet, over medium-high heat. Sprinkle flour into the skillet and immediately begin stirring with a wooden spoon or silicone spatula. Stir constantly until flour is chestnut brown. The consistency of the flour and oil should be similar to paste. Turn heat off and transfer the roux to the soup pot.
Pour seafood stock into a soup pot and bring to boiling. Immediately lower heat and simmer the stock and roux, stirring to thin the roux.
Add celery, green pepper, onion, tomatoes, salt, pepper, thyme, bay leaves, and file powder.
Cover and simmer for 30-40 minutes, occasionally stirring, until liquid begins to thicken.
Add Liquid Smoke and frozen shrimp and cook for three additional minutes, or until the shrimp turns pink and begins to curl.
This shrimp gumbo recipe should include rice.