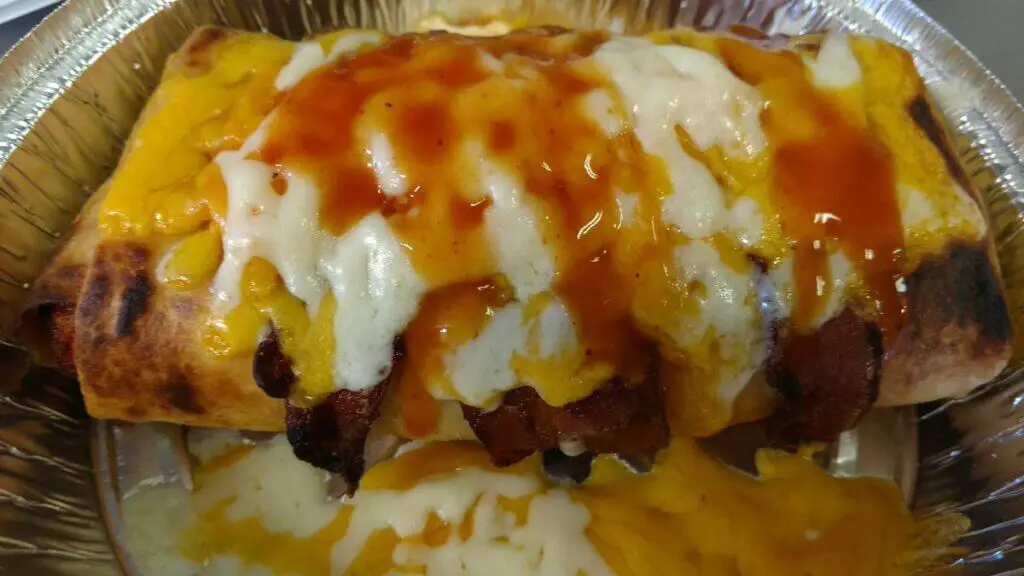 Beef and Cheese Chimichanga is a delicious Mexican dish that is perfect for every occasion. The fried crispy tortilla with juicy cooked meat, beans and cheese is served with guacamole, salsa and sour cream. It is perfect comfort food.
What is a chimichanga?
Chimichanga is a delicious dish common in Mexican cuisine. This is a perfect dish for snacks or the main course. It is made by filling a tortilla with meat, beans and cheese. The tortilla is rolled to form a burrito which is fried in hot oil until it is crispy and gets a golden colour.
In simple words, a chimichanga is a burrito that is fried. You can add more ingredients to customize the filling according to your liking.
Can you make Beef and Cheese Chimichanga in advance?
Absolutely! You can make large batches of chimichanga and wrap them tightly in aluminium foil. Place them in a freezer-safe Ziplock bag and freeze for up to 3 months.
To fry, simply take them out of the freezer, let them sit for about 10 minutes, take them out of the aluminium and fry for about 10 to 12 minutes until they are done. You can also air fry them if you don't want to consume a lot of oil.
Beef and Cheese Chimichanga – The Recipe
Preparation time: 10 minutes
Cooking time: 20 minutes
Total time: 30 minutes
Servings: 4
Ingredients:
4 large flour tortillas
¾ lbs. lean Ground beef
1 medium onion, chopped
2 cloves garlic, minced
Vegetable oil, as required
2 ½ tbsp tomato paste
1 tbsp red Chili powder
½ tbsp cumin
1 cup pinto beans, cooked
2 cups cheddar cheese, shredded
Black pepper, to taste
salt, to taste
For topping:
Salsa, as required
Sour cream, as required
Preparation:
In a skillet, heat about 2 tbsp of vegetable oil. Once the oil heats up, add chopped onion. Sauté for about 3 minutes or until they are translucent.
Add minced garlic and cook for 30 seconds until fragrant.
Now add lean ground meat and break it apart using a wooden spoon.
Cook for about 5 minutes.
Add chilli powder, cumin, black pepper, salt and tomato paste. Mix well and cook until the meat is ready.
Add pre-cooked pinto beans and a splash of water so that everything is well combined.
Once done, take it off the heat.
Add about a cup of vegetable oil into a frying pan and place it on medium heat.
As the oil starts to heat up, start assembling the tortillas by placing them on a working station.
Scoop the beef mixture and place it in the centre of the tortilla. Now add shredded cheddar cheese and start rolling it tightly until you get a burrito. Repeat the process until you have used up all the tortillas.
Once the oil is hot, place the burrito seam side down in the hot oil.
Let it fry for a minute or two and then flip it until it gets a golden colour from every side,
Take the chimichanga out of the frying pan and place it onto a serving dish.
Top it with sour cream and salsa and enjoy.