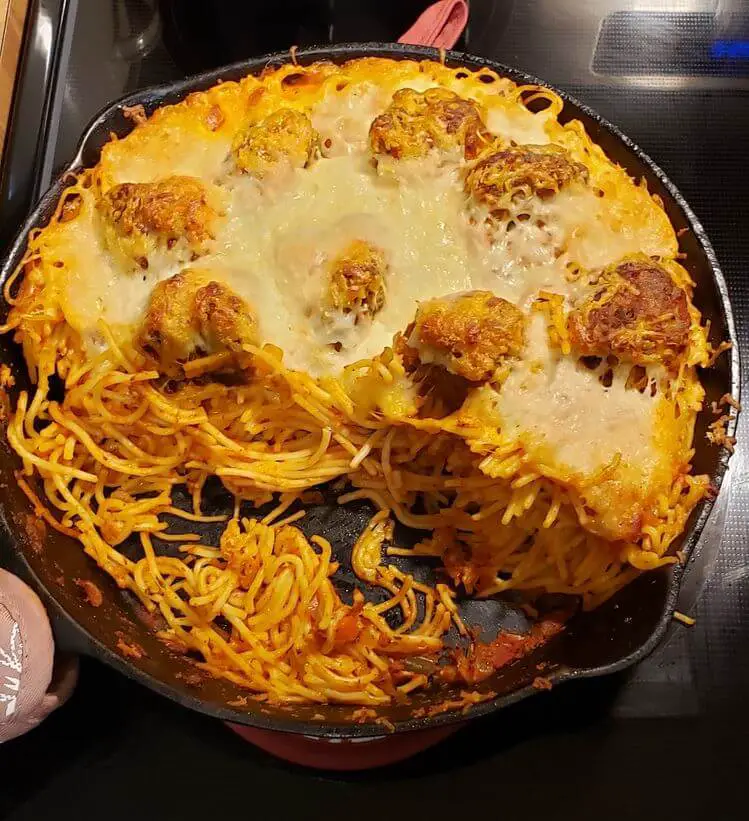 Spaghetti with meatballs, an Italian recipe that we have nevertheless seen eaten in hundreds of movies. Its origin has generated much controversy as it is debated whether it is an Italian or Italian-American dish (made by Italian immigrants in New York). Either way, we thank everyone for their contribution and invite you to prepare this delicious pasta recipe.
Ingredients:
450 g of spaghetti
550 g of veal minced meat
1 onion
2 cloves of garlic
1 egg
700 g tomato sauce
125 g bread crumbs
125 g Parmesan cheese
A few sprigs of parsley
Salt
Preparation
Preheat the oven to 190º.
Chop the onion and parsley and grate the cheese. Dip the bread crumbs in 100 ml of milk. In a large bowl, also beat the egg and mix it with the breadcrumbs soaked in milk, the minced meat, the cheese, the onion, the parsley, the garlic and a pinch of salt.
With the meat already mixed, we shape the meatballs. The size should be slightly larger than a golf ball. These meatballs are always more giant than the Spanish meatballs we are used to.
We place them on a baking tray lightly greased with olive oil. We can also use baking paper. We put it in the oven and roast the meatballs for 10 minutes. They should be lightly toasted.
We put a saucepan on the fire with plenty of salted water and boil the pasta according to the manufacturer's instructions.
While the meatballs and pasta are cooking, we heat the tomato sauce in a frying pan over low heat. As always, we recommend making it homemade. You can see the recipe here. If you make it homemade, keep in mind that you will have to cook it more in advance because, in this step, we only heat the sauce.
Once the meatballs are cooked, take them out and add them to the sauce, mixing everything. Let them cook for a couple of minutes.
Remove the pasta and drain well.
Serve on plates and cover with a good amount of sauce. We also distribute the meatballs and are ready to enjoy!