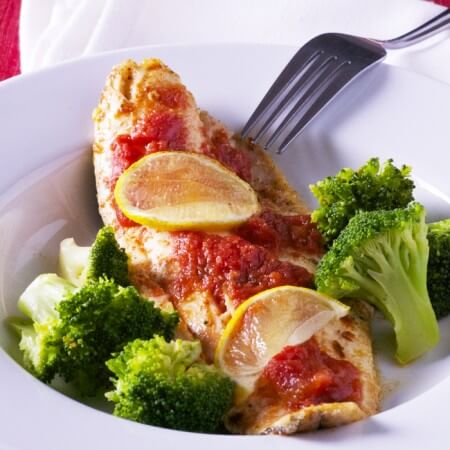 Baked Haddock with Tomatoes is an easy-to-make, quick, and tasty entrée. Haddock is one of several whitefish that you've likely eaten before. It's used in restaurant fish sandwiches, frozen meals, school lunches, and other mass-produced meals. Think of it as a stand-in for cod. Perfect for weeknight meals, Baked Haddock with Tomatoes is ready in 30 minutes or less and doesn't need much in the way of seasoning to taste sensational.
HADDOCK AND SUSTAINABILITY
I buy haddock by the bag from Wegman's., which is wild-caught in waters near Iceland. Haddock from this location is considered "a good alternative" seafood, according to Seafood Watch. However, it's a "good alternative" rather than a "best choice" of seafood. Icelandic Haddock is electronically monitored, and specific areas are protected from overfishing.
BAKED HADDOCK WITH TOMATOES
High-quality protein plus Vitamin C and lycopene (from the tomatoes) is one reason why Baked Haddock with Tomatoes is a smart move. Plus, boneless haddock fillets can be baked straight from the freezer. Just rinse each fillet to remove ice crystals, pat dry, brush with olive oil, and put directly in the oven. Season after five minutes, and the meal is ready in another 10-15 minutes. Easy and awesome.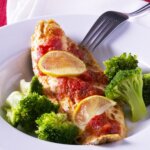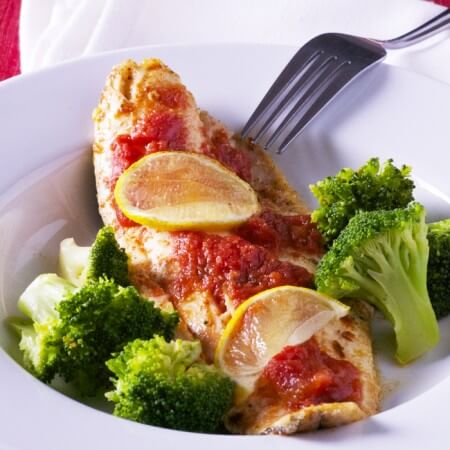 Print Recipe
BAKED HADDOCK WITH TOMATOES
Ingredients
1.5-

pounds

frozen haddock fillets

about 3

1

tablespoon

extra virgin olive oil

¾

teaspoon

salt

Cracked white pepper

1

teaspoon

paprika

1

can diced tomatoes with juice
Instructions
Pre-heat oven to 350 degrees. Lightly oil the bottom of a large baking dish (big enough to fit fillets with one inch of the room).

Rinse haddock fillets, one at a time, under cold running water.

Dry each fillet with a clean dish towel or with paper towels.

Place fish in the oven for 4 minutes.

Remove baking dish from oven and season fish. Pour tomatoes plus juice evenly over fish fillets.

Bake for 10-15 more minutes until fish is firm to touch and flakes when gently prodded with a fork. (Broil fish for two minutes to brown the tops).