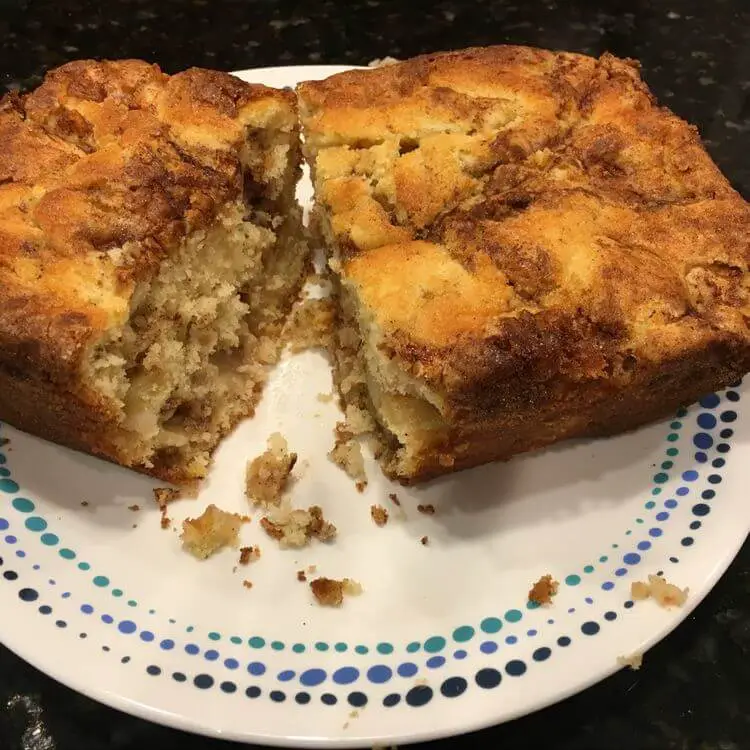 Apple pie is already delicious, so what can make it even better? How about turning it into a fresh-baked loaf of bread! This recipe is just as sweet and delicious as the original, but with fewer calories and much less work than making a pie. It will be the star of your next dinner party or holiday celebration!
This is a delicious and super easy apple pie recipe that all of the family will love. I think it's important to have traditions and recipes that you pass on to your children, and this is one that I have been making for years. It's perfect served with a scoop of vanilla ice cream or, if you aren't counting calories, a generous dollop of whipped cream!
So what are you waiting for? Follow our apple pie bread recipe, a mouthwatering combination of apples and nuts which will leave you feeling happy and satisfied.
Preparation time: 30 minutes
Cooking time: 1 hour
Total time: 1 hour 30 minutes
Ingredients:
1/2 cup granulated sugar
1/2 cup unsalted butter (must be softened)
1/4 cup buttermilk
1/2 cup light brown sugar
2 eggs (at room temperature)
2 tsp baking powder
2 cups all-purpose flour
1 ½ tsp vanilla
1/2 tsp salt
2 tsp homemade apple pie spice
3/4 cup chopped pecans
1/2 cup dried cranberries
2 cups peeled and shredded apple
3 tbsp all-purpose flour
1/4 cup lightly packed light brown sugar
2 tbsp unsalted butter
1/4 tsp homemade apple pie spice
1/3 cup chopped pecans
Instructions:
Take a loaf pan (9x5x3) and spray it with nonstick spray. Set the dish aside and preheat the oven to 350°F.
Beat butter on medium speed for 30-40 seconds in a bowl with an electric mixer.
Now add sugar to the butter and mix well. Then add baking powder and buttermilk. Mix until well combined.
Add vanilla and eggs and beat again to combine.
Take another medium-size bowl and combine apple pie spice, flour, and salt in it. Whisk them until combined – don't overdo that.
Now combine this flour mixture with the electric mixer bowl and mix at slow speed, Then add pecans, apples, and cranberries.
Pour this batter into the prepared pan and make it even with the help of a spoon.
Make streusel topping by combining brown sugar, apple pie spice, and flour. Add butter and mix until the mixture resembles coarse crumbs.
Add pecans and stir to mix. Put streusel topping over the batter and press gently.
Bake for one hour. Check the readiness of the bread by inserting a toothpick in the middle. If it comes out clean your Apple Pie Bread is ready.
Let it cool in the pan for 15 minutes. Then remove from the pan and allow it to cool on the wire for 1 hour before slicing.
Tips & Tricks:
If you don't have cranberries and pecans, you can add walnuts and raisins to your batter.
For batter taste and texture wait for the bread to sit overnight before making slices.
We will not suggest you dice the apples because it is a little bit harder fruit. Simply peel and shred your apples for this recipe.
For longer shelf life, wrap the bread in plastic wrap or in foil and place it in an airtight bag. In this way, you can store the bread in the freezer for more than 3 months.
You can store your bread in the fridge for 3-5 days.
What kind of apples is suitable for making apple pie bread?
What kind of apples is suitable for making apple pie bread? There are so many different kinds of apples, you won't be short of options! I've been told that Granny Smith apples are the best for baking, but you can experiment with other kinds of apples to see which one you prefer. If you are using other kinds of apples, simply grate them and squeeze them to release extra juice.
I hope you enjoyed the dessert recipe. I would love to know if you tried it and what you think. I can't wait to hear from you. Please leave a comment below, or connect with me on Facebook, Twitter, Instagram, and Pinterest.