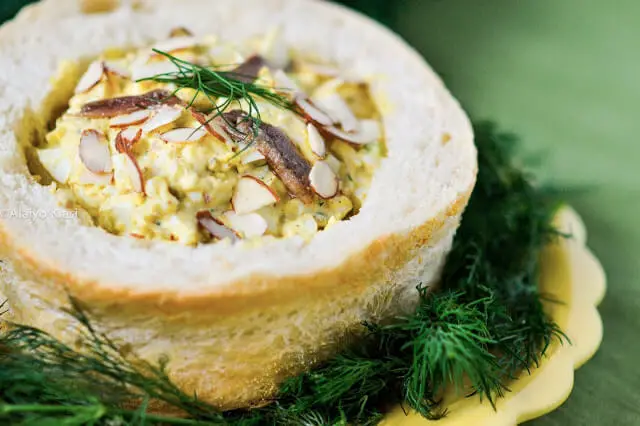 I used to like winter. I think I still do, but there have been more than a few wind-chilled mornings and afternoons lately. So, I'm anticipating warming breezes, daffodils, and tulips more than usual this year. My fellow #SundaySupper bloggers are likely feeling as I do, because we've all prepared a succulent springtime spread to feature today on our blogs. My recipe, Anchovy and Egg Salad, is one of my favorite light spring meals.
I use basically the same ingredients that you probably use in your egg salad, but I include Chinese Five Spice (not pictured).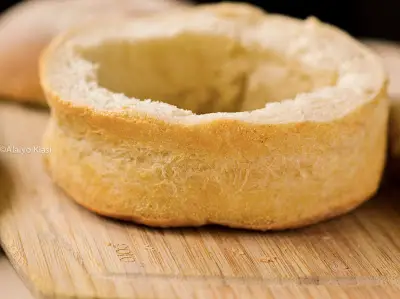 I buy one French bread round, cut off the top, and scoop out the insides.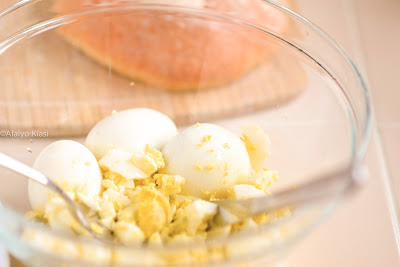 I break up the eggs gently with a fork and butter knife.
This is the contents of a two-ounce can of anchovies. I four fillets in the egg salad.
After draining, the anchovies are chopped. I save two halved anchovy fillets for garnish. I include chopped scallions as well.
Remember this recipe this spring as you cast off heavier meals, like a winter-worn parka, and begin to embrace lighter meals once again.
Please click on the links after the recipe to see the dozens of other springtime recipes that you, your friends, and your family will enjoy.

Recipe: Anchovy and Egg Salad–Serves 3-4
Ingredients:
6 large eggs, boiled and peeled
2 tablespoons light mayonnaise
1 teaspoon Dijon mustard
1/8 teaspoon Chinese Five Spice powder
Cracked, white pepper
1 ounce (approximately 4 flat fillets) anchovies, drained and chopped
2 scallions, chopped
1.5 tablespoons fresh dill, chopped
1 French bread round
2 tablespoon almonds sliced almonds for garnish
2 anchovy fillets, sliced in half, for garnish
Directions:
In a medium-sized bowl, break up the eggs gently with a fork and butter knife. Add the mayonnaise, mustard, Chinese Five Spice powder, pepper, anchovies, scallions, and dill. Fold ingredients together. Cover and refrigerate for at least one hour.
With a bread knife, carefully slice the top from the French bread round. Set top aside. Cut away the insides, leaving one-half to one inch of bread on the bottom and sides.
Remove the Anchovy and Egg Salad from the refrigerator. Spoon the salad into the bread cavity. Garnish with anchovy halves, sliced almonds, and dill. Serve as sandwiches or spoon into lettuce cups.