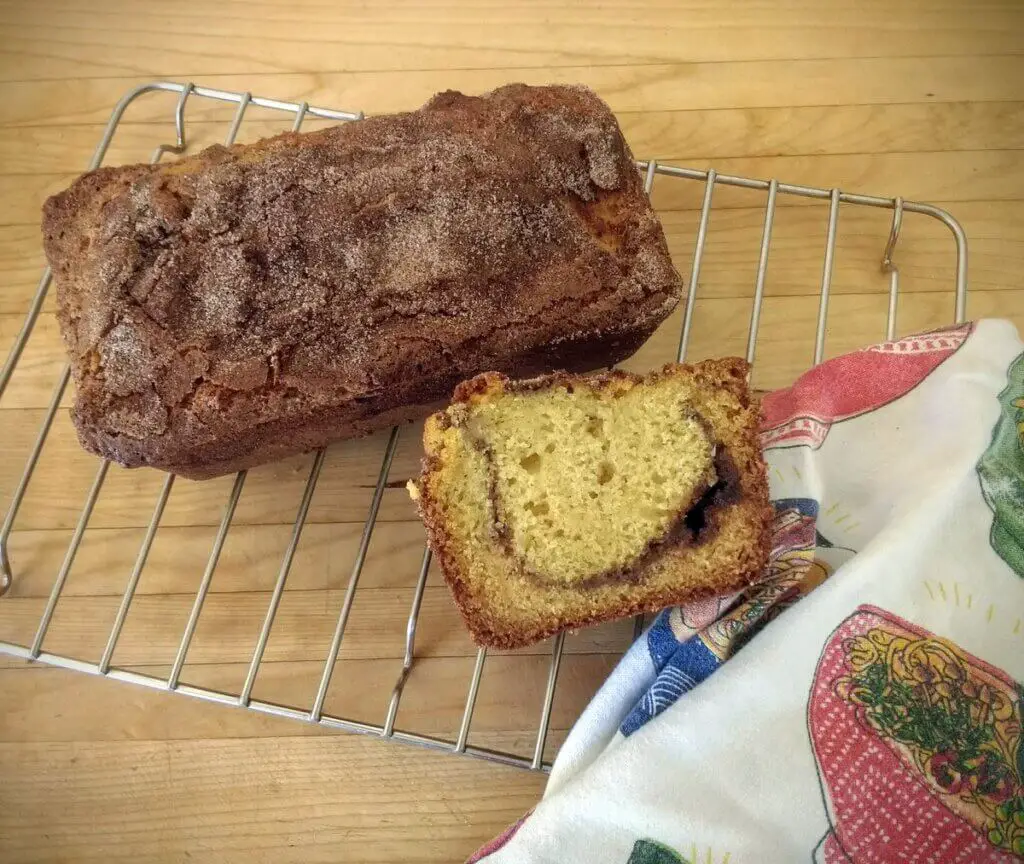 Amish cinnamon bread is a simple, sweet, moist bread loaded with sweetness from sugar and warmth from the cinnamon. It is a delicious way to enjoy simple flavors. Serve this bread for breakfast with your tea and coffee, and enjoy humble flavors. You can customize it according to your liking and make this bread more tasteful.
What is Amish Cinnamon Bread?
Amish cinnamon bread is a simple, quick, and tasteful treat for every occasion. The best thing about this bread is that it doesn't require yeast for the raising period. Moreover, it doesn't require kneading as well. As a result, the bread gets ready in no time.
Variation ideas:
Chocolate chips: You can add more flavor to your Amish cinnamon bread by adding chocolate chips and gently folding them into the mixture. The rich flavor of chocolate goes well with the warmth of cinnamon.
Nuts: Add dried nuts like almonds, pistachios, mulberries, and walnuts to the bread for a crunch.
Raisins: Adding raisins adds chewy goodness and sweetness to the bread.
How to store Amish cinnamon bread?
Store the leftover bread by placing it at room temperature over your kitchen counter. Make sure to cover it properly. The bread stays fresh for up to 5 days.
Amish Cinnamon Bread – The recipe
Preparation time: 10 minutes
Cooking time: 45 minutes
Total time: 55 minutes
Servings: 4
Ingredients:
For the bread:
2 cups all-purpose flour
½ cup unsalted butter softened
1 whole egg, at room temperature, 1 cup white granulated sugar
1 cup buttermilk
1 tsp baking soda
1 tsp vanilla extract
A pinch salt
For the topping:
1/3 cup granulated sugar
1 tsp ground cinnamon
Preparation:
In a standing mixer bowl, add softened butter and sugar. Whisk at low to medium speed for 2 to 3 minutes or until the two ingredients are creamed together.
Add vanilla extract and egg and whisk for a minute or two until everything incorporates.
Now, add all-purpose flour and baking soda and gently fold using a rubber spatula.
Pour buttermilk slowly and mix well using a rubber spatula. Don't overmix the mixture. A few lumps are fine.
In a bowl, add cinnamon powder and sugar and mix well.
Pour half of this mixture into a parchment-lined rectangular baking pan.
Sprinkle half of the sugar mixture over the bread mixture evenly. Pour the remaining bread mixture on top and finish with the remaining sugar and cinnamon mixture.
Tap the pan twice or thrice to get rid of air bubbles.
Place the pan in a preheated oven at 350 degrees F for about 40 to 45 minutes. You can insert a toothpick into the bread to check its doneness. If it comes out clean, it means the bread is ready.
Take the pan off the oven and let it cool down for about 20 minutes. Remove the bread from the pan and place it on a cooling rack until it cools completely.
Slice and serve.