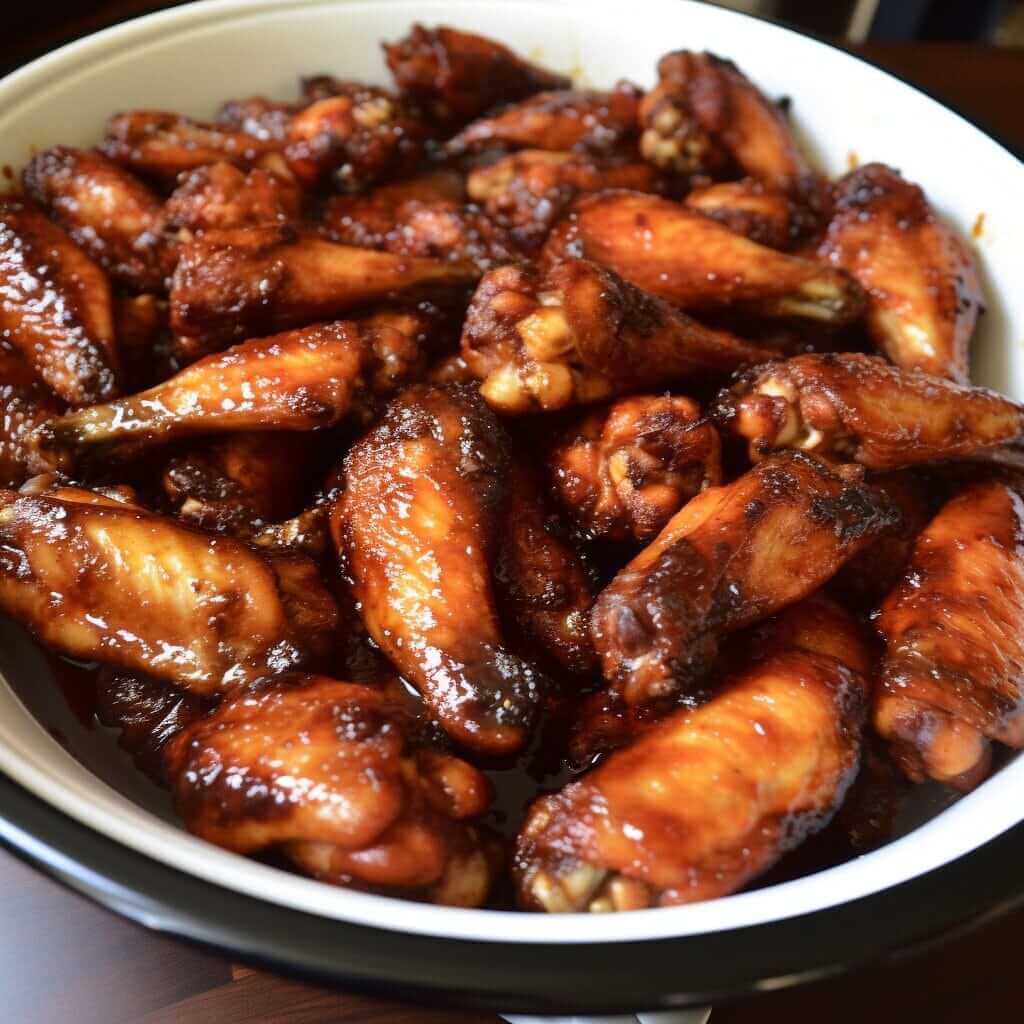 Howdy wing lovers! Get ready to sink your teeth into tender, fall-off-the-bone chicken wings smothered in sweet and tangy barbecue sauce. With just a handful of ingredients and a few hours in the crockpot, you can have a platter of sticky, crave-worthy wings the whole gang will devour.
These slow-braised beauties are my go-to for serving up at a sports watching party or potluck. As they bubble away, the sauce permeates the meat, transforming into a luscious, lip-smackin' glaze that lacquers each piece. The meat gets so tender, the wings practically shed right off the bones.
I also love to fix up a batch on hectic weeknights. As the irresistible aroma of BBQ sauce and chicken fills the house, dinnercooks with little effort. We gobble them up straight away, then I stash the leftovers for amazing sandwiches the next day.
This simple 3-ingredient recipe never fails to please a crowd. The wings fly off the platter! Let's get cookin' y'all. In just a few short steps, you can have the ultimate finger-lickin' wings. Keep reading for tips to make them perfect every time!
Questions About My Famous Wings:
What's the best chicken for these wings?
I recommend using whole chicken wings. The mix of light and dark meat makes them extra moist and flavorful. Go for drumettes or flats if you like one over the other.
What if the sauce seems thin when they're done?
No worries! Just remove the wings to a baking sheet. Simmer the sauce over medium-high heat until it reaches the desired thickness before tossing the wings back in.
Can I prep them the night before?
You sure can! Marinating the raw wings in the sauce overnight amps up the flavor. Then just cook as directed.
What are some good sides for serving?
These wings pair nicely with crunchy coleslaw, cornbread, mac and cheese, or blue cheese dressing for dipping.
How do I make them gluten-free?
Use gluten-free soy sauce or tamari rather than regular soy sauce.
Now let's get to cooking!
Ingredients:
3 lbs chicken wings, tips removed
1 cup barbecue sauce
1⁄4 cup soy sauce
Instructions:
Add chicken wings to crockpot.
In a small bowl, stir together barbecue sauce and soy sauce until well combined.
Pour barbecue sauce mixture over wings and toss until evenly coated.
Cover and cook on low for 3-4 hours or high for 2-3 hours, until wings are fall-off-the-bone tender.
Carefully transfer wings to a platter, scraping any stuck sauce back into crockpot.
Simmer sauce over medium-high heat for 5-10 minutes, until thickened.
Toss wings in thickened sauce until fully coated.
Serve immediately and enjoy! Refrigerate leftovers.
Cooking Tips:
For crispy wings, broil or grill them for a few mins after saucing.
Add spices like garlic powder, chili powder, or cayenne pepper to the sauce.
Stir sauce occasionally while cooking to prevent burning.
Use chicken broth instead of water if the sauce seems too thick.
To make it spicy, add hot sauce or red pepper flakes to taste.
Garnish with chopped scallions, cilantro, or sesame seeds.