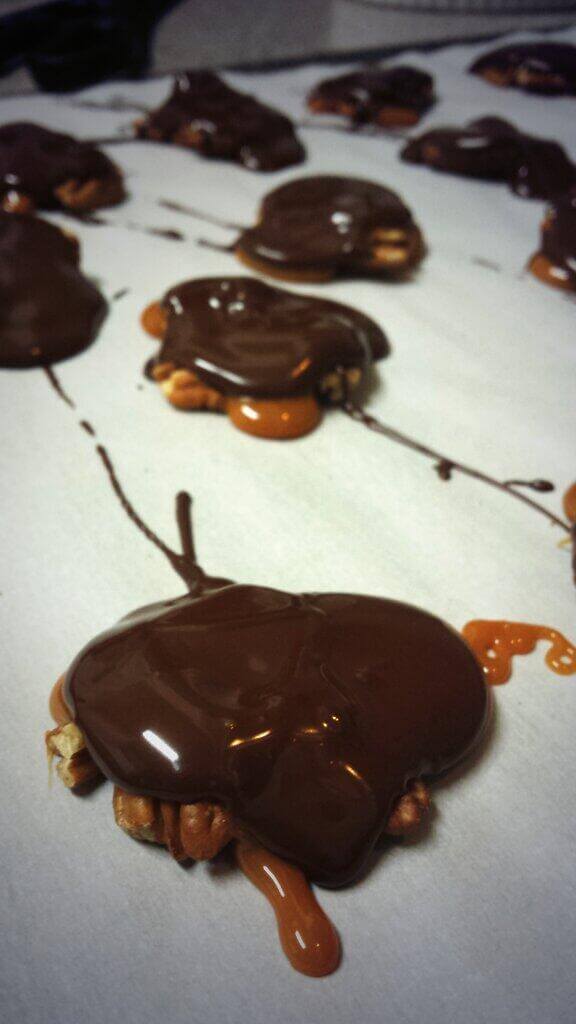 If you're looking for cookies and candies to give out during the holidays, these chocolate turtles should be on your list! To get the best of both worlds, make the turtle thumbprint cookies with the same flavors as these candies.
Turtle Candies are always a classic chocolate shop treat. These adorable and delectable turtles were first invented around 1918, have always been available in-store for many decades, with their original recipe unaltered, including caramel, pecans, and chocolate. The modern versions of this recipe include additional ingredients, but the heart of the confection is the simplicity of ingredients and powerfully decadent flavor.
They're surprisingly simple to make at home, requiring only three common ingredients to recreate the popular chocolate treat. You can double or even triple the recipe, and you'll have sufficiently what to give as a holiday treat to all of your friends and family, or maybe even as a party favor for office celebrations and gatherings. They're supposed to look a bit rustic, so do not worry about keeping the turtles round or having some of the pecans poking through; that is the beauty of these treats. You can also eat them independently or use them to decorate your cakes, cheesecakes, pies, cupcakes, and ice cream bowls.
Because there are only a few ingredients, each is crucial to get the final flavor, so it's essential to use high-quality chocolate and pecans. Some homemade caramel is always preferable. The leftover caramel from another recipe works well; however, the store-bought smooth caramels can also yield a delicious treat. This is also the quickest and most straightforward way to bring these little turtles to life.
Ingredients:
3 cups of whole pecans
half a cup of butter
1 small cup of brown sugar
Half a cup of corn syrup
Dash salt for seasoning
a whole can (or half) of condensed and sweetened milk
1 teaspoon of vanilla
1 and a half cups of chocolate chips
1 teaspoon of vegetable oil
Instructions:
Begin with arranging the Pecans on a baking sheet in a single layer, then bake it for about 10 minutes or until it gets fragrant and browned, at 350°. Place on silicone liners or parchment paper in some clusters of 3 to 4.
Get a 6quart pot, and combine the brown sugar, corn syrup, butter, and salt. Bring the water to a boil over some medium heat. Combine the sweetened condensed milk and vanilla extract in a mixing bowl.
Cook while stirring until the mixture reaches a temperature of 240°. We recommend using the ice water test because it's more accurate. Place a small spoonful of hot caramel in a bowl of ice water. You should now be able to roll it into a ball when taking it out. Then it's completed.
Spoon the caramel over the pecan clusters quickly, making sure that the caramel touches all of the pecans and allows it to harden.
Melt your chocolate chips along with the oil in your microwave on half the power while frequently stirring until it gets smooth. Top each layer of the caramel with a spoonful of chocolate. Allow it to sit for about 2 hours, or until it's hardened enough.