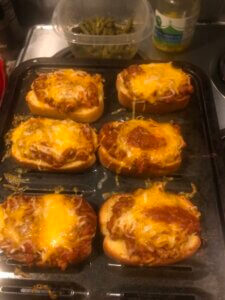 We all love the tastes of sandwiches and probably made at home. Have you ever tried Texas toast? Texas toast is a popular French bread recipe made on a grill with a buttery coating. It's a great choice for a sandwich because of the added crunch. This blog will give you the best Texas toast sloppy recipe. It is sloppy because it is very delicious. Crunchy perks of endless taste will not let you forget the taste ever. It is American cuisine and takes 30 minutes to cook it for serving 8 people. Browse the recipe by scrolling down the page.
Ingredients:
8 slices (11.25 ounces) of Texas Toast Garlic
2 lbs of Ground Beef
1.31 ounces of Sloppy Joe Mix Packet
24 ounces of Manwich Original Sloppy Joe Sauce
2 cups of Mozzarella Cheese (Shredded)
Fresh Parsley chopped
Directions:
Prepare the oven by preheating it to 400 degrees Fahrenheit.
Take a baking pan and line it with tinfoil. Spread all the frozen Texas toast on the baking pan surface.
Bake the toasts as per the instructions listed on the package.
While your Toasts are being baked, utilize the time for cooking ground beef.
Take a pan and put it on the stove with medium flame. Add oil and cook ground beef. Brown it from both sides.
Cook ground beef up to 90 percent and drain extra oil separately.
Now put in the Sloppy Joe's seasoning and keep cooking the beef. Now cook it completely.
After the beef is cooked, add Sloppy Joe Sauce. Keep stirring and cook for five minutes until the sauce and beef are combined and appears thick in consistency.
Use meat mixture on the toast and spread it evenly.
On each toast slice, add one-fourth cup of shredded cheese.
Now put these prepared toasts in the oven and bake for five minutes until the cheese melts and starts turning brown.
When baking is done, take it out from the oven and serve on plates. Sprinkle parsley before presenting to the guests.
Is it compulsory to drain meat before adding the sauce?
You should drain the ground beef cooking liquid before adding the sauce. In the same pan, you will then cook onions and pepper.
Which ingredient is suggested to add to the Manwich for improving the taste?
Add either low-sugar ketchup for adding flavour or add salsa to the ground beef. It is suggested to stick to the original recipe and not to try experimental variations. Only add the ingredients you are sure about the taste.
This recipe is the best ever toast sloppy recipe and will make your dinner menu an exception among other regular dinner menus. Do give it a try and follow the exact instructions to avoid mistakes. Share with us in the comment how was your experience cooking a Texas toast sandwich at home. Was it worth trying at home or a restaurant? How do you feel about it?