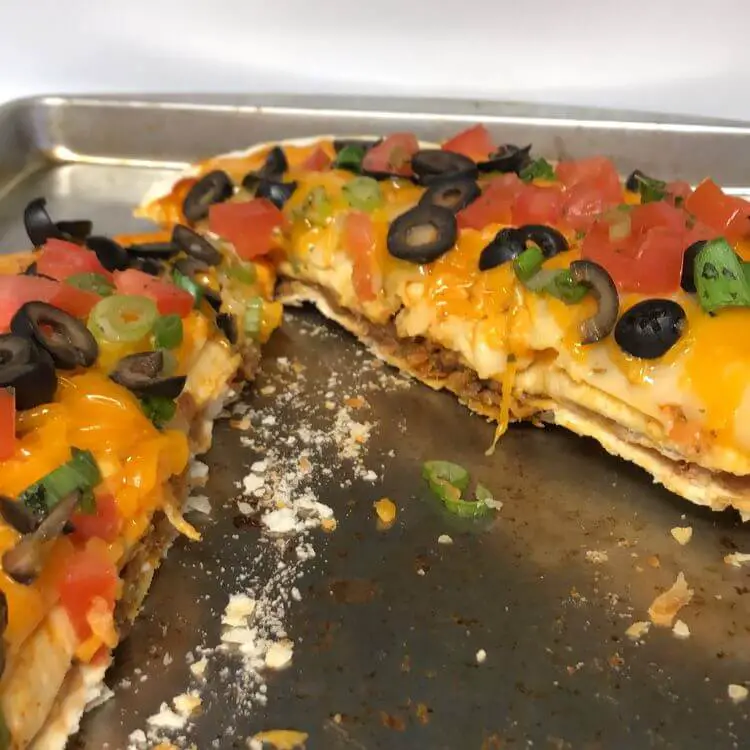 Tacos are delicious and so is pizza, so why not put them together?
The best thing about writing a food blog is that you get to taste new dishes and you get to post them online. I always try to make a pizza with different toppings to make my family happy and I have been successful in it too. This time I made a taco pizza and it turned out to be a huge success.
Maybe you are hosting a party and need a dish to serve many people or want to make a delicious dinner for the family. Whatever the reason may be, it's a great idea to try out this delicious fusion dish. Here is a simple recipe that provides instructions on how to make taco pizza.
Serving Size: 6-7
Preparation Time: 20 mins
Cook Time: 10 mins
Total Time: 30 mins

Ingredients:
16 oz (2 tubes) crescent rolls, refrigerated
8 oz (1 cup) sour cream
8 oz (1 package) cream cheese, softened
1 pound ground turkey or ground beef
2–4 Tbsp taco seasoning
2 cups Mexican cheese, shredded
1 medium tomato, chopped
1 cup lettuce, shredded
Taco sauce, black beans, hot sauce, avocado (optional)
Instructions:
Preheat the oven to 370° F. Take a large ungreased cookie sheet and unroll crescent roll dough over it.
Make holes in the dough (perforations) and bake it in the oven for 7-10 minutes until it turns light golden.
Now take a bowl and mix sour cream and softened cream cheese in it. If any lump appears, remove it with a whisk. Set it aside.
Take a skillet and cook beef in it until brown. Remove the grease and black beans if desired (optional).
Then add ¼ cup of water and taco seasoning. Let it simmer for 4-5 minutes while stirring occasionally.
Take out your baked crescent roll pizza crust and set it aside for 4-5 minutes to cool.
Spread the cream cheese mixture over the roll and sprinkle cooked beef. Top with tomatoes, lettuce, cheese.
Cut into slices and serve immediately. If you want cold taco pizza, refrigerate it to serve later.
Tips & Tricks
You can make taco pizza in advance, but it is suggested to add tomatoes, lettuce, and cheese just before serving to prevent sogginess.
If you want some extra protein to your pizza, add some drained black beans to the meat.
The best thing about this pizza is that you can add any topping you prefer with tacos. You can consider avocado, chopped onions, black olives, black beans, refried beans, Doritos, Fritos, hot sauce, enchilada sauce as extra toppings.
You can store leftover taco pizza for up to 3 days in an airtight container in the fridge.
If you want to make a gluten-free taco pizza, simply find gluten-free crescent rolls in the grocery store. The remaining ingredients will remain the same.
Please give any feedback or critique you might have. This way I can improve my writing and blog posts for future use. And don't forget to share the recipe with your friends and family. They will like it too.