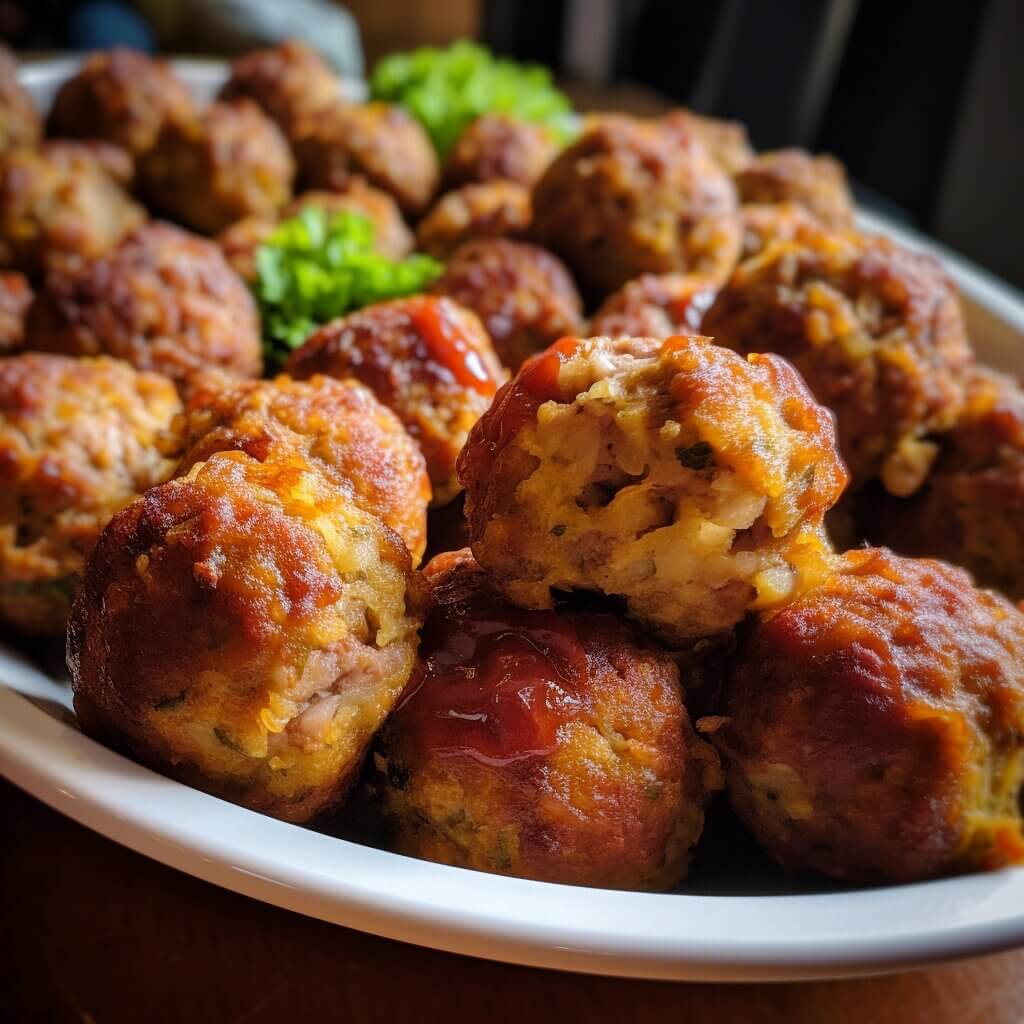 Friends, fam, party people! I'm coming at you hot with the most ultimate, crowd-pleasing appetizer that will have you jumping for joy. I'm talking next-level stuffed stuffing balls oozing with melty cheese that will straight up transport your tastebuds to Thanksgiving heaven. Just thinking about the crispy, herb-y exterior giving way to that decadent center is enough to make me do a happy dance!
Let me break it down for you real quick. Picture the fluffiest seasoned stuffing, rolled by hand into bite-sized balls with a hidden pocket of gooey, melted cheese just waiting to erupt into Party in Your Mouth City. Trust me, this is about to become your new favorite thing to bring to Friendsgiving, tailgates, holiday parties, family gatherings, you name it. The flavor combo of subtly spiced stuffing with indulgent cheese is a match made in autumn appetizer paradise.
I know you're dying to get all up in these stuffed stuffing balls
What's the best stuffing to use for ultimate flavor?
For ultimate nostalgic Thanksgiving flavor, go for a classic Pepperidge Farm herb seasoned stuffing!
How do you get the stuffing to stick together in balls?
Whisking eggs with milk creates a binder that holds the stuffing mixture together so you can easily form it into hearty balls.
Is there a trick to getting the cheese in the middle?
Place a cube of melted cheese in the center before sealing the ball shut. The cheese will melt into an ooey gooey middle!
What oil is best for frying them crispy?
For crispy fried stuffing balls, use a neutral oil like vegetable, canola or peanut with a high smoke point.
Could I bake them instead?
Yep, baking is a great option! At 375F for 15 minutes, the stuffing balls will bake up fluffy and delicious.
How big should I make the stuffing balls?
Make them about 1-inch in size – small enough to pop in your mouth!
Do I need to use fresh breadcrumbs for the stuffing?
Nope, store-bought dried stuffing mix works perfectly. No need for fresh breadcrumbs.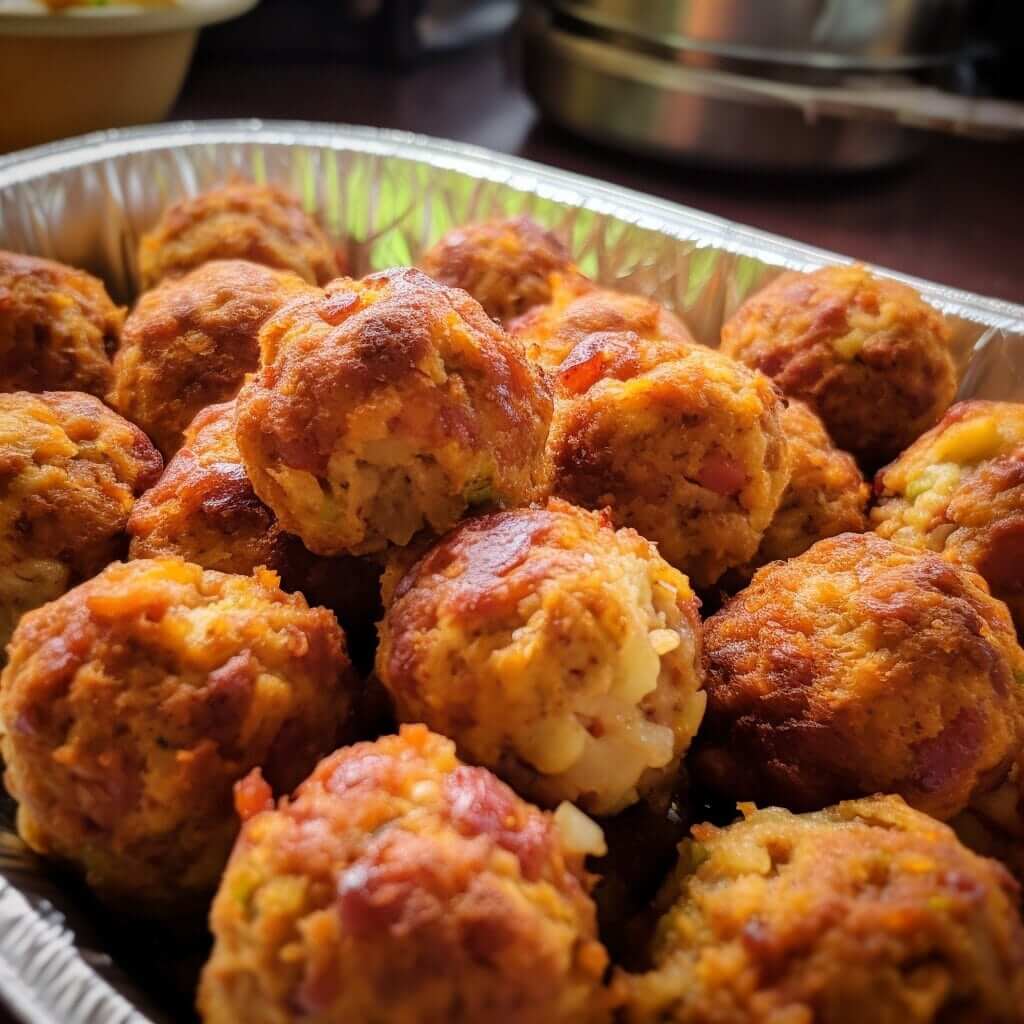 Prep Time: 10 minutes
Cook Time: 15 minutes
Total Time: 25 minutes
Ingredients:
6 cups stuffing mix (go crazy with flavors!)
1 cup grated cheddar (or any melty goodness)
3 eggs, beaten
1/4 cup milk
1 tsp dried sage
1 tsp dried thyme
1/2 tsp garlic powder
1/2 tsp onion powder
1/2 tsp salt
Black pepper
Oil for frying
Instructions :
In a large bowl, combine the stuffing mix, sage, thyme, garlic powder, onion powder, salt and pepper. Add the grated cheese and toss together until well combined.
In a small bowl, beat the eggs with the milk.
Add the egg mixture to the stuffing mixture and use your hands to combine everything together. The mixture should hold together when pinched. If it's too dry, add another tablespoon of milk.
Shape the stuffing mixture into 1-inch balls, inserting a small cube of extra cheese into the center of each. Place the balls on a parchment-lined baking sheet.
At this point you can bake or fry them. To bake, preheat oven to 375°F and bake for 15 minutes until golden brown and heated through. To fry, heat 1/4 inch oil in a skillet over medium heat. Fry stuffing balls in batches for 2-3 minutes per side until crispy and browned.
Serve the stuffing balls hot with your choice of dipping sauces! They go great with marinara, cranberry sauce, gravy, or cheese sauce.
Cooking Tips:
Make sure your stuffing mix is fresh and crispy, not soggy or stale.
Cheese options: cheddar, mozzarella, monterey jack, pepper jack, colby.
For a spicier version, add 1/4 tsp cayenne or red pepper flakes.
Mix in crispy crumbled bacon or sausage for extra flavor.
These can be assembled then refrigerated up to 24 hrs before cooking.
Fry in olive oil or vegetable oil for best results. Canola oil also works.
If baking, spray oil on stuffing balls before baking for a crisper exterior.