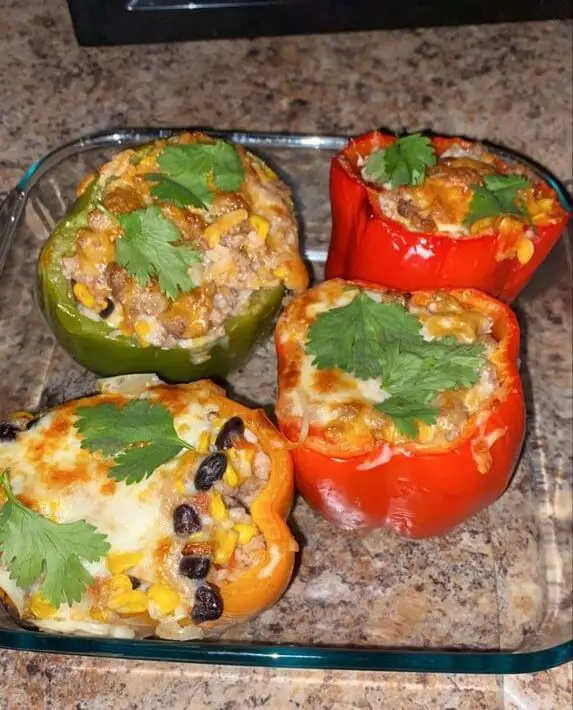 For breakfast today, the kids had gluten-free homemade muffins with an apple. Lunch was leftover Game Day Crispy Chicken Wings for my husband and me. The girls had grass-fed organic hot dogs along with some bell peppers, cucumbers, raisins, and olive oil potato chips. For dinner, I made some taco stuffed bell peppers. I get tired of taco meat in a lettuce leaf so I figured that I would change things up a bit and serve it in a dash of bell pepper. It was good with that crunch of the bell pepper and the gooey, yummy cheese on top. You can just omit the cheese if you can't tolerate dairy.
Taco Stuffed Bell Peppers
6 bell peppers
2 lbs grass-fed ground beef
1/2 large onion, diced
8 cloves of garlic, minced
3 tbsp taco seasoning (recipe below)
1 tbsp extra virgin coconut oil, divided
1 cup shredded cheese of choice (optional)
Directions:
Preheat oven to 425 degrees F. Remove the peppers and cut off the upper part. Chop the top pieces. Warm 1/2 tbsp coconut oil in a big frying pan. Add onions and diced bell pepper and cook for 5 minutes. Stir in the chopped garlic and cook for a couple of more minutes. Then add the meat and cook for another 15 minutes. Add the taco seasoning and stir to combine well. Allow sautéing for an additional minute or two. Rub the coconut oil on the outside of the bell peppers. Fill each pepper with taco meat. Top with shredded cheese, if using, and place on a parchment-lined baking sheet. Bake for 12 minutes.
Taco Seasoning
2 tbsp ground cumin
1 tbsp ground coriander
1 tbsp chile powder
1 tbsp smoked paprika
1 tbsp oregano
1 tsp sea salt
1/2 tsp ground cinnamon
Combine all of the spices in a small dish and store them in an airtight container.