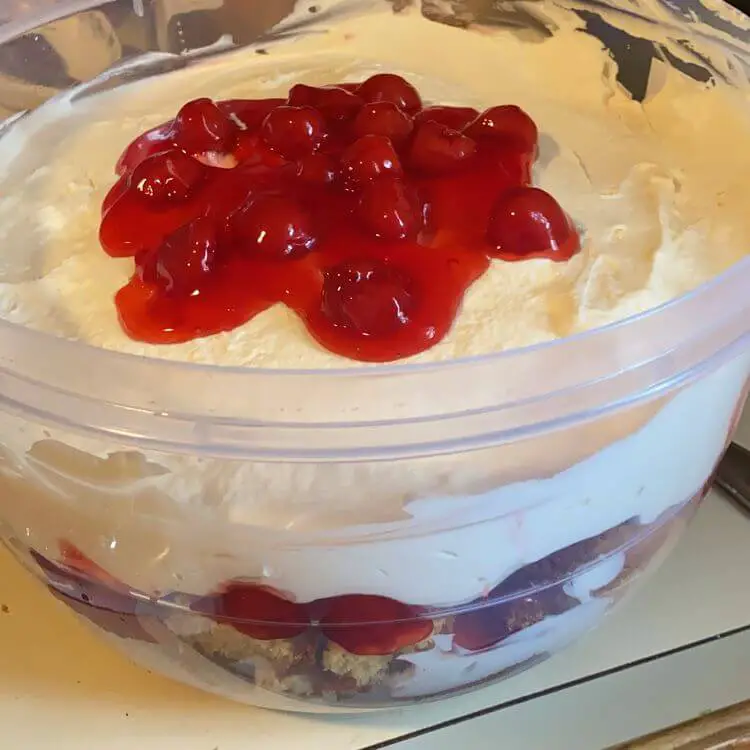 The wonderful recipe is one of the best desserts to please a tough crowd that can be made ahead of time. It has cake, sweet strawberries, and amazing homemade vanilla cheesecake mousse. You can serve it anytime when there are stunning and delectable desserts on the menu.
To perfectly and correctly assemble this dessert, we recommend layering the cubed cake, strawberries, and the vanilla cheesecake mousse in that exact order. The layers may come together differently based on the size and depth of the trifle bowl you chose to use, so you should consider the size of your bowl when you get the ingredients separated into layers. This strawberry cheesecake trifle is delightful to prepare and serve, and there is seldom any spoonful left to eat.
Birthday celebrations, office or church potlucks, and, undoubtedly, any other holiday, you can serve this meal without worrying about your guests' opinions. Once you get your hands on these sweet strawberries, you'll make them all year long.
If fortunately, your local grocery store always has them in stock, then that's good for you. It's a given that it'll appear during the glorious strawberry picking season, but the colors make it ideal for Christmas as well.
Ingredients:
2 pins of hulled and cubed fresh strawberries
A third of a cup of granulated sugar
1 juiced lemon
1 can of strawberry pie filling
2 cans of softened cream cheese
2 cups of divided powdered sugar
4 cups of heavy divided cream
1 tablespoon of pure vanilla extract
1 cubed angel food or vanilla pound cake
Instructions:
Start by combining your cubed strawberries with one-third of a cup of granulated sugar and some lemon juice. Stir everything thoroughly, then set it aside to macerate while preparing your filling.
Get your softened cream cheese, one and a half cups of the powdered sugar, and one and a half cup of the heavy cream, along with the vanilla extract, and whip everything for about 3 minutes, or until you notice your mixture getting fluffy, creamy, and combined. Whip the remaining 2 and a half cups of heavy cream with the powdered sugar in a separate bowl while adding more if desired. Whip the cream until it gets stiff and peaks form.
Hand folds it in the cups of your whipped sweetened fresh cream to your cheesecake mixture. Save the remaining whipped and sweetened fresh cream for the topping.
Mix everything in your strawberry pie filling along with the macerated strawberries.
Alternate the layers of your cubed cake, vanilla cheesecake mousse, and strawberries to make the cake. Keep going until you have no ingredients left to use.
Garnish everything with what remained of the sweetened fresh whipped cream as you desire. Refrigerate for about 4 hours before serving it.
Get the leftovers stored until they're chilled.
Tips:
The trifles typically consist of different layers of fruit, pudding, cake, and whipped cream. You can sometimes find them with brownies or chocolate in one of the multiple layers, but you'll also want the various textures of the cake and the soft pudding with the fruits.