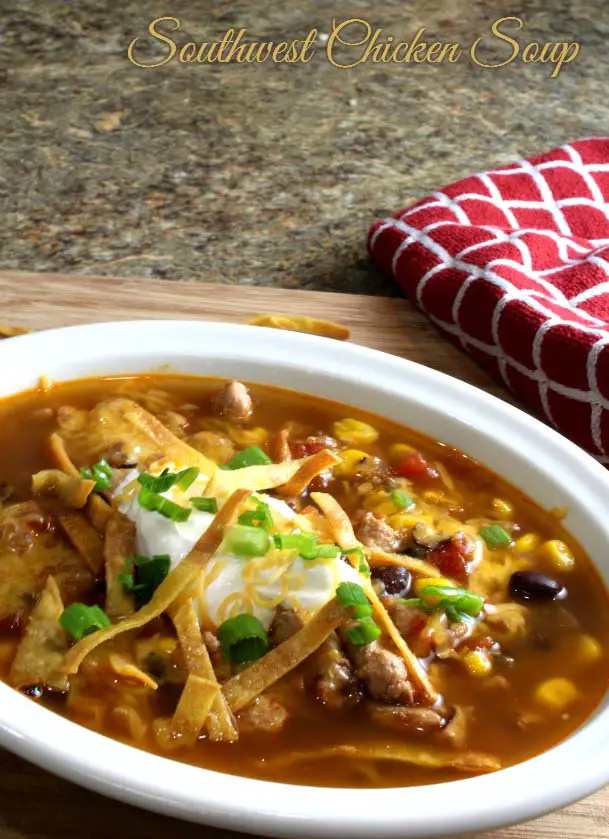 That chill in the air signals the season for soul-satisfying, warm-you-to-your-toes, flavor-popping soups. We've been heeding that call, at our house, this week. Southwest Chicken Soup is so incredibly flavorful and very easy to make. If you've got lots of homemade chicken stock on hand, in your pantry or freezer, it's going to be even more economical. But, even if you don't, this quick-to-fix soup is as easy on the budget as it is bold on taste. In general, that's true of almost any soup. It's a great way to stretch grocery dollars, making a little meat stretch to serve more people and increasing your family's veggie intake. What's not to love, right?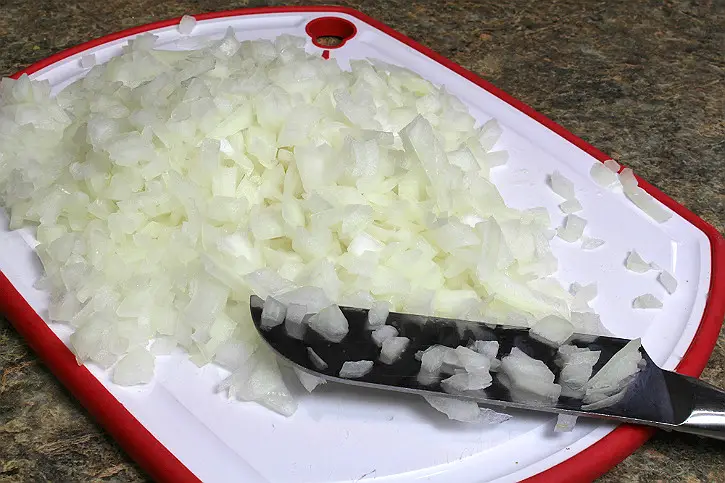 I used flash-frozen chicken breasts, that had been thawed and cut into bite-size cubes to speed the cooking of this soup along. Since we're using already prepared stock, we don't need a long, slow cook-time to develop flavor. I used store-brand chicken stock, chicken, canned tomatoes with chiles, and black beans. I do have a preferred brand for frozen corn and so I paid a little extra for it, but use what your family loves. My point is — this soup was incredibly flavorful and it didn't require a huge expense to make. Sweating some onions and garlic in just a little butter, add the diced chicken, and then the herbs and spices bring out all the savory tastes that warm both body and soul, not to mention make your house smell wonderful! This recipe makes 8-10 servings from 4 pieces of chicken (about 1 ½ lb total).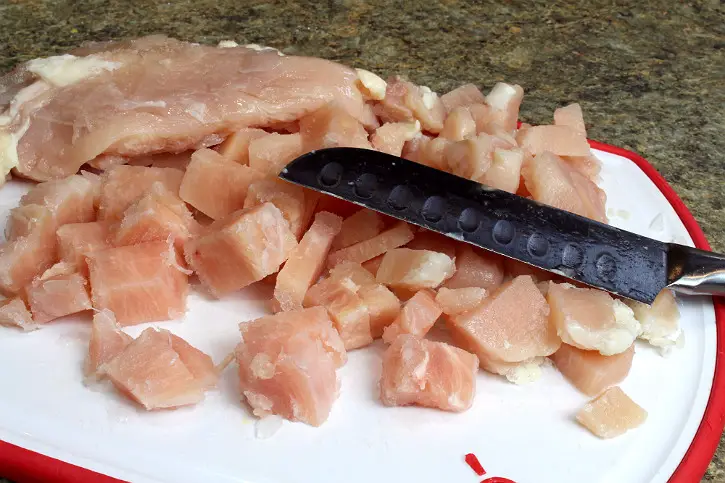 I got creative and topped ours with grated cheddar cheese, a dollop of sour cream, minced green onions, and homemade tortilla strips. I'll tell you how to make them easily, in the recipe, below. You could leave all those things off and have a delicious meal, but you can elevate it to something worthy of the company with those few simple garnishes.
On a busy weeknight when you need something tasty and simple, I hope you'll give this recipe for Southwest Chicken Soup a try. I'm betting it will become a regular on your dinner table if you do. Enjoy!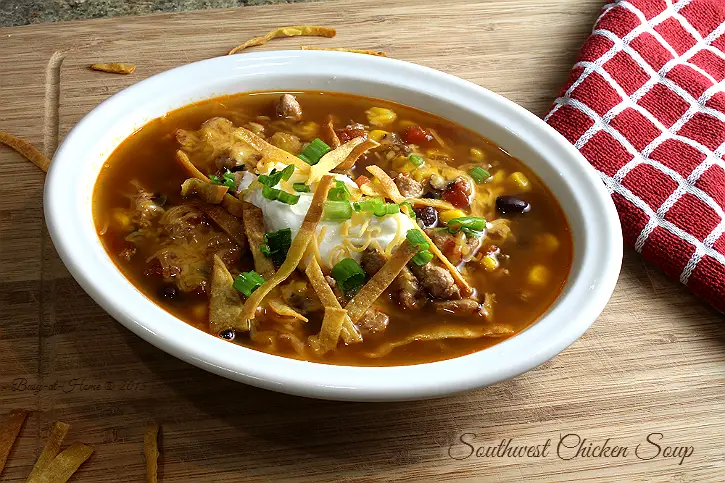 Ingredients
2 Tablespoons butter
4 boneless skinless chicken breast halves, diced
1 large onion, minced
1 Tablespoon minced garlic
3 (32 oz) cartons chicken stock
2 (10 oz) cans tomatoes with chilies
2 (15.25 oz) cans black beans, rinsed and drained
2 cups frozen corn kernels
2 Tablespoons cumin
½ teaspoon chipotle powder (or chili powder)
¾ teaspoon smoked paprika
1 teaspoon salt
1 teaspoon black pepper
Optional garnish ideas
To prepare tortilla chips: 8 to 10, 6″ maize chips and 2 tsp. of olive oil minced green onions
grated Cheddar cheese
sour cream
Instructions:
Melt the butter in a large kettle or stockpot.
Add minced onion and garlic and saute for a minute or two, until onions begin to soften.
Add diced chicken and continue to cook over medium-high heat, for 4 – 5 minutes, until some of the chicken pieces begin to brown.
Add the chicken stock to the pot and stir to combine it with the chicken and onions, being careful to scrape up any caramelized bits from the bottom of the pan, to add to the flavor.
Whisk in the cumin, chipotle powder (chili powder would probably work, but I love this chipotle powder in chili and soups, plus rubs for meat, so I keep it on hand, all the time.), smoked paprika, salt, and pepper.
Add the drained beans and bring the soup to a boil.
Once it's boiling, reduce the heat to a simmer and allow it to cook for about 30 minutes.
Add the corn, stirring to incorporate it, and heat it through.
Serve the soup steaming hot with your favorite toppings. We like sour cream, cheddar cheese, tortilla strips, and green onions. Chopped cilantro and Monterey Jack cheese would be good, as well.
Making your own tortilla strips is simple. Cut 8 or 10, 6″ corn tortillas into thin strips. Toss the strips with a couple of teaspoons of olive oil and spread them in a single layer on a cookie sheet. Pop them into a preheated, 425-degree oven. Everyone's oven is a little different, so keep a close eye on them. It only takes 3-4 minutes for us to toast the strips up crispy and golden brown. Yours may be a minute more or less, but do keep close watch as it is easy to get distracted and let them burn.