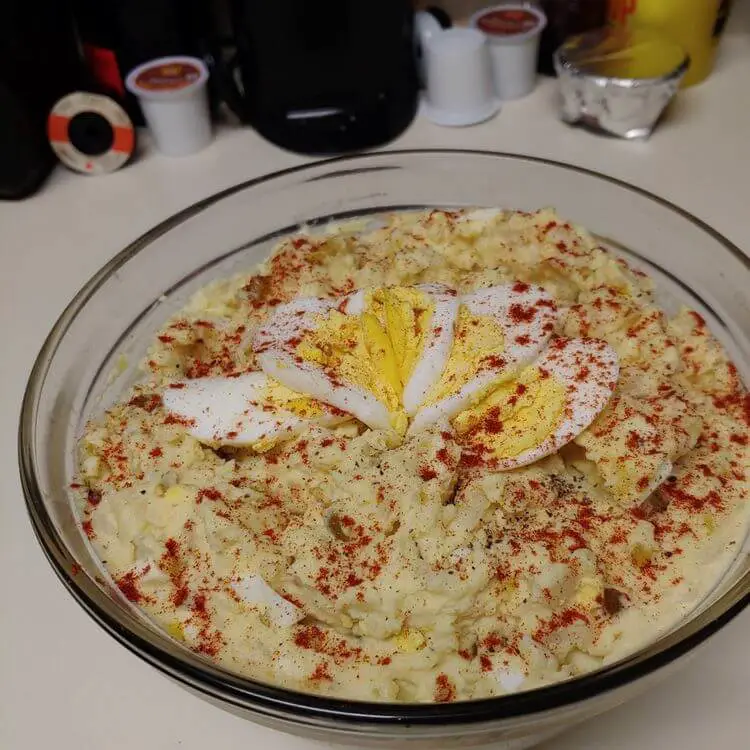 The potato and boiled egg salad that we propose in Jevico.com is straightforward and quick to make and delicious and complete. If we use light mayonnaise for its preparation, the result will be a much healthier fresh salad, although we have opted for the traditional sauce. Likewise, we can add more vegetables to the list of ingredients, such as carrots or peppers, since these products only increase the dish's nutritional value.
Ingredients :
4 medium potatoes
½ piece of celery
1 jar of mayonnaise
1 jar of olives
4 medium eggs
1 pinch of salt
1 pinch of pepper
½ part of red onion
Directions:
Cook the potatoes in boiling water over medium heat and add a pinch of salt and olive oil to enhance the flavour. In another saucepan, put the eggs to cook. Ten minutes of cooking time for the eggs will be enough; the potatoes can take between 10 and 15 minutes. They should be soft but a little firm.
When the potatoes are ready, please remove them and run them under cold water to stop cooking. Then, please place them in the dish you will use to serve the potato and egg salad.
Once the eggs are cooked, remove them from the pan, run them under cold water and remove the shells. Chop them and add them to the bowl with the potatoes. Then chop the celery and onion finely. Now you have two options; you can add these ingredients directly to the salad or leave them for 5 minutes in a bowl with three tablespoons of apple cider vinegar, a pinch of salt and black pepper to reduce the flavour of the onion.
Add the olives cut in half and the onion if left to rest for a few minutes. To complement the potato and egg salad, add the mayonnaise to taste, salt and pepper and mix well.
Ready! Serve the potato and boiled egg salad as a starter or as a main dish. As a main dish, it serves two people, while as a side dish, it can serve four or six people, depending on the portions. Without a doubt, this potato salad is perfect for serving as an accompaniment to the typically baked turkey for Christmas or Thanksgiving.