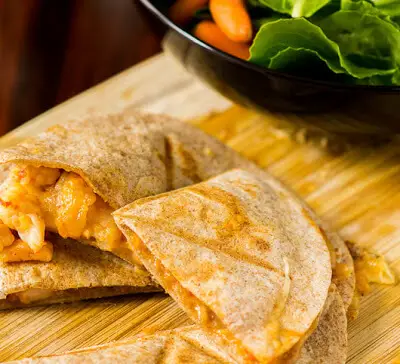 Today I'm sharing the recipe for my son Omari's favorite meal: Smokey Shrimp Quesadillas, made with sustainable shrimp. These shrimp quesadillas are a quick and easy meal for weekday Mondays, and they are fun to eat as only shrimp, and stretchy cheese can be.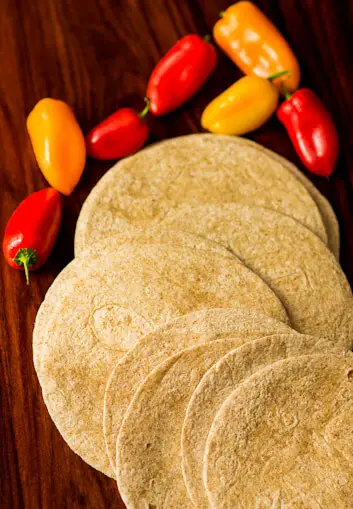 Whole wheat tortillas are a staple in my pantry, and I like using them, especially to make quesadillas. Recently, cute and colorful mini bell peppers have begun appearing at the market, so I've been grabbing a bag every week. This week, I added them to the quesadillas.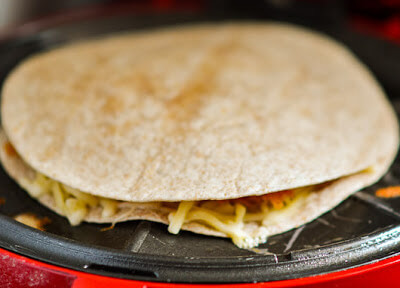 I use whole-wheat tortillas and part skim-milk melting cheese, which is fabulously stretchy. I dice and saute onion and peppers; then, I add chopped shrimp (saute shrimp until it just begins to turn pink). Place the ingredients on top of a tortilla with a handful of cheese.
Top the ingredients with another whole-wheat tortilla and close the top of your quesadilla maker. I suggest investing a few dollars in getting a quesadilla maker (you can find one for under $20.00), but if you don't have one, a smaller cast iron pan inside a larger pan will work well. Let me know if you try these Smoky Shrimp Quesadillas for any weekday supper. I'll bet you'll love them as much as Omari does. After the recipe, see the list of bloggers for the rest of this week and visit each blog for more fast and fabulous recipes for the weekdays.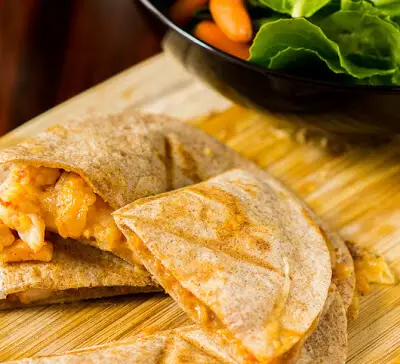 Ingredients:
1 small onion, diced
3/4 cup diced red and yellow bell peppers
Two tablespoons grapeseed oil (or other vegetable oil)
8 ounces packaged, peeled, and deveined large shrimp, thawed, drained, and chopped
One teaspoon smoked paprika
Kosher salt
Dash of cayenne pepper
1 1/2 cups part-skim Mexican-blend cheese
Eight whole-wheat tortillas
Directions:
Saute onions and bell peppers in a large skillet over medium-hot oil until onions are translucent. Add chopped shrimp and saute until shrimp are just beginning to get pink. Add salt (to your taste), smoked paprika, and cayenne pepper and distribute seasoning throughout veggies and shrimp.
Plugin or turn on quesadilla maker, and lightly spray surface with non-stick cooking spray. Divide the onions, peppers, and shrimp plus the cheese into four portions. Place a tortilla on the quesadilla maker and spoon on a piece of the cheese, followed by the onions, peppers, and shrimp. Top with another tortilla and close lid until cheese is melted and the tortillas are golden brown (approximately 2 minutes).
Repeat the process for the other quesadillas.
Serve quesadillas with your favorite accompaniments.