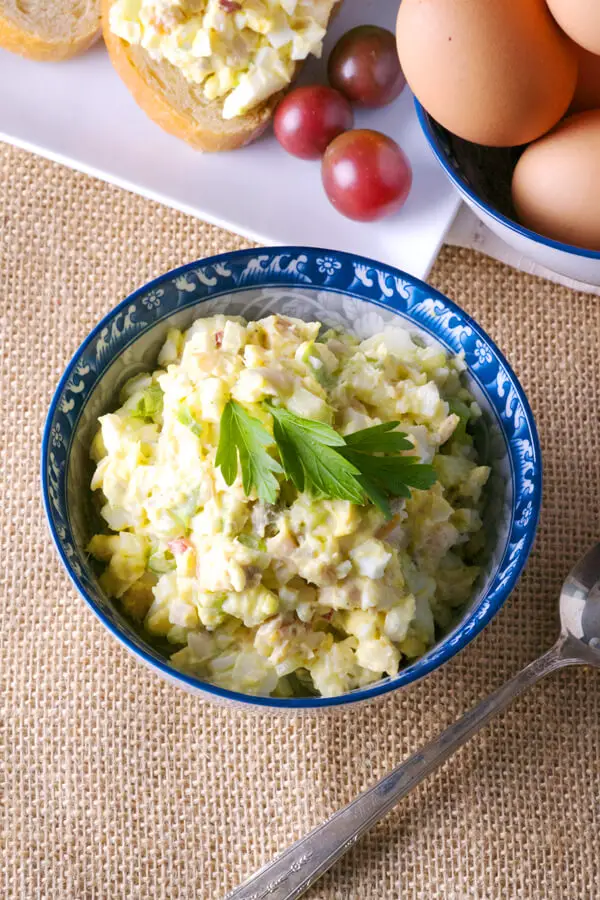 Today's offerings are a Smoked Trout and Egg Salad recipe–and a secret. I am an egg hoarder. Please put me in a room with deviled eggs, egg salad, and, hell, even boiled eggs, and I struggle against an impulse to eat them all. This "eggxiety" first showed itself on Easter back in the day, when my natural affinity for boiled eggs grew exponentially when I realized that they could also be dyed pink, purple, yellow, and other girly colors. During a childhood Easter egg hunt, I had to have my favorite colored eggs or put up such a chicken fit that the other kids' parents would initiate egg swapping.
During my years as a vegetarian, I could count on the availability of egg salad at typical luncheon places and sandwich shops. Now that I'm a pescetarian, egg salad still saves me from hunger when I'm out and about. At parties and foodie get-togethers with slim pickings for pescetarians, I station myself near the deviled eggs or egg salad. Whenever I'm invited to a potluck, I bring Smoked Trout and Egg Salad. I have to discipline myself to sit way away from my dish because it's addicting. Two of my favorites–smoked rainbow trout and eggs–in one word calls for Herculean restraint. I am just saying.
SMOKED TROUT AND EGG SALAD INGREDIENTS
I used smoked rainbow trout and organic, cage-free eggs for my Smoked Trout and Egg Salad recipe. U.S. Farmed rainbow trout is sustainable seafood. Typical rainbow trout is widely available in supermarkets and at fish markets. The Ducktrap River Smoked Trout, which I used for this recipe, is sold at more than 50 supermarkets–from A&P to Whole Foods. It's a good bet that you'll find it. Finding eggs that are considered sustainable can be a bit of a challenge. When I can find local, organic eggs from free-range chickens, I get them. Most of the time, I can find organic eggs from cage-free, vegetarian-fed hens from typical supermarkets.
Now, this is what makes my Smoke Trout and Egg Salad extra tasty: rather than relish from pickles, I use Greek-style olive tapenade. I find it at the Wegman's Food olive bar. But, if you can't find an olive bar with Greek olive tapenade, don't sweat it. Just get a jarred olive tapenade or chop up some Greek-style olives.
A bit of caution: the smoked trout and olive tapenade are salty on their own, so there's no need for additional salt in the recipe.
This recipe is the bomb diggity (my new favorite phrase). If you love trout and especially love egg salad, give my Smoked Trout and Egg Salad a try. Just don't invite me over for a taste because, as I told you, I'm an egg hoarder! 🙂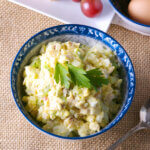 Print Recipe
SMOKED TROUT AND EGG SALAD
Egg salad lovers rejoice! Here's an egg salad with bits of smoked rainbow trout and a Greek-style olive tapenade. You won't be able to stay away from this egg salad once you have a taste!
Ingredients
1 4-

ounce

smoked trout fillet

packaged

6

large organic boiled eggs

peeled and chopped

6

tablespoons

reduced-fat mayonnaise with olive oil

1

tablespoon

chopped Greek-style olive tapernade

from the deli or chopped, Greek-style olives

1

ribbed celery

chopped fine

1

sprig of fresh celery leaves

chopped

Cracked pepper to taste

Parley or celery leaves as garnish
Instructions
If the smoked trout has skin, remove it with a knife. Insert the knife under the skin and slide the knife carefully to detach the skin from the meaty portion of the fish. In some cases, the skin will detach easily with gentle pulling.

Slice the fillet into ⅛' size cubes. Put trout aside.

In a medium-sized bowl, add chopped eggs, mayonnaise, and all other ingredients in the order shown in the recipe.

Spoon Smoked Trout and Egg Salad into a serving bowl and garnish with flat-leaf parsley or celery leaves.

Serving Suggestion: Serve in sandwiches or on lettuce leaves.