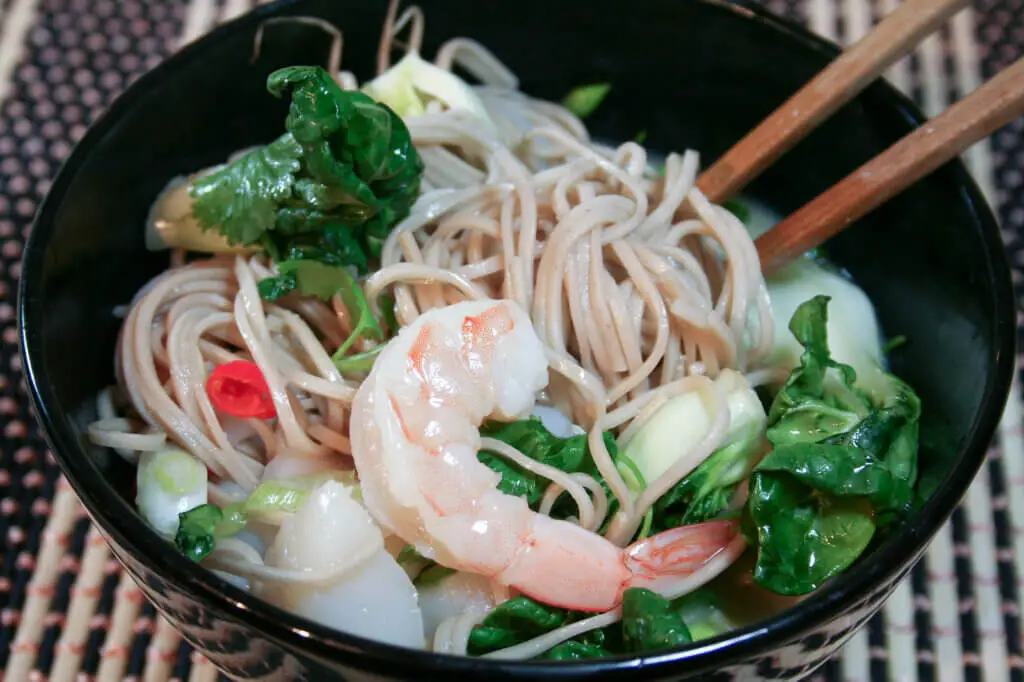 If you have miso paste in your kitchen, you have a base for savory dishes aplenty–like this Shrimp Miso Noodle Soup. You can assemble, prep, and cook this dish in mere minutes, making it ideal for lunch or a light dinner. Miso paste is getting easier to find in supermarkets. Check the amount of sodium per serving (miso can be extraordinarily salty) and purchase refrigerated miso paste, which tends to lower sodium. I used rice noodles in this recipe because they cook quickly and fill the bowl nicely.
Shrimp Sustainability
The "best choice" sustainable shrimp is wild-caught in the Canadian Pacific, the U.S. Pacific, and the Oregon Coast says the Monterey Bay Seafood Watch organization. These shrimp are identifiable by the following market names: prawn, spot shrimp, Amaebi, Pacific white shrimp, and coastal white shrimp. In addition, U.S. farmed shrimp are considered sustainable because most are "farmed in fully recirculating systems inland ponds," according to Seafood Watch.
More Soup for You!
Today, my fellow bloggers in the #SundaySupper group are posting soup recipes, so after considering this recipe, see the links below for dozens of other soup recipes and photos.
Recipe: Shrimp Miso Noodle Soup (Serves 4)
Ingredients:
1 box of thin rice noodles–8.8 ounces (249 grams)
3 cups packaged vegetable broth
1 cup packaged fish stock
1.5 tablespoons red miso paste
1 pound of packaged raw, shrimp that is purchased pre-shelled and deveined (thawed)
1 teaspoon minced ginger (I use minced ginger in a jar when I'm pressed for time.)
A few drops of low-sodium soy sauce
3 scallions, finely chopped, for garnish
Directions:
Bring four liters of water to a large pot to boil. Turn off the heat and carefully immerse the rice noodles in hot water. Allow noodles to stand for 10 minutes, drain, and rinse under cold water. Set aside.
In a separate, 2- or 3-quart saucepan, simmer vegetable broth and fish stock until it is just about to boil. Reduce the broth/stock to a simmer; place shrimp in hot broth for three minutes or until they turn pink. Turn off heat and immediately add miso paste; stir gently until miso is dissolved.
Stir in minced ginger and add a few drops of low-sodium soy sauce to the broth (taste and adjust seasoning).
Arrange noodles in four bowls and pour in hot broth and shrimp. Garnish and serve while hot.