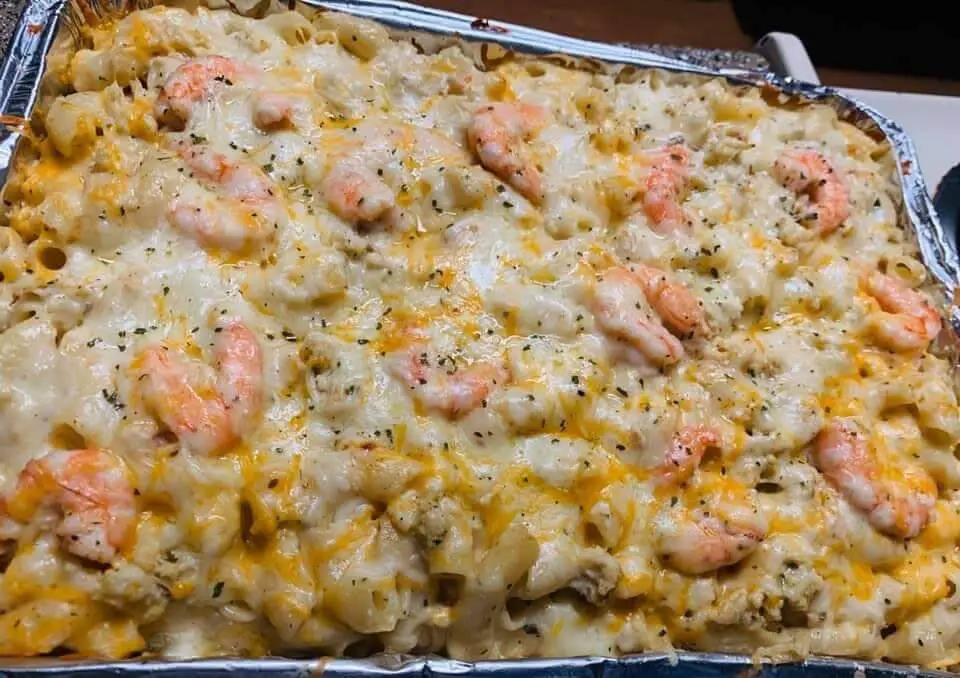 Seafood mac and cheese is a modern and delicious twist n a traditional mac and cheese recipe. It is not just easy to make but is just as creamy and cheesy as the original version. This recipe is a perfect choice for seafood lovers. Made with shrimps and crab meat, you get seafood flavor, cheesiness from the cheeses, and a wholesome satisfaction from the macaroni. The crispy top adds another delicious texture to the dish.
This dish is perfect for making ahead of time and storing for later use. You can refrigerate it or even freeze it. Reheat it in the oven and enjoy. It is a good choice when you have to feed a large crowd.
Seafood Mac and Cheese – The recipe
Preparation time: 10 minutes
Cooking time: 30 minutes
Total time: 40 minutes
Servings: 4
Ingredients:
8 ounce elbow macaroni,
3 tablespoons butter, divided
½ lbs. shrimp, peeled, deveined, and diced
¼ lbs. crab meat, cooked
¼ cup panko bread crumbs
½ cup yellow onion, diced
½ tsp garlic, minced
½ cup all-purpose flour
1 ½ cup whole milk
¼ tsp Old Bay Seasoning
½ cup Parmesan cheese, shredded
½ cup cheddar cheese, shredded
Black pepper, to taste
Salt, to taste
Fresh chopped parsley for garnish
Preparation:
In a pot, heat salted water. Once it starts to boil, add pasta and cook it for about 5 minutes or until 2 minutes are left for al Dante. Drain the pasta and rinse with cold water. Set it aside.
Add a tablespoon of butter to a large skillet and place it over medium heat.
Add diced shrimp once the butter melts and cook it for about 3 minutes or until it turns pink. Remove the shrimp from heat and set it aside.
Add the remaining butter to the saucepan, and melt it. Take the pan off the heat and add a tablespoon of melted butter in breadcrumbs in a bowl. Mix well and set aside.
Place the skillet back on the heat and add onions. Sauté for a minute or two until they turn translucent.
Add minced garlic and sauté for 30 seconds.
Add all-purpose flour and cook for a minute. Stir constantly.
Pour milk and vigorously whisk the mixture until there are no lumps. Cook it for a minute or two until the mixture starts to thicken.
Add salt, black pepper, and old bay seasoning and mix well.
Take the skillet off the heat and add parmesan cheese and cheddar cheese. Mix well so that the cheese melts away.
Add cooked pasta, crab meat, and shrimp. Mix well.
Prepare the casserole dish by greasing it with cooking spray. Pour the mixture into the casserole dish.
Top the mixture with the breadcrumb mixture evenly.
Place it in a preheated oven at 400 degrees F for about 20 minutes or until the top gets a golden color.
Once done, remove from the oven, garnish with freshly chopped parsley and serve.