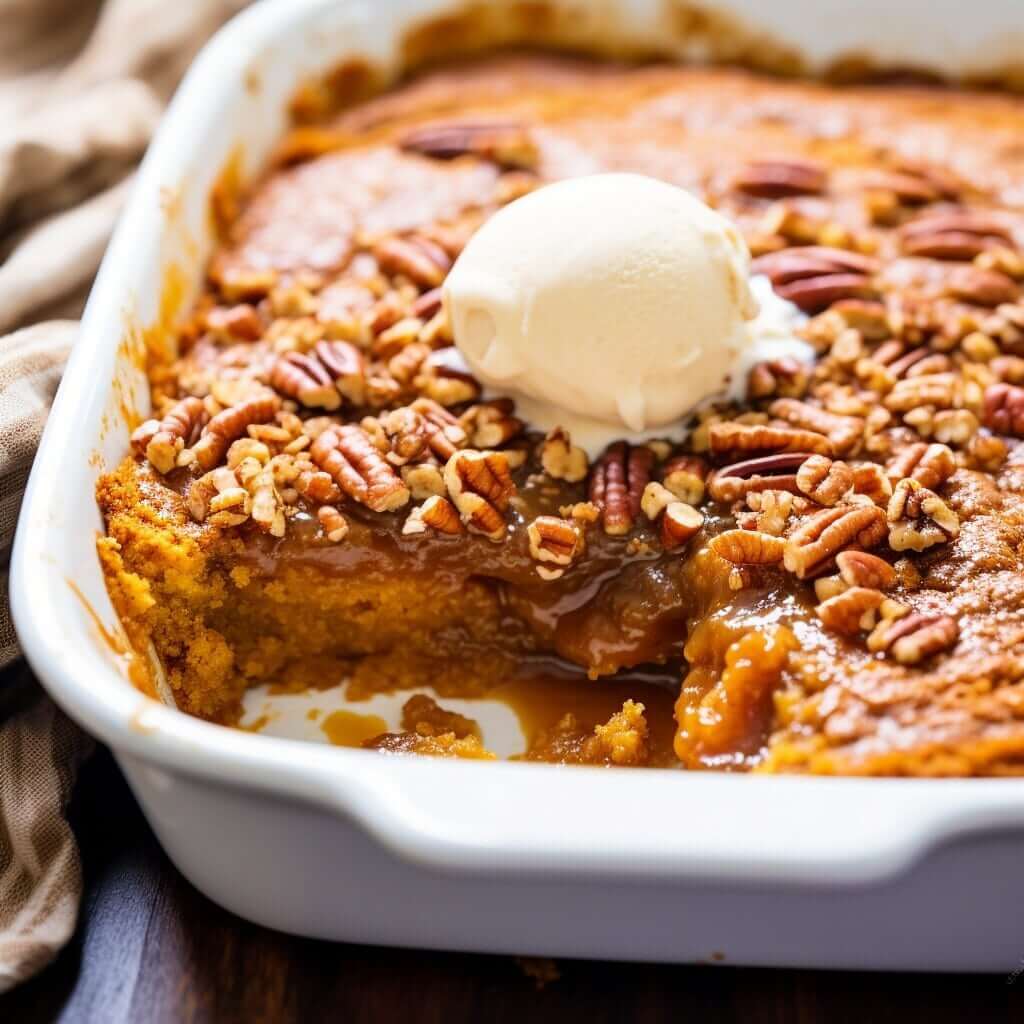 There's nothing that evokes the feeling of fall quite like the aroma of a freshly baked cobbler filling the kitchen on a cool autumn day. As the sweet, earthy scent of pumpkin mingles with notes of warm cinnamon and nutty pecans, it's easy to understand why this cobbler has become my most-requested recipe once the leaves start changing. One bite of the spiced pumpkin filling and melt-in-your-mouth tender biscuits is all it takes to fall head over heels for this comforting dessert. I've spent years perfecting my pumpkin pecan cobbler recipe to create a version that highlights the fabulous flavors of the season. While many cobblers are too soggy or have a biscuit topping that's dry and bland, mine strikes that ideal balance between a gooey, spiced filling and a perfectly flaky biscuit crust. The addition of toasty pecans lends just the right amount of crunch and texture contrast. Trust me when I say this cobbler is irresistible! As soon as your guests get a whiff of this baking in the oven, you'll have people begging left and right for the recipe. There's just something special about gathering around the table and enjoying a slice of homemade cobbler made with love. Every warm, cozy bite conjures up memories of crisp fall days spent hayriding and apple picking at the orchard. I've never met anyone who could say no to second helping of this quintessential autumn dessert. So what are you waiting for? Keep reading to learn how make this marvelous pumpkin pecan cobbler that your family will request time and time again whenever the trees start shedding their leaves. This is one recipe you'll want to make every year as soon as you spy the first orange leaf of fall.
Let's start with the FAQs:
What makes this cobbler different from other pumpkin desserts?
This cobbler stands out for its biscuit topping flavored with cinnamon and nutmeg that bakes up flaky on top of the gooey pumpkin pecan filling. The combination of textures takes this seasonal dessert to the next level.
What type of pumpkin works best in the filling?
I prefer fresh pumpkin like sugar pumpkin or kabocha squash. The flavor is richer than canned. Roast the pumpkin until very tender before pureeing.
Can I make the cobbler ahead of time?
Yes! Assemble the unbaked cobbler up to 24 hours before and store covered in the fridge. Add 15 minutes to the baking time. The biscuits will be extra flaky.
What if I don't have self-rising flour for the biscuits?
No problem! Make your own by whisking together 2 3/4 cups all-purpose flour, 1 Tbsp baking powder, and 1 tsp salt. The leavening makes them rise.
How do I get the glossiest biscuit tops?
For a shiny, golden brown finish, brush the tops with melted butter or a beaten egg before baking. It gives a professional bakery look.
What's the best vanilla ice cream to serve with it?
I love adding a scoop of creamy vanilla bean ice cream on the side. The hint of vanilla enhances the spices in the cobbler beautifully.
Prep Time: 15 minutes
Cook Time: 45 minutes
Total Time: 1 hour
Ingredients:
1/2 cup granulated sugar
4 cups cubed, peeled fresh pumpkin or kabocha squash (about 1 1/4 pounds)
1/4 cup brown sugar, packed
2 teaspoons ground cinnamon
1 teaspoon ground ginger
1/2 teaspoon ground nutmeg
1/4 teaspoon ground cloves
1/4 teaspoon salt
2 tablespoons all-purpose flour
2 tablespoons butter, melted
1 1/2 cups coarsely chopped pecans
1/4 cup granulated sugar
2 cups self-rising flour
6 tablespoons cold butter, cut into small cubes
3/4 cup buttermilk
2 tablespoons turbinado sugar (optional)
Instructions:
Preheat your oven to 375°F (190°C).
Grease a 9×13 inch baking dish with butter or a non-stick cooking spray.
Increase the oven temperature to 400°F (200°C).
Peel and cube the pumpkin. Spread these cubes on a baking tray lined with parchment paper for easy cleanup.
Roast the pumpkin cubes for 25-30 minutes. They should be fork-tender and slightly caramelized at the edges.
Once cooled, blend the pumpkin cubes in a food processor until smooth.
In a large bowl, mix the pumpkin puree with granulated sugar and brown sugar, stirring until the sugars are well integrated.
Add a teaspoon each of ground cinnamon and nutmeg, and a half teaspoon of ginger (or adjust according to taste).
Sprinkle a pinch of salt and two tablespoons of flour to thicken the mixture.
Pour in about half a cup of melted butter and stir.
Add a cup of roughly chopped pecans for a crunchy texture.
Spread this mixture evenly in your greased baking dish.
In a separate bowl, whisk together two cups of flour with 1/4 cup granulated sugar.
Cut in about 3/4 cup of cold, cubed butter using a pastry cutter or two forks until the mixture resembles coarse crumbs.
Gently fold in about 3/4 cup of buttermilk, just until the dough comes together.
Drop spoonfuls of the biscuit dough over the pumpkin filling. Don't worry about covering the filling completely; some gaps are fine.
Sprinkle turbinado sugar over the biscuit dough for a sweet, crunchy topping.
Bake in the preheated oven for about 45-50 minutes. The topping should be golden, and the filling should be bubbling around the edges.
Let the cobbler cool for at least 15 minutes. This allows the filling to set a bit and makes serving easier.
Serve warm. Add a dollop of whipped cream or a scoop of vanilla ice cream on top of each serving for an extra layer of decadence.
Cooking tips:
Use fresh, locally grown pumpkins at the peak of season for the best flavor. Kabocha squash also works wonderfully.
Don't overmix the batter for light, tender biscuits. Just stir to combine the wet and dry ingredients.
Brushing the biscuit tops with melted butter or an egg wash adds extra richness and sheen.
Letting the cobbler rest for 10-15 minutes before serving allows the filling to thicken.
Warm individual portions in the microwave rather than overheating the whole pan.
Add a scoop of vanilla bean ice cream on top for an extra creamy, decadent touch.
Top with praline pecans or candied ginger for some crunch and spice.
Swap out pecans with walnuts or almonds if you prefer.